Without doubt art has origins in faith and belief: the earliest cave murals and sculptures indicate rituals relating to nearly all aspects of life, and many of these evolved into religions and faiths of various kinds. Art works since have played a great role in the transmission of belief and faith, to the point where, by inference, art works are expected to manifest a sort of religious expression.
Bangkok Art Biennale 2018, or BAB 2018 marks the first time a major world festival of contemporary art has graced Bangkok with its exhibits for an extended period of time. Featuring contemporary works of more than 70 both Thai and international artists, Bangkok is hosting Festival showings at 20 locations from October 19, 2018 to February 3, 2019.
Exhibition sites range from the financial district office buildings to local communities, and, most significantly, to Bangkok's temples, a cultural heritage for which Thailand is famous throughout the world. It seems fitting, then, to give our friends at Living ASEAN a glimpse of some of BAB 2018's most creative art that is on exhibit in some of our most beautiful temples.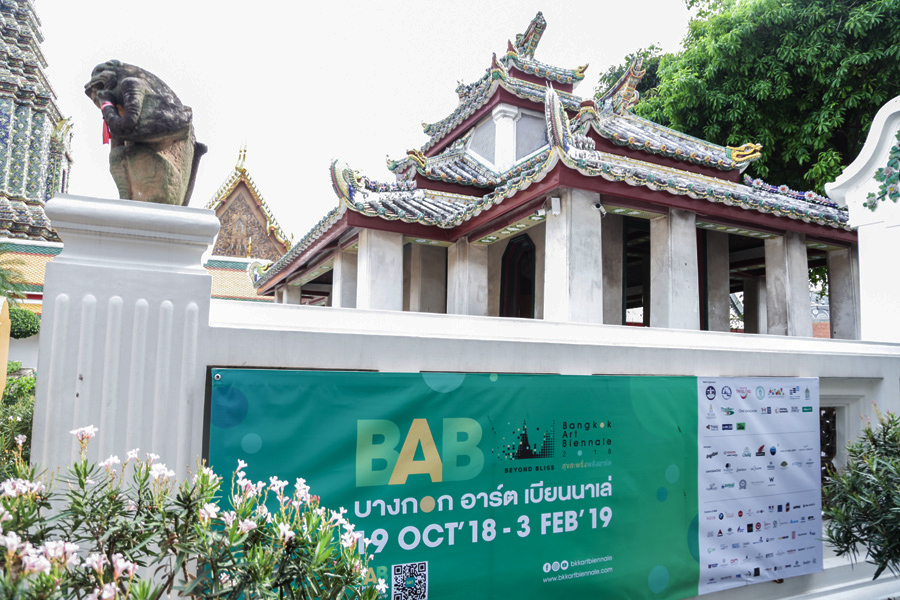 Phra Chetuphon Wimolmangkalaram Ratchaworawihan Temple
Here we bring you to your first stop, the exhibits at Phra Chetuphon Wimolmangkalaram Ratchaworawihan Temple, or "Wat Pho." This was the official temple of the first king of the Chakri Dynasty, H.M. Rama I, and is world-renowned for its beauty and historical value. Most Thais and foreigners alike want to come at least once to experience its beauty.
First, some highlights of Wat Pho, the temple itself …
Temple of the Reclining Buddha / Wat Pho Reclining Buddha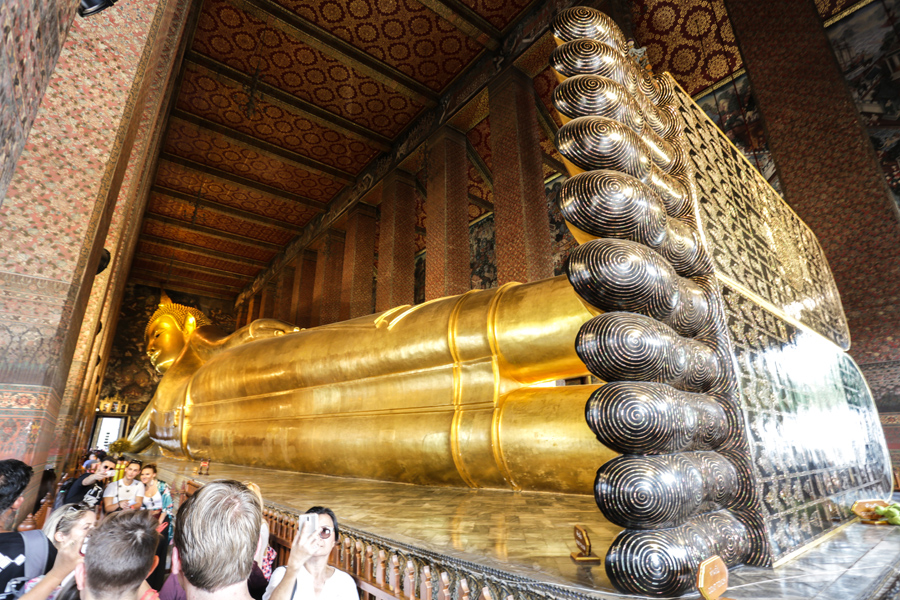 The Temple of the Reclining Buddha was built in the era of Rama I, with its primary image of worship "Phra Phuttharoup Proht Surin Sathu," known popularly as "the Reclining Buddha." The sculpture is 46 meters long and 15 meters tall. Each of its feet is 1.5 meters wide and 5 meters long and is decorated in 108 spots with pearls and auspicious images.
The "Four Reign" Chedis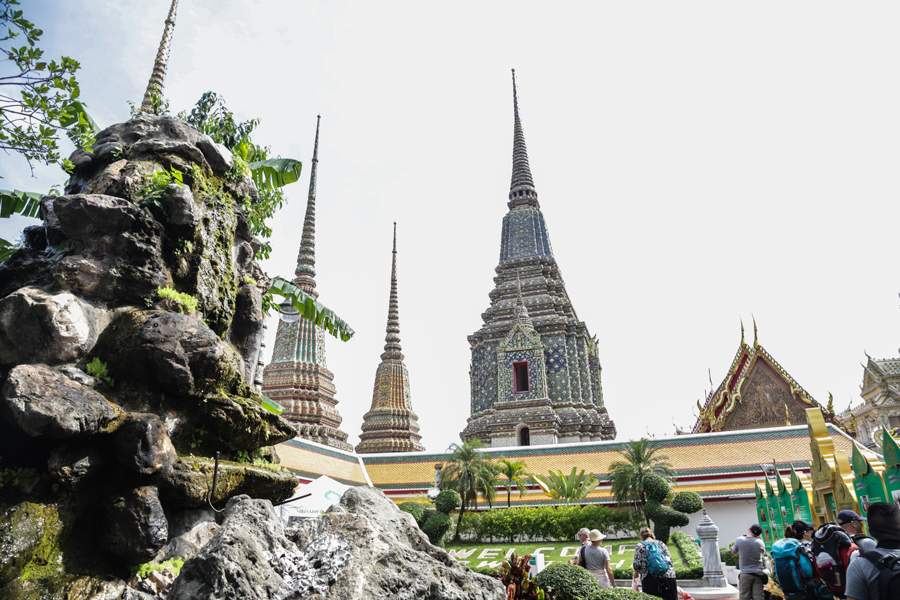 The base of each of The Four Reign Chedis has notched corners, and the chedi is identified with a glazed tile showing the name of one of the first four Siamese kings: "Phra Maha Chedi Si Sanphet Yadayan" (Chedi of Rama I), "Phra Maha Chedi Dilok Dhammakaroknitarn" (Rama II), "Phra Maha Chedi Munibat Borikhan," (Rama III), and "Phra Maha Chedi Song Phra Srisuriyothai" (Rama IV).
Rishi (Hermit) Statues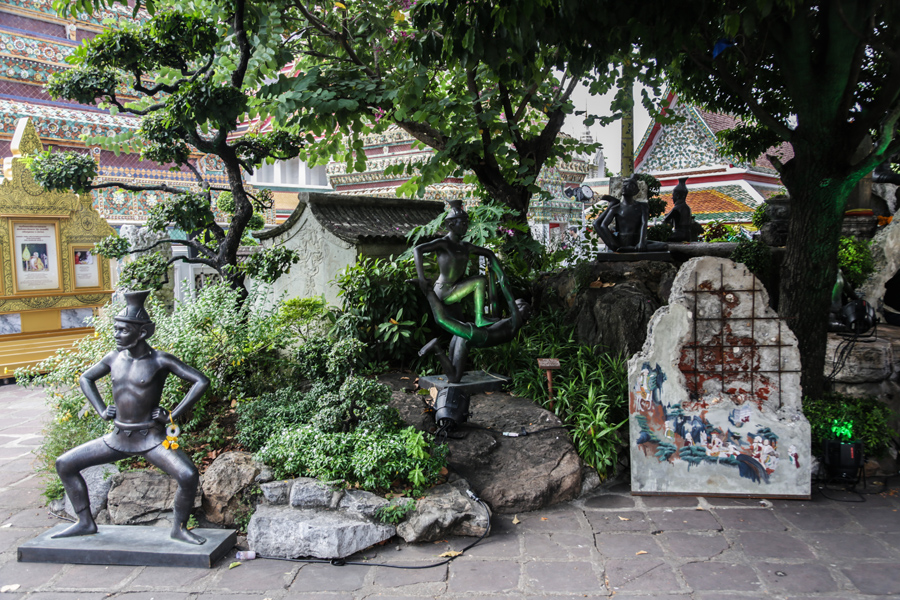 Wat Pho, aside from its beauty and historical value, is associated with the remarkable traditional medical arts and wisdom that have been handed down as a national heritage since the Ayutthaya period. The Rishi Statues were placed there in the time of the first Chakri king to demonstrate traditional medical arts with figurines posed in more than 80 different attitudes, though at the moment only 24 of these remain.
Giants of Wat Pho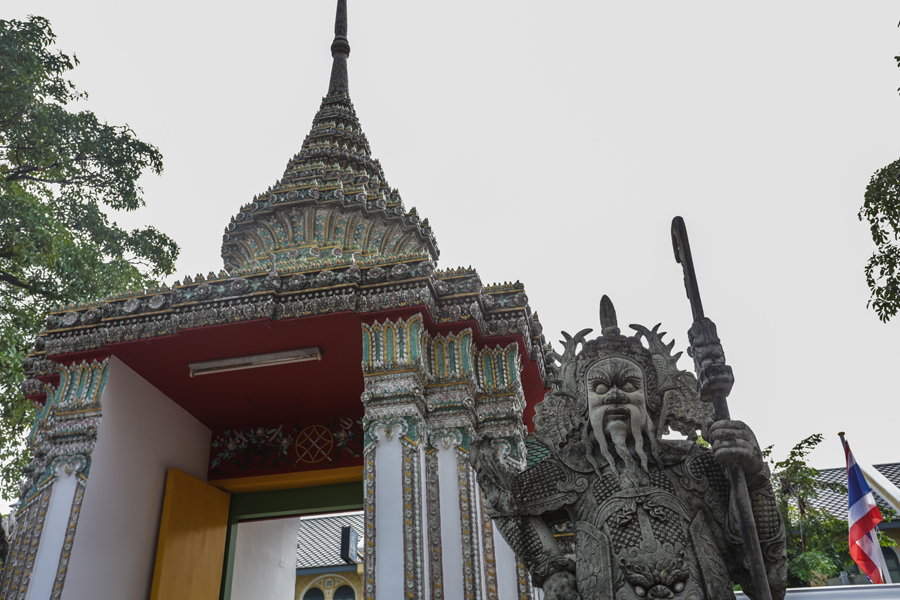 The Wat Pho Giants are another highlight of this world-famous temple, giant statues personifying characters from the Ramakien epic colored red and green, located at the entrance to the Phra Mondop scripture hall.
The 6 Bangkok Art Biennale 2018 works shown at Wat Pho are as follows:
Paths of Faith (Thailand)
Artist: Jising Somboon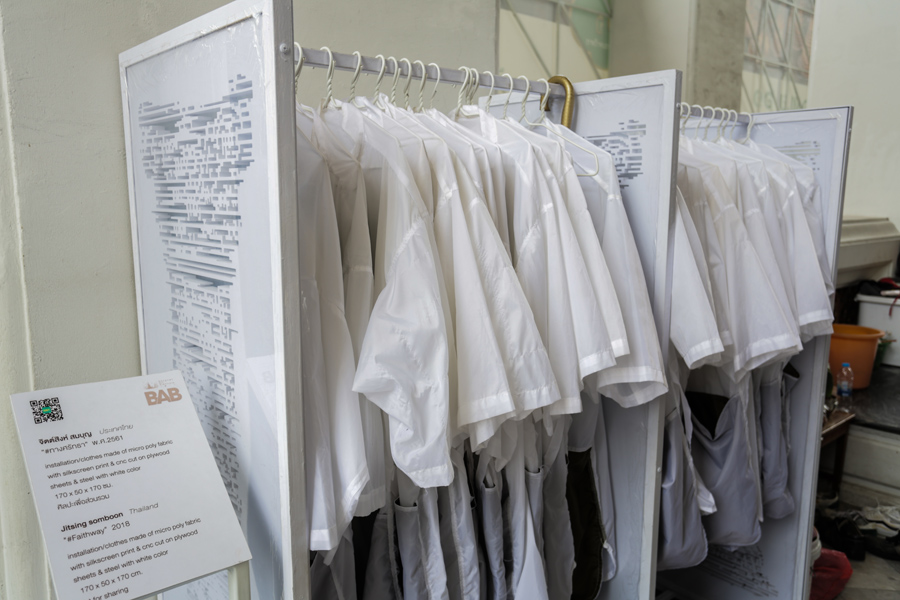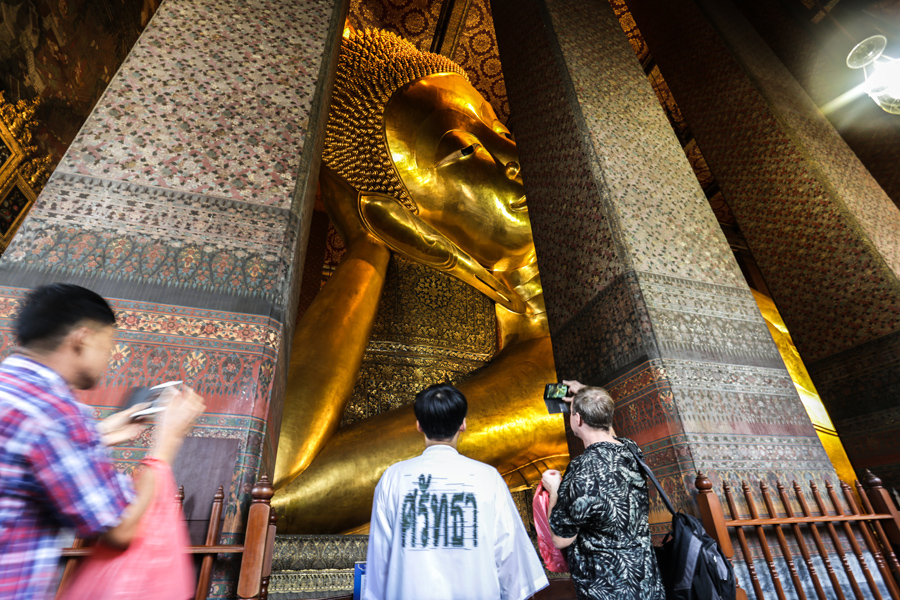 Paths of Faith is a collection of white robes with the word "Faith" in Thai, English, and Chinese on the back. These are hung for tourists to wear while visiting the Hall of the Reclining Buddha.
Zuo You He Che (China, France)
Artist: Huang Yong Ping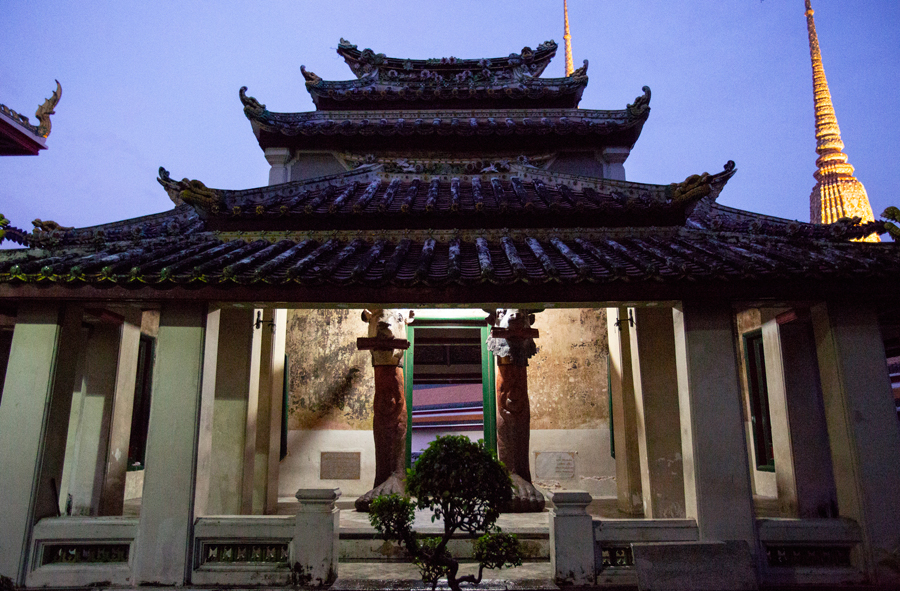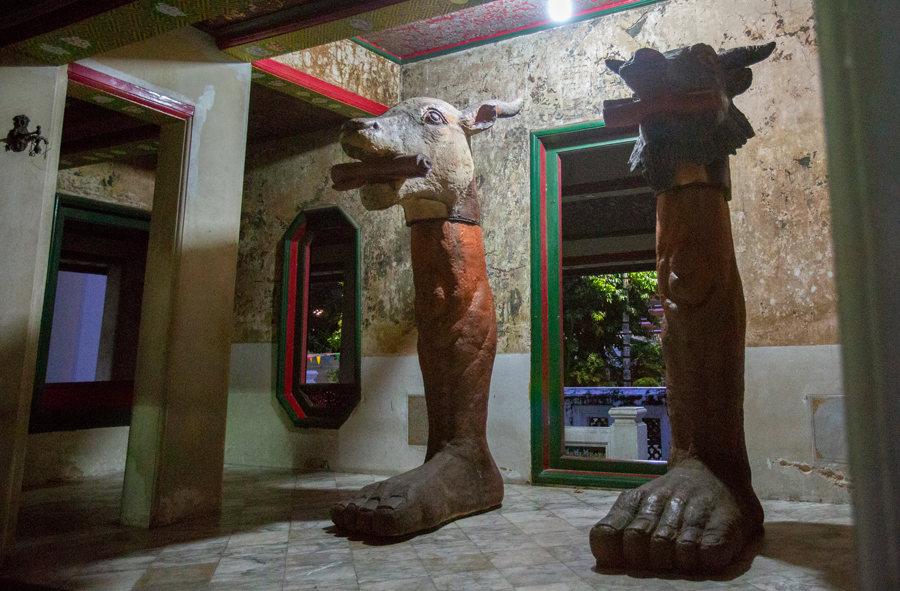 It is well known that most of Huang Yong Ping works involve stories based in Chinese culture, and Zuo You He Che is no exception. It is a sculpture of imaginary animals holding scrolls in their mouths signifying wisdom, faith, and healing, all paths to peace and contentment in Buddhist and Chinese philosophy.
Knowledge in your Hands, Eyes and Minds (Thailand)
Artist: Phaptawan Suwannakudt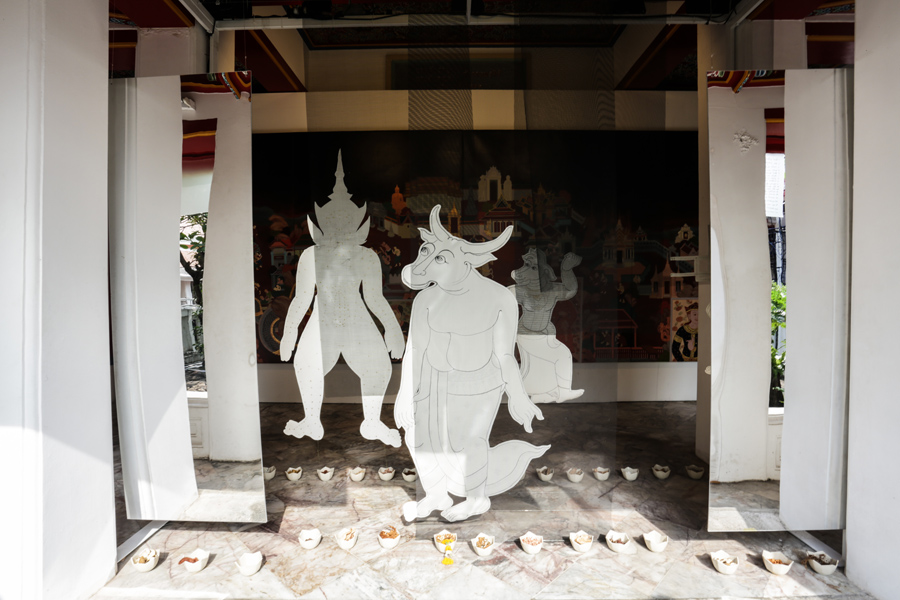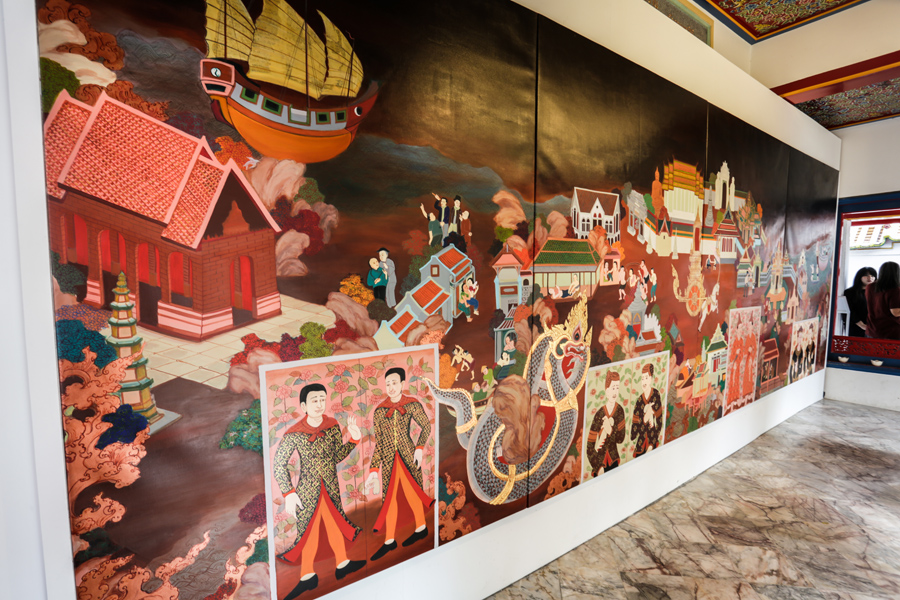 Knowledge in your Hands, Eyes and Minds is a mixed media (picture, scent, sound) art work located in a monk's hut at the Wat Pho crocodile pond. It speaks to relationships between various traditional branches of knowledge: medical, design, literary, authorship, herbal massage, astrology, and communication between monks and the dead and dealing with the world after death.
Sediments of Migration (Thailand)
Artist: Pannaphan Yodmanee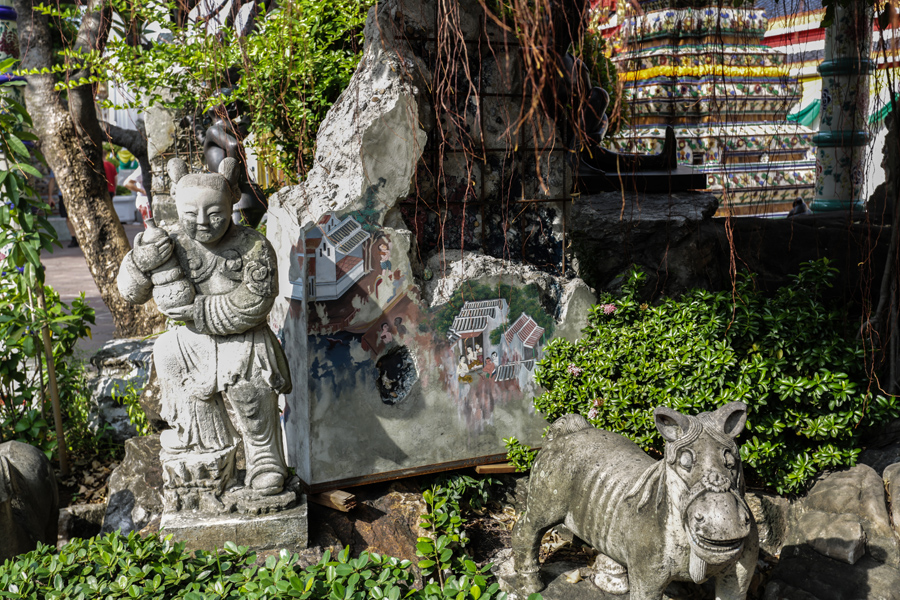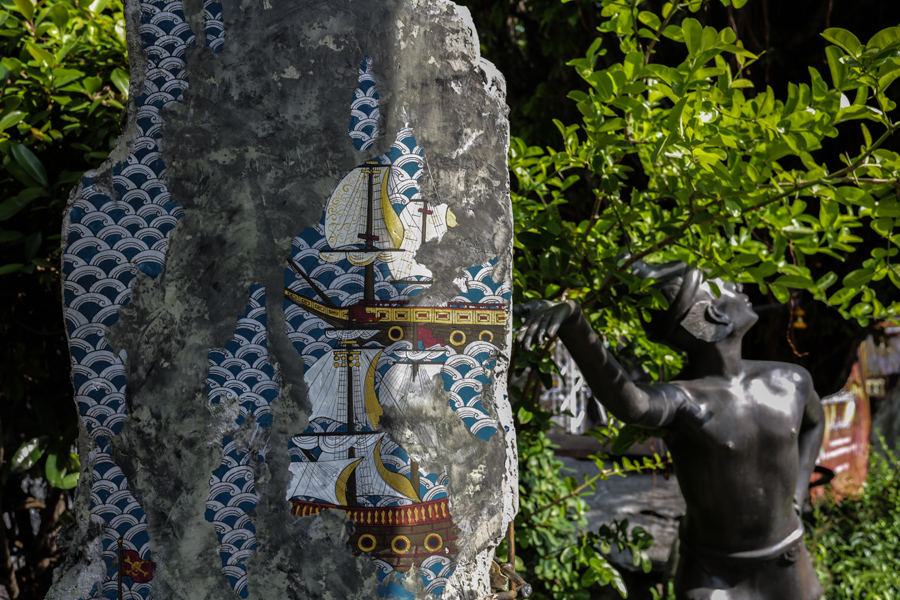 Sediments of Migration is a free-standing sculpture in one of the rock gardens, where it is paired with the Rishi statuettes healing their bodies in contorted poses. Sediments was inspired by murals within the temple itself, and depicts commercial travel between Siam and China with contrasting views of merit, faith and, ethnicity.
A Shadow of Giving (Thailand)
Artist: Tawatchai Puntusawasdi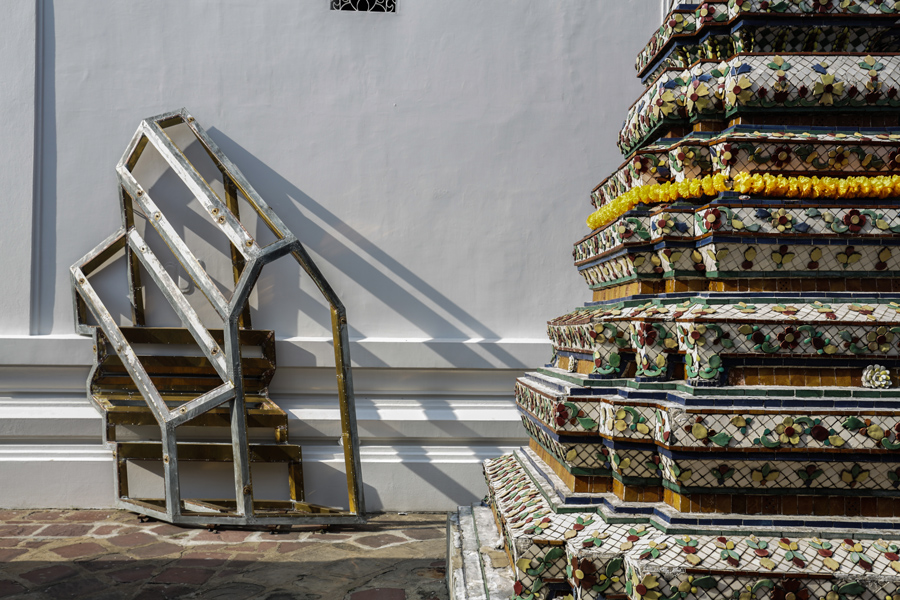 A Shadow of Giving is an experimental sculpture inspired by two-dimensional murals in poorhouses. It symbolizes giving, unselfishness, and respect. For the artist, accuracy of scale and mathematical fundamentals are a path to happiness.
Tha Tien (Thailand)
Artist: Sakarin Krue-on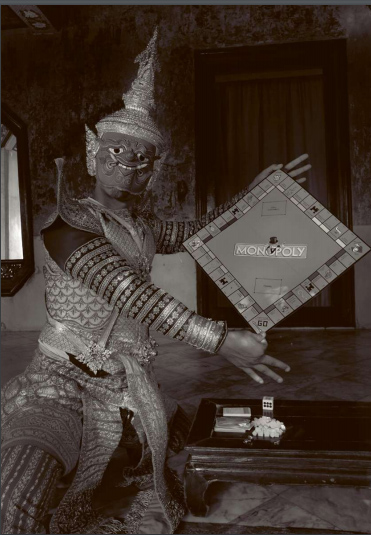 Tha Tien is a silent movie accompanied by music inspired by Somphot Saengdueanchai's 1973 movie of the same name, whose plot involves a quarrel about nothing important at all between a giant and a warrior. The story takes place at Wat Pho and Wat Arun, and when the two are unable to come to agreement, the ensuing fight causes the Wat Pho pier area to collapse flat as a drumhead. (shown October 16 – 20 and November 22 – 24 2018 at Wat Pho and Wat Arun)
Wat Arun Ratchawararam
Crossing the Chao Phraya from the Tha Tien pier near Wat Pho we quickly arrive at Wat Arun Ratchawararam, more simply known as "Wat Jaeng" or "Wat Arun." This temple is no less important than Wat Pho, but dates from the Ayutthaya Period. It was named "Wat Makok" before King Taksin gave it the name "Wat Jaeng" when expanding the grounds of the royal palace, bringing it inside – along others there – as a court temple. It underwent continual restoration after that until Rama IV made a major restoration and placed the ashes of Rama II at the Buddha image there, giving it the name "Wat Arun Ratchawararam."
Important Highlights of Wat Arun are ….
The Central Prang of Wat Arun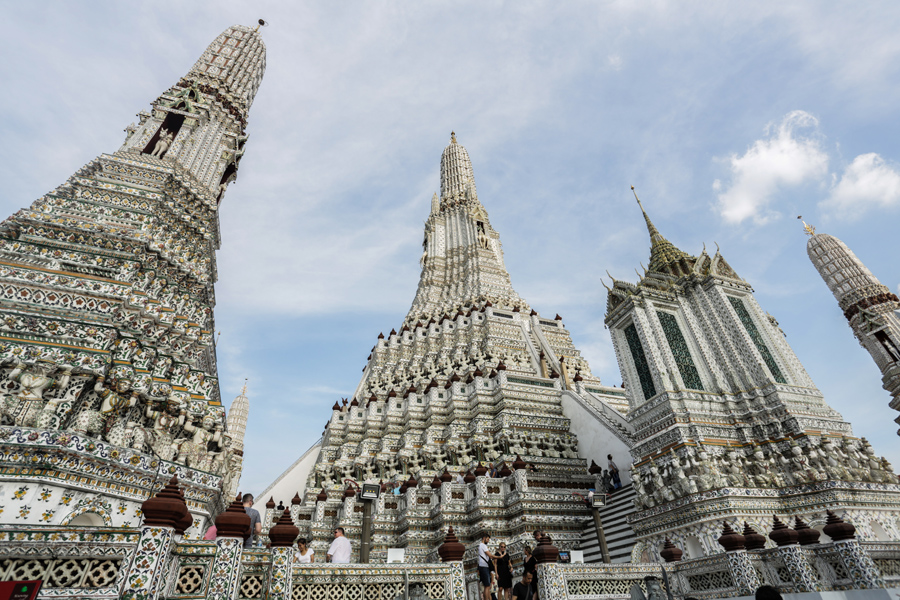 The Central Prang of Wat Arun is a prime example of Thai sacred architecture. There is a main prang and four secondary ones, all of mortared brick adorned with seashells, glazed tiles, and beautiful Chinese benjarong designs, replete with representations of mythical figures such as kinaree, giants, angels, and garudas. The Central Prang of Wat Arun was also refurbished in the time of Rama II, when the Wat Arun Central Prang was raised from 16 to 81.85 meters, making it the highest in the world.
Wat Jaeng Giants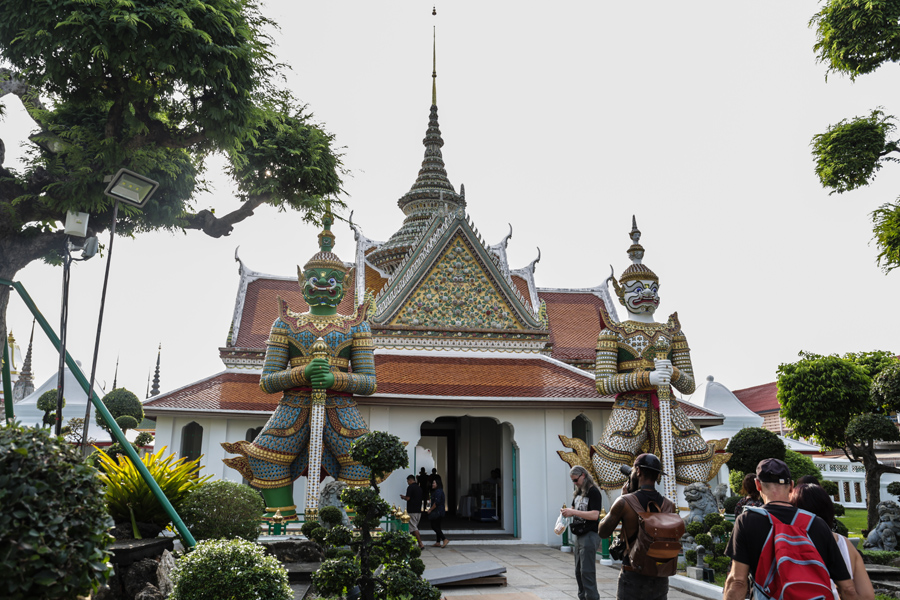 The Wat Jaeng Giants are among of Thai Buddhism's most famous statues, no less than the Wat Pho Giants. The Wat Jaeng giants represent the giants Thotsakan (green) and Sahat Decha (white) from the Thai epic Ramakien, and shine in their glazed tile apparel as they stand guard before the entrance gate to the ordination hall.
The two Bangkok Art Biennale 2018 works exhibited in Wat Arun are:
Across the Universe and Beyond (Thailand)
Artist: Sanitas Pradittasnee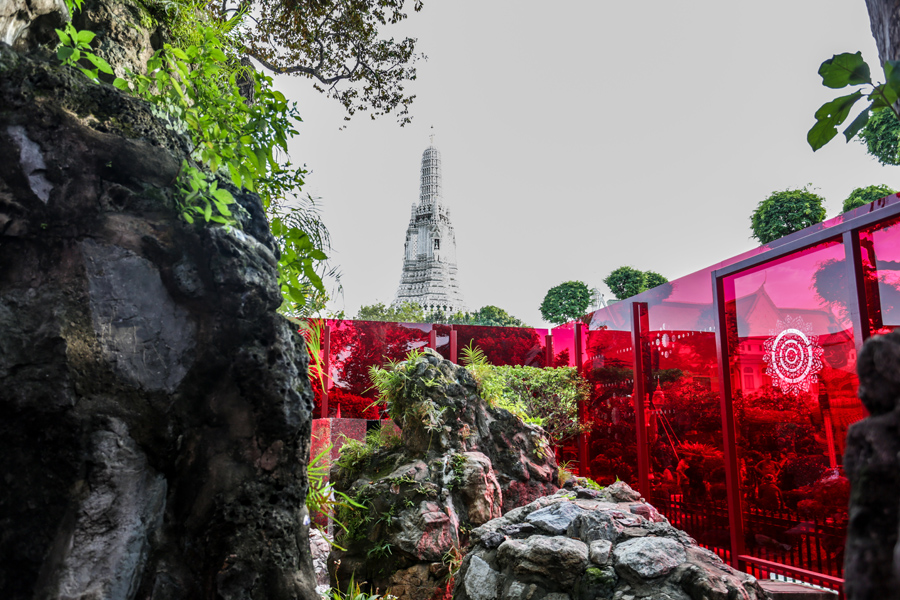 Across the Universe and Beyond brings lost and forgotten principles to life again, as the designs of space and light call on visitors to look within themselves when they step into the area. This installation art piece is intended as a reminder in this moment of existence, impermanence, and emptiness, for us reflect on ourselves as simply particles in the vastness of the universe.
Giant Twins (Thailand)
Artist: Komkrit Tepthian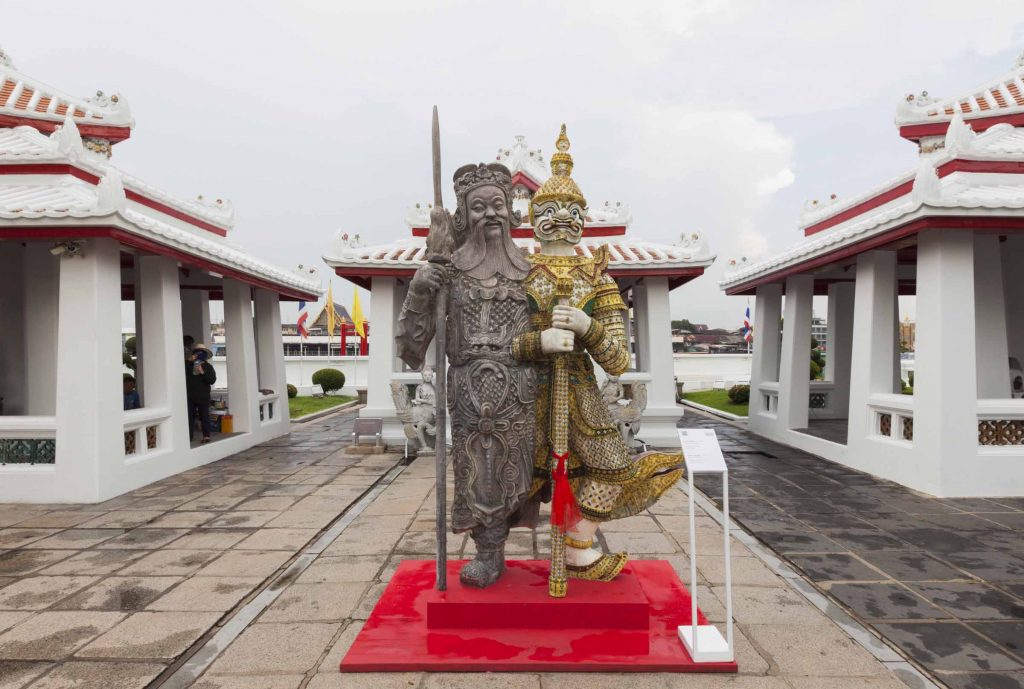 Inspired by the stone statures of ancient Chinese warriors and divinities, as well as people and animals China sent to Siam, the art work Giant Twins is a mixture of China and Siam. It recalls the legendary Siamese Twins Eng and Chang, as these two historical figures are transformed into the shape and form of giant warriors to symbolize Thai-Chinese relations.
Wat Prayurawongsawat
Near Wat Arun and Memorial Bridge is Wat Prayoonwongsawat, the last temple where we'll bring you to view BAB 2018 art works. This temple was built as a royal monastery in 1828, during the reign of King Rama III, by Somdet Chao Phraya Borom Maha Prayurawongse, or "Dit Bunnag." He gave it the name Prayurawongsawat, but it became known as Wat Rua Lek, "Temple with the Iron Fence."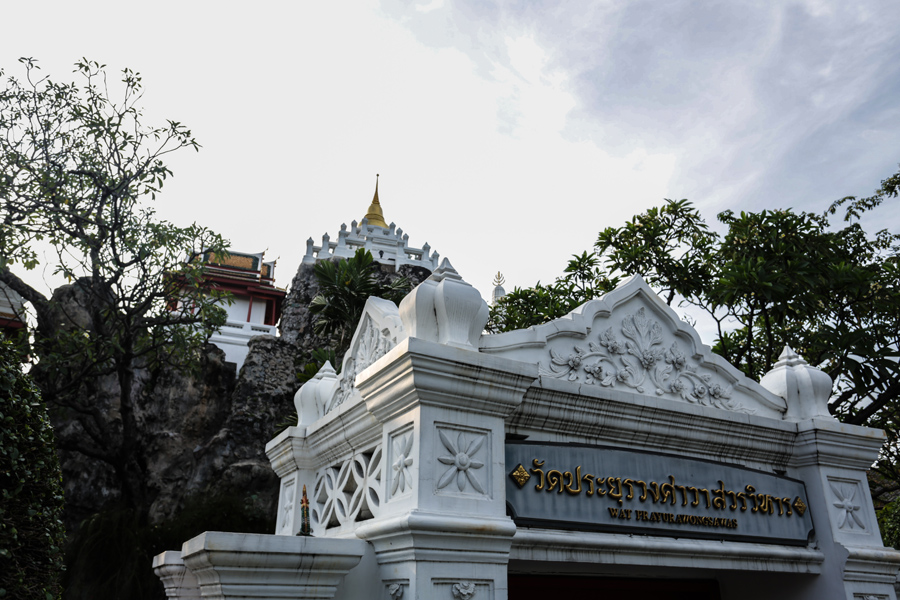 Important highlights of Wat Prayurawongsawat are….
Sacred Heart Buddha Temple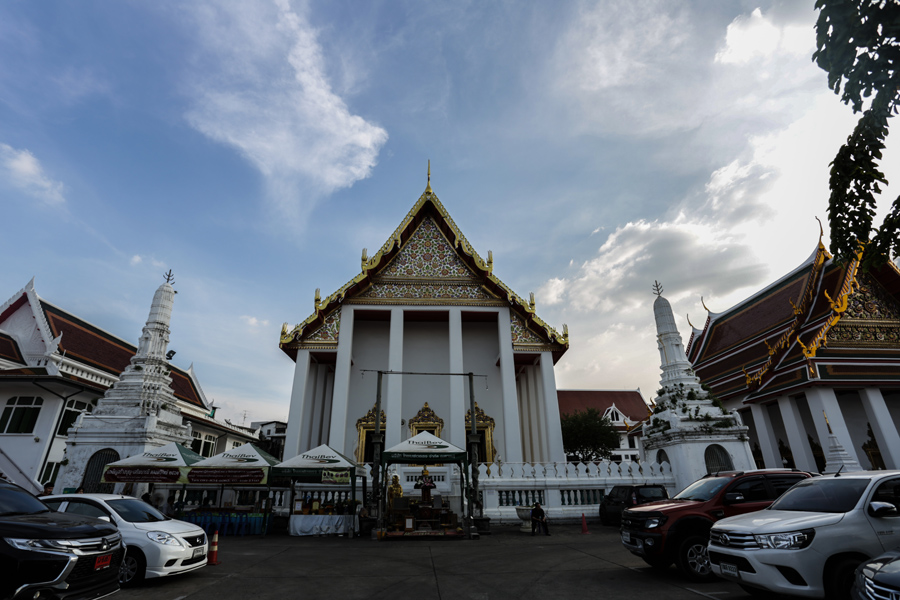 Sacred Heart Buddha Temple exemplifies Thai architectural work. At 16.99 meters wide and 20.19 meters long, its interior is split into 5 sanctuaries. Here cast Buddha images from the Sukhothai period are enshrined: an ancient image named "Naga Buddha," is paired with "Phra Sri Sakyamuni," which is also the principal Buddha image of Wat Suthat Thepwararam.
Phra Borommathat Maha Chedi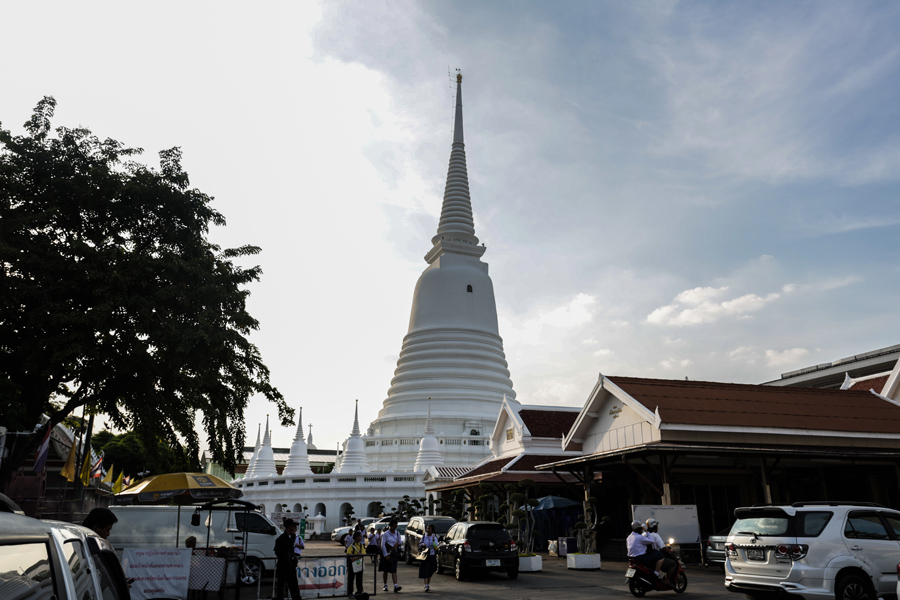 The Phra Borommathat Maha Chedi is 60.525 meters tall, with a base width of 162 meters and diameter of 50 meters. It was built by Dit Bunnag, completed during the reign of King Rama IV, and contains Buddha relics.
Khao Mo Park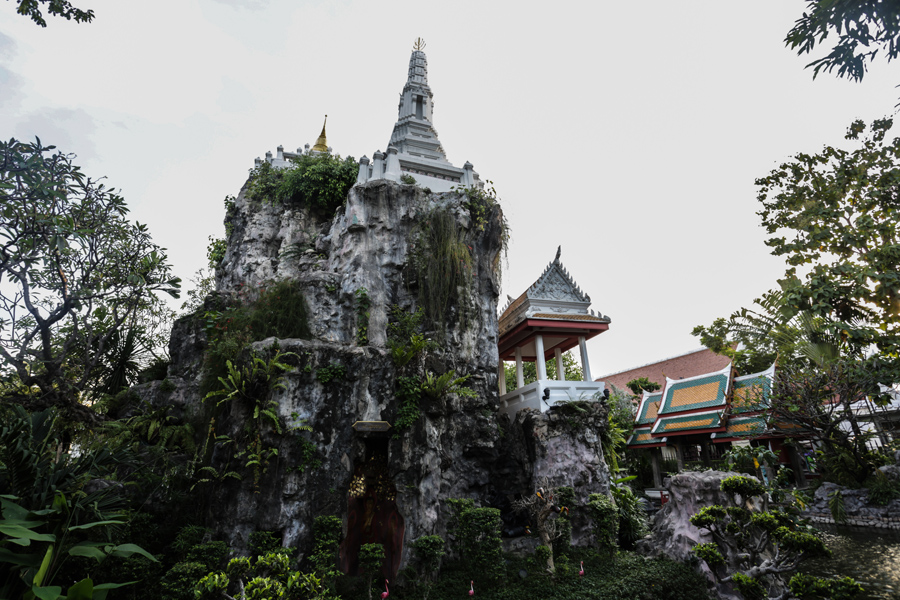 Khao Mo Park, better known as Turtle Mountain, is a small artificial mountain built and surrounded by a pond in front of the temple. A stairway to the top takes you to a gilded, lacquered, brass cast stupa containing important Buddha images. The pond has many turtles of different varieties, hence the name "Khao Tao," or "Turtle Mountain."
Bangkok Art Biennale 2018 works shown in Wat Prayurawongsawat are altogether 6, being
Chat…Naa (Thailand)
Artist: Arnont Nongyao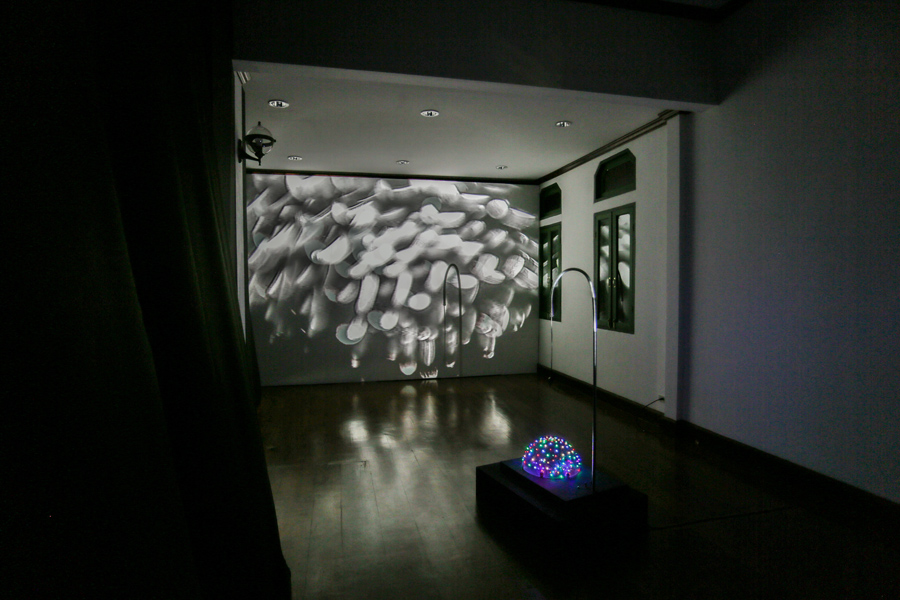 This artist  has experience in the arts of sound and animation, so Chat…Naa ("the next life") is a mixture of  installation art, experimental animation, and experimental sound performance art, all touching closely on the roles of people, materials, the environment, and society.
WHAT WILL YOU LEAVE BEHIND? (Thailand)
Artist: Nino Sarabutra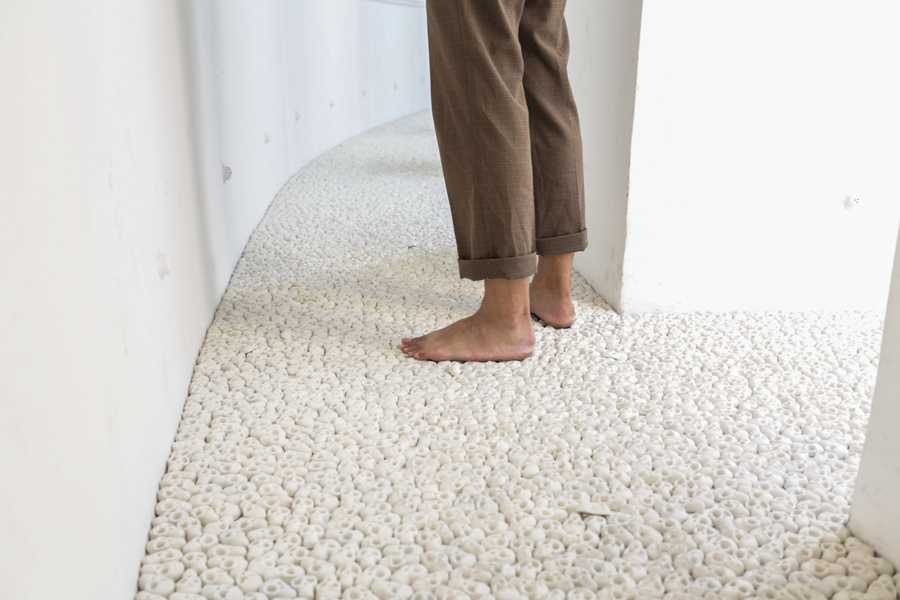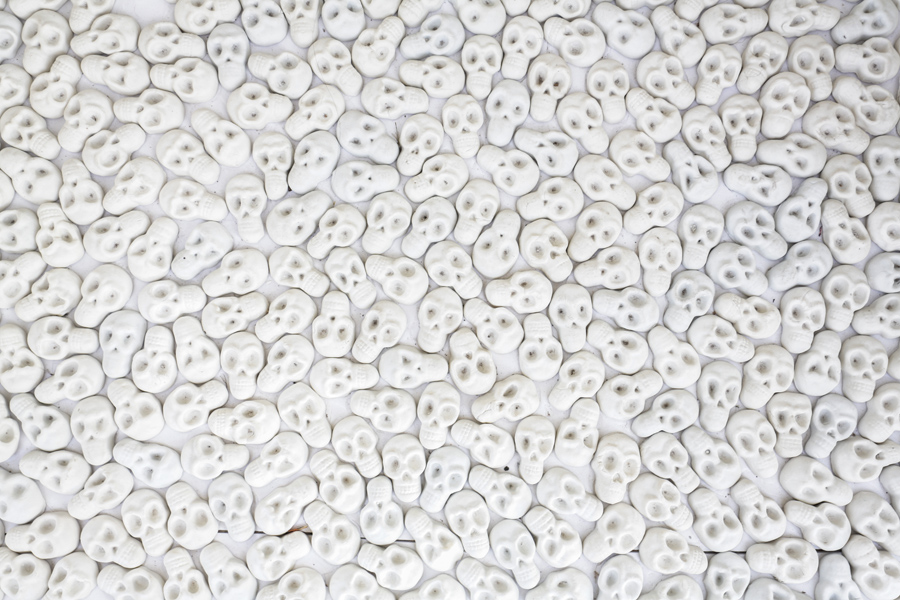 WHAT WILL YOU LEAVE BEHIND? Is a scattering of more than 125,000 unglazed white ceramic skulls on a walkway surrounding the primary chedi of the temple, transforming it to a space that encourages visitors to think, "If today were the last day of my life, what good would I be leaving in this world?"
Zodiac Houses (Thailand)
Artist: Montien Boonma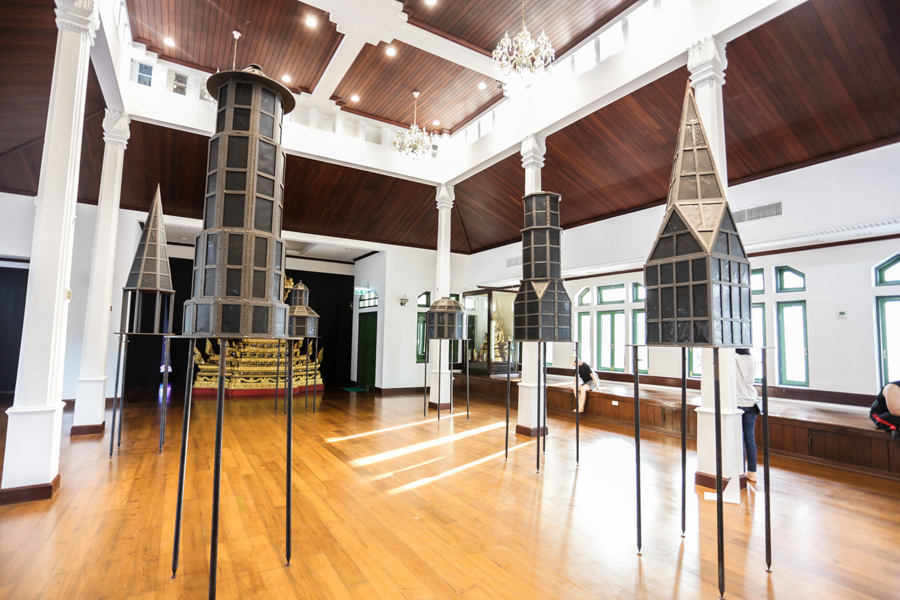 Zodiac Houses is a set of sculptures in black gothic style, full of astrological symbolism, that Montien has created as a search for peace, rebirth, and communication with the world after death. It was constructed in the Buddhism instruction hall of the temple so as to face the instructor's lectern, suggestive of communication with the dead and the world after death.
Sweet Boundary: In the Light Tube (Thailand)
Artist: Kamol Phaosavasdi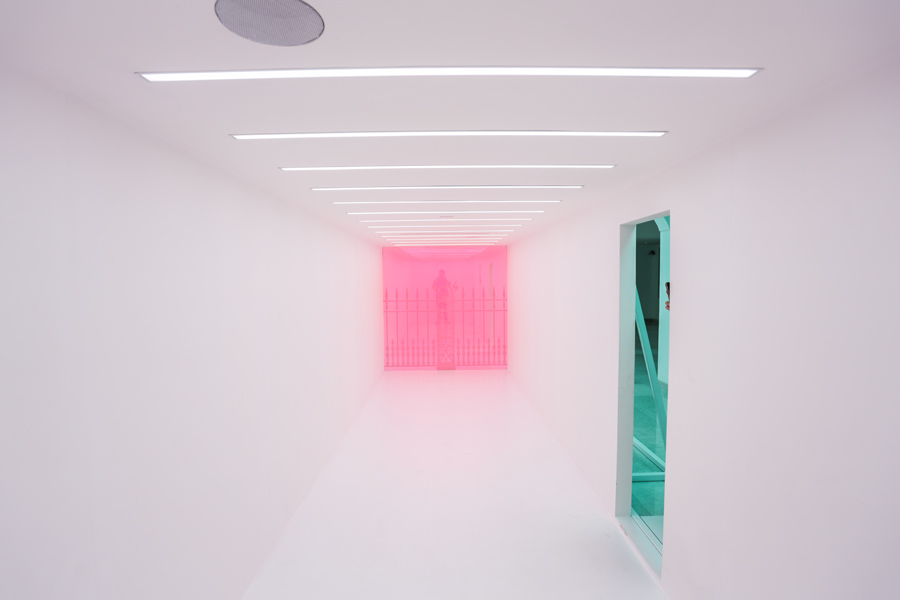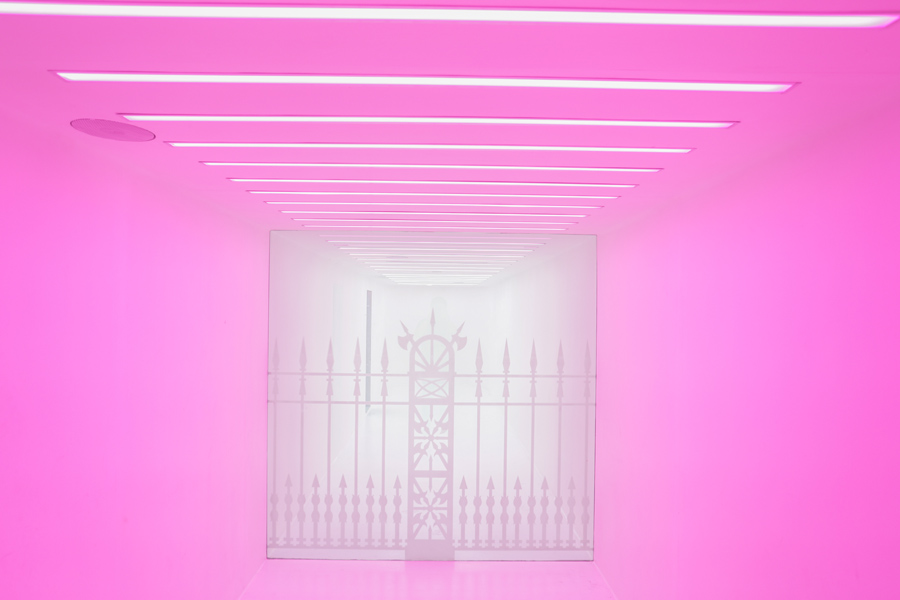 The installation art piece Sweet Boundary shown at Wat Prayurawongsawat has origins in historical research about the establishment of the temple and nearby areas. The iron fence here features a representation of sword, arrow, and spear. The actual fence was imported from England in the time of King Rama III in exchange for its equivalent weight in sugar. This piece harks back to the prime relationship between Thailand and China at a time when maritime trade could be held as a monopoly in the region; this was before the worldwide market glut in sugar and the arrival of Western nations on the scene.
Monuments of the Memory, the Golden Room (Italy)
Artist: Paolo Canevari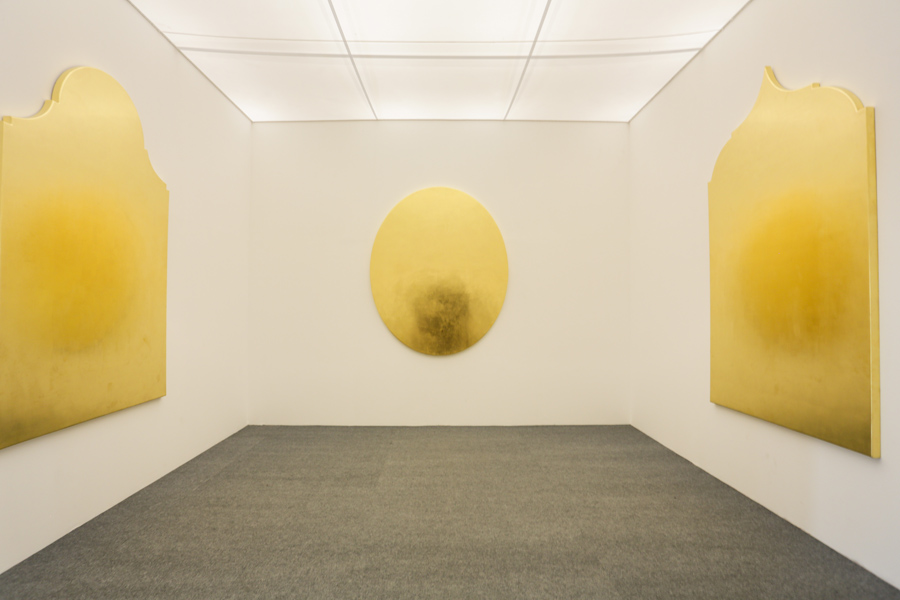 Monuments of the Memory, the Golden Room is a painting in shades of gold, but devoid of internal content, to symbolize sanctity, significance, memory, and prayer as they exist in both Buddhist and Christian religions. It is on display in the Temple's religious instruction hall.
Turtle Religion (Thailand)
Artist: Krit Ngamsom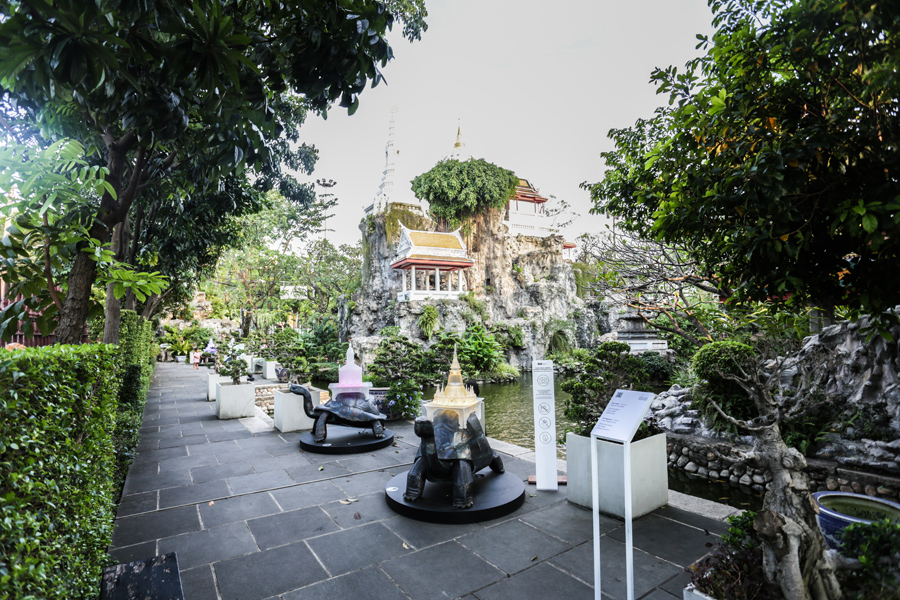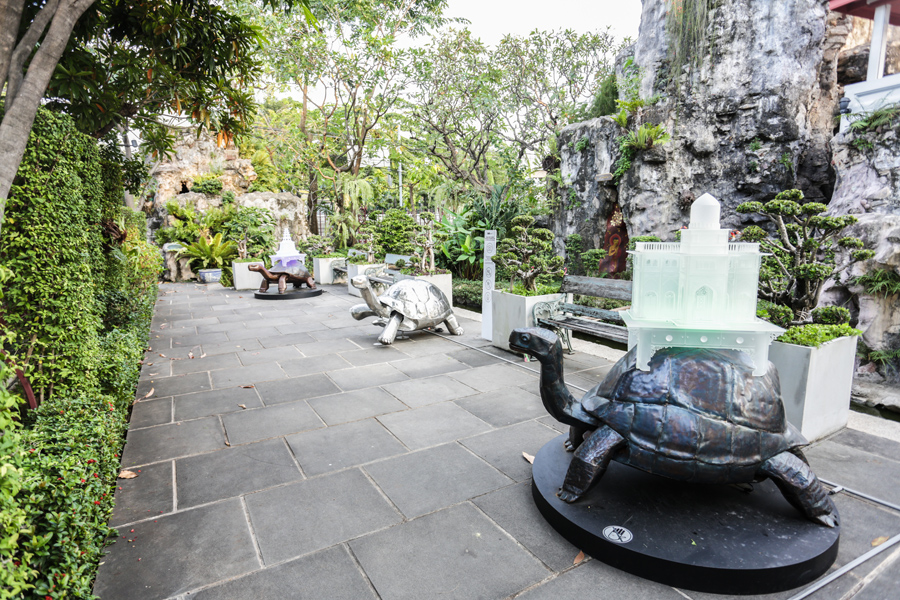 Turtle Religion is at Khao Mo, set by the pond, itself full of turtles and catfish. Here we find iron turtles carrying various objects on their backs that reflect the unity of religious beliefs and cultures which in the Khlong San area are so thoroughly mixed as to become one substance.
Altogether, including these three abovementioned temples, under the concept of "joyous, energetic art" the Bangkok Art Biennale 2018 International Festival of Contemporary Art has exhibits at 20 landmark location in Bangkok landmarks on display until February 3, 2019.