Anyone coming to the City during this period will almost certainly see major art works by many world-class artists. These are set up in shopping malls, along walkways, even in temples, as part of the contemporary international art festival Bangkok Art Biennale 2018.
One of the artists we've been keeping close track of is Yayoi Kusama, known for artistic expression through repetition of polka dots on various materials and objects, some of them inspired by "Auntie Yayoi's" frequent visual reflections on relationships that uses pumpkins as a medium, for example in the piece entitled Inflatable Pumpkins Balloons. This gorgeous exhibition consists of 14 balloons suspended from the ceiling of Central World, hanging chandelier-like above a wide area also adorned with those signature red dots.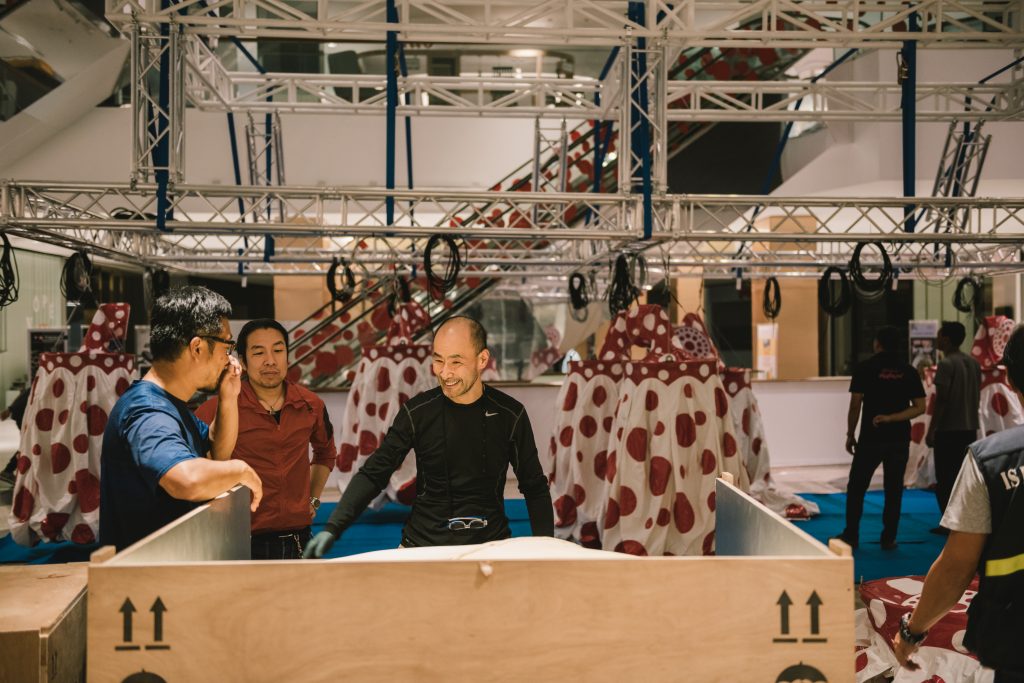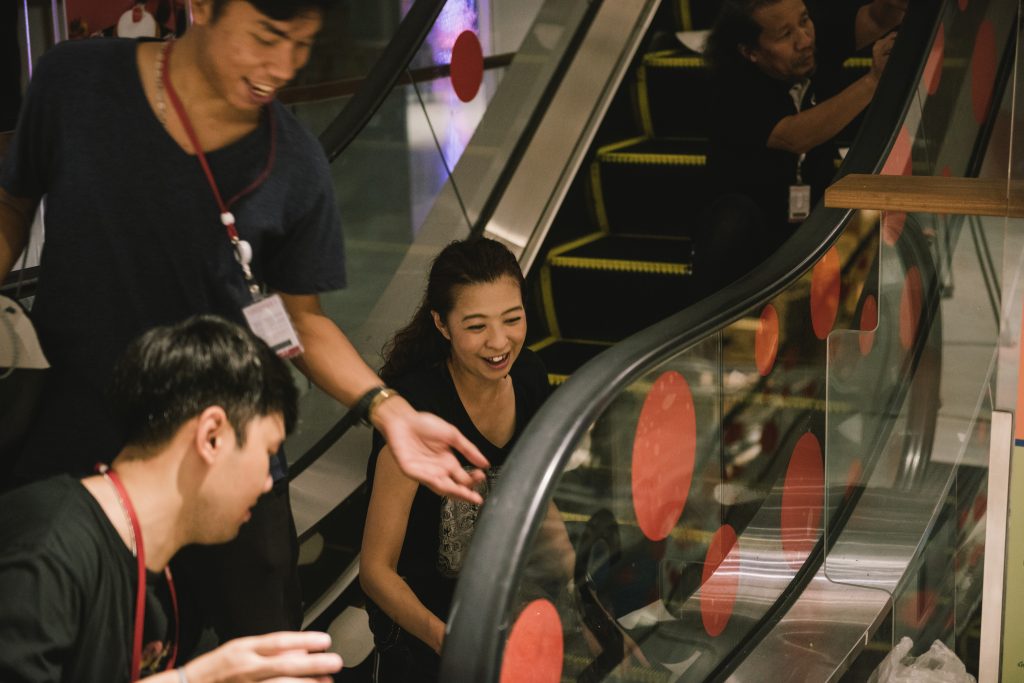 When the project was transported from Japan it was still in an unfinished state, but on arrival at Central world it was swarmed by both a Japanese and a Thai work team speeding to complete all the details, not in just the one or two days we were there watching, but over a period of many days. The subtleties of the Japanese, insisting on perfection in every detail, allowed not the smallest imperfection. Those floating balloons weren't simply inflated and hung up: light wiring had to be strung through an elaborate framework constructed of beams and internal supports. It took all that and more to produce these beautiful airborne pieces we know as Inflatable Pumpkins Balloons.
Why does it have to be Pumpkins?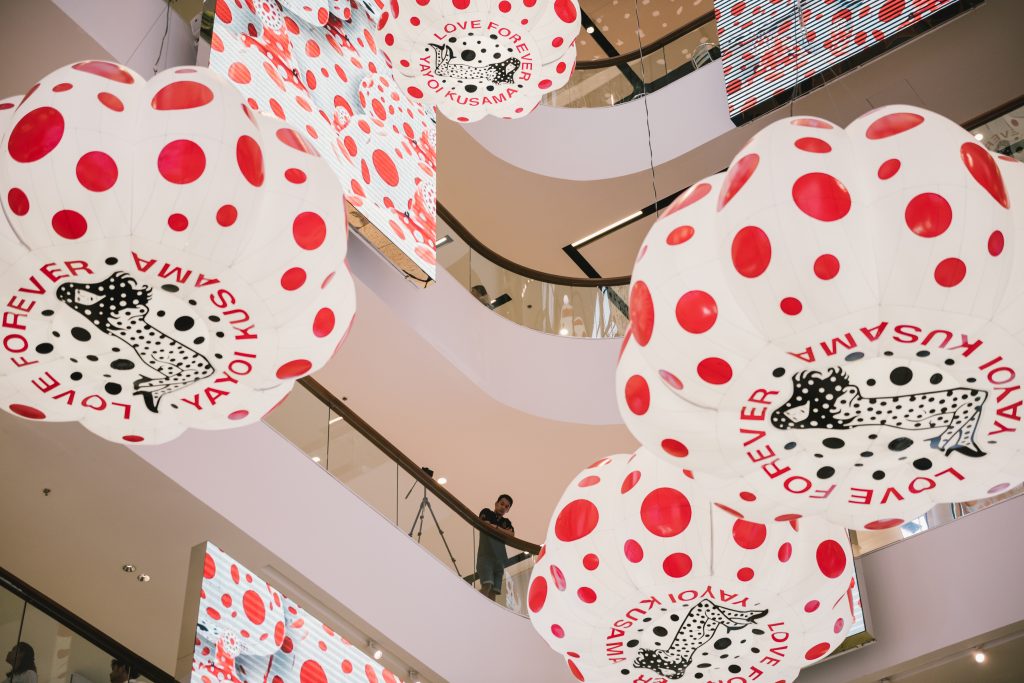 This seems like a question most people might ask! In an interview on the Louisiana Channel Auntie Yayoi answered, "I love pumpkins because of their funny shapes, sometimes quite like human facial features, and they give me a warm feeling."
The pumpkin shape has been a staple of her artistic work dating back to the 1950's: she's always been attracted to materials whose natural forms had an unevenness to them and also showed repetitive patterns. Adding to her unique view is a neurological condition that has caused her to have double vision since age 10, and has actually contributed to her producing such world-class artistic work.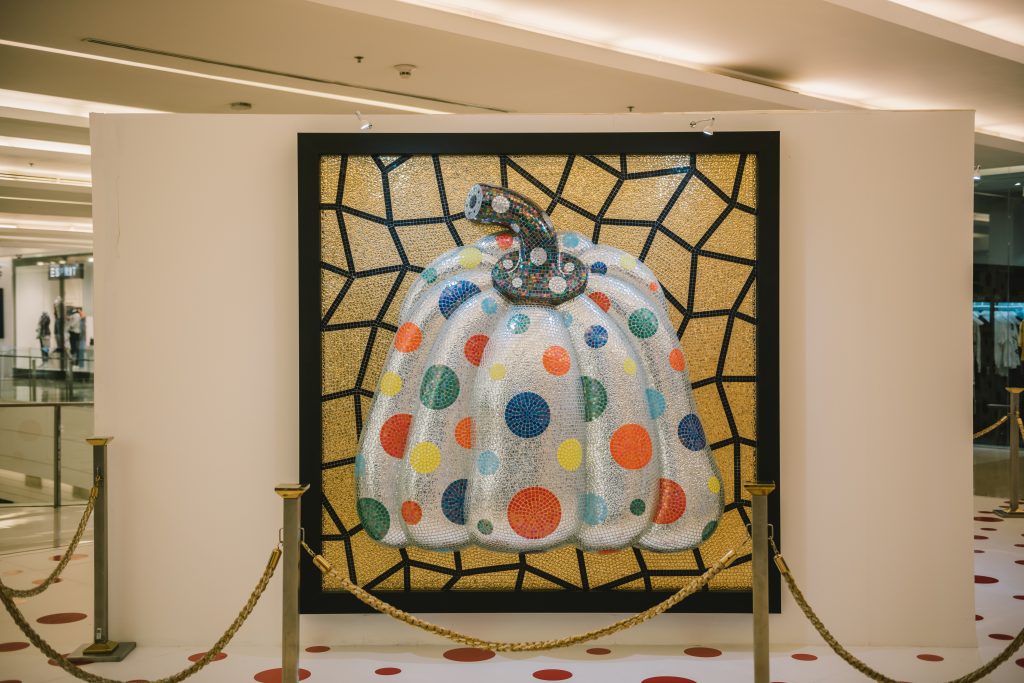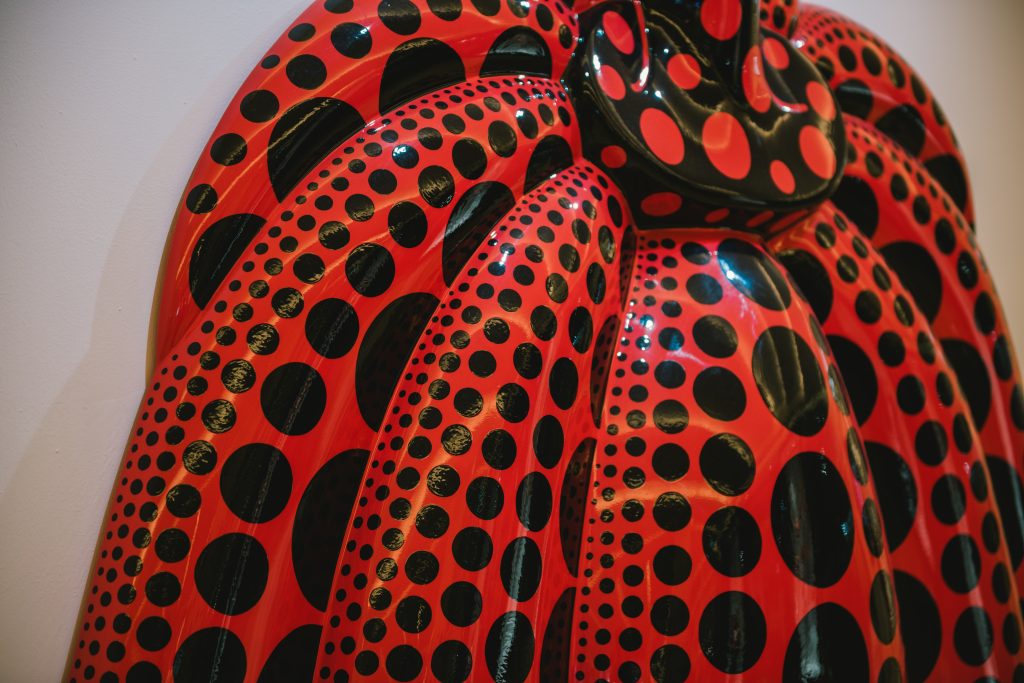 Another spot everyone can see Yayoi Kusama's Work is Fashion Gallery 3, on the 1st Floor of Siam Paragon: I Carry On Living With The Pumpkins (Silver Pumpkin and Red Pumpkin) gives us a pair of Auntie Yayoi's signature pumpkin works. One of the sculptures features silver dots in subtly detailed mosaic patterns reflecting various things hidden in them. Another, in the same area, is a red pumpkin with black polka dots which we're able to view up close. On its installation date it appeared to involve just a simple setup of 2 ordinary pieces of art, but the actual story is a bit more complex. Due to the size and great weight of the works, plus the fact that there were no easy protuberances to grab onto, bringing them through the doors with both pieces remaining in perfect condition was a huge challenge to pull it off, and in the end it took from nighttime till the break of dawn to do it successfully.
What a strange experience! Art exhibitions aren't always an easy business, right? Well, so many people have put in so much great work, it would be a pity if not enough folks saw it . . . so what are you waiting for? Get down here!
You may also like…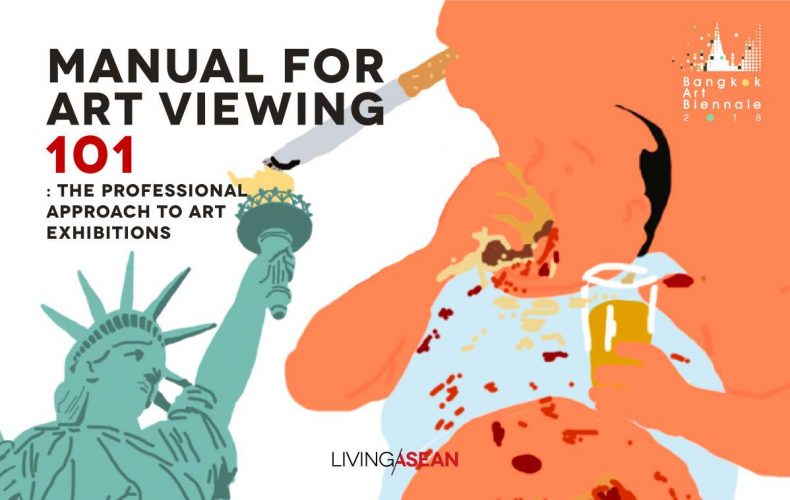 MANUAL FOR ART VIEWING 101: THE PROFESSIONAL APPROACH TO ART EXHIBITIONS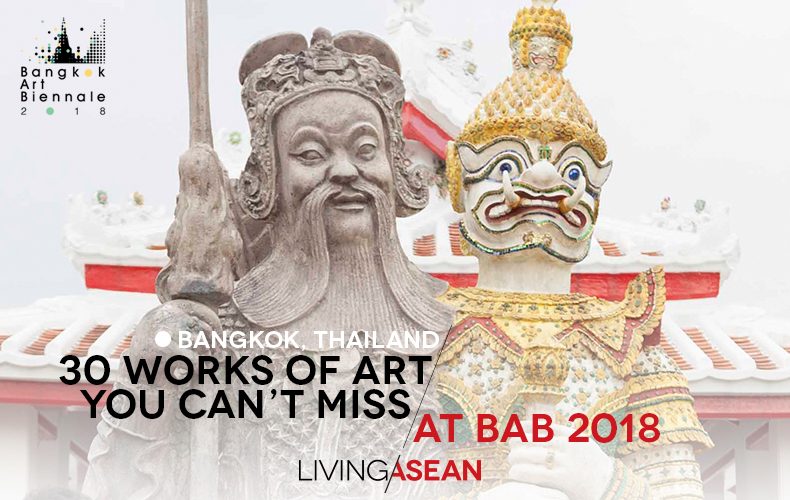 30 WORKS OF ART YOU CAN'T MISS AT BAB 2018