A designer who's passionate about all things made of wood, Phisanu Numsiriyothin has grown familiar with using woodworking tools at home since a very young age.
Let's begin with building a cow milking stool. Learn from Phisanu Numsiriyothin, master woodworker and professional carpenter. / Lesson 1 Getting Started in Woodworking
Upon graduation with a degree in Visual Arts, he led a self-indulgent life for a time pushing himself beyond the limits only to find it had taken a toll on his body and mind. He soon learned that life didn't get much better than spending the day in a woodworking studio. Life took a turn for the better after his exposure to works of outstanding artistry by big names such as George Nakashima, Sam Maloof, James Krenov, and master craftsman Saiyart Sema-ngern. Only then did his career in woodworking begin in earnest.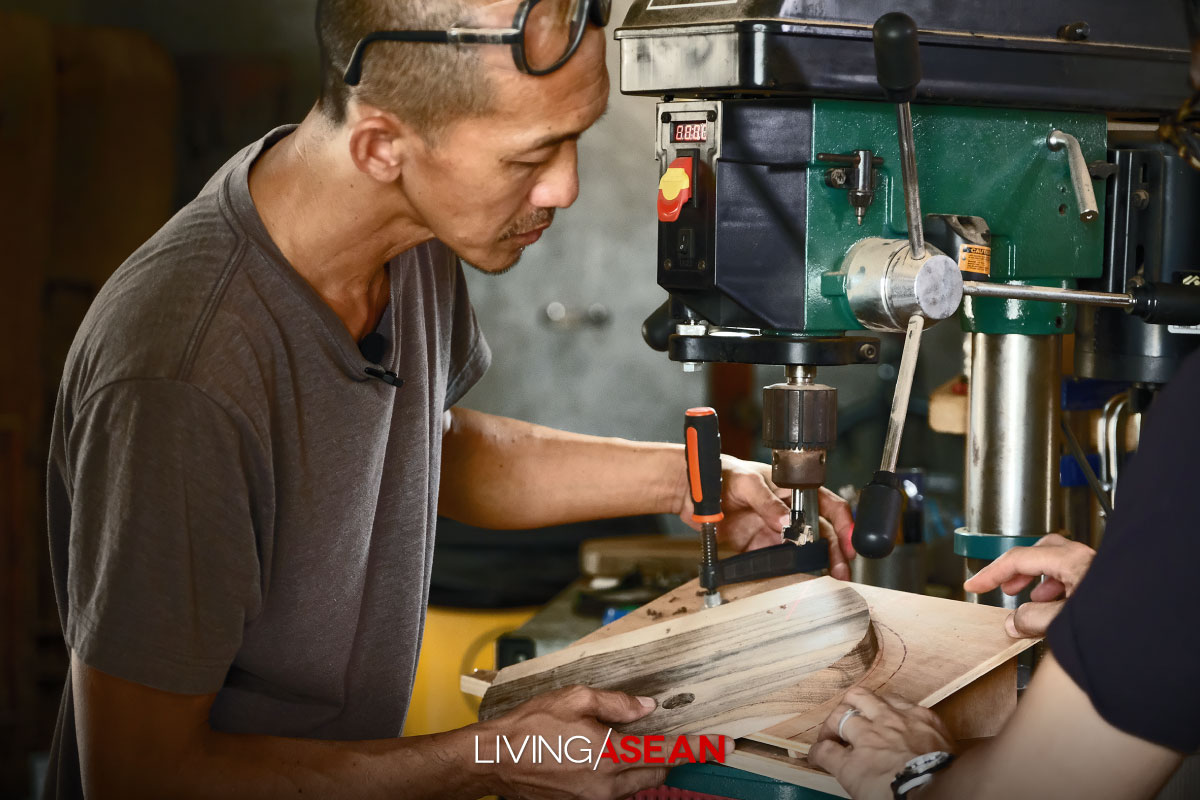 In a recent interview with room magazine, Phisanu said his belief in the value of woodworking came from experience that spanned more than a decade. "A designer may have considerable knowledge of chair making. But if he's unfamiliar with splintering or tear-out, has never done wood planing or used joinery tools, then he's only thinking of two parts of the entire process — design proportions, and graphic visuals or style. In the end, beautiful design is achieved, but it may not be the best choice for wood. Plus, ill-conceived design could result in a lot of waste that compounds the world's garbage problem."
The world that he alludes briefly to is one in which a woodworker exists in harmony with natural woodlands. It's a world where people harvest trees for timber responsibly and at the same time allow time for forests to thrive. Such an ideology can translate into a physically concrete form as is the case with "Rush Chair" by Phisanu in collaboration with the design duo, Jutamas Buranajade and Piti Amraranga, of o-d-a. They use small pieces trimmed off large trees to build the chair frame using traditional methods of wood joinery, while the seat is made of woven natural fibers dyed different shades of indigo.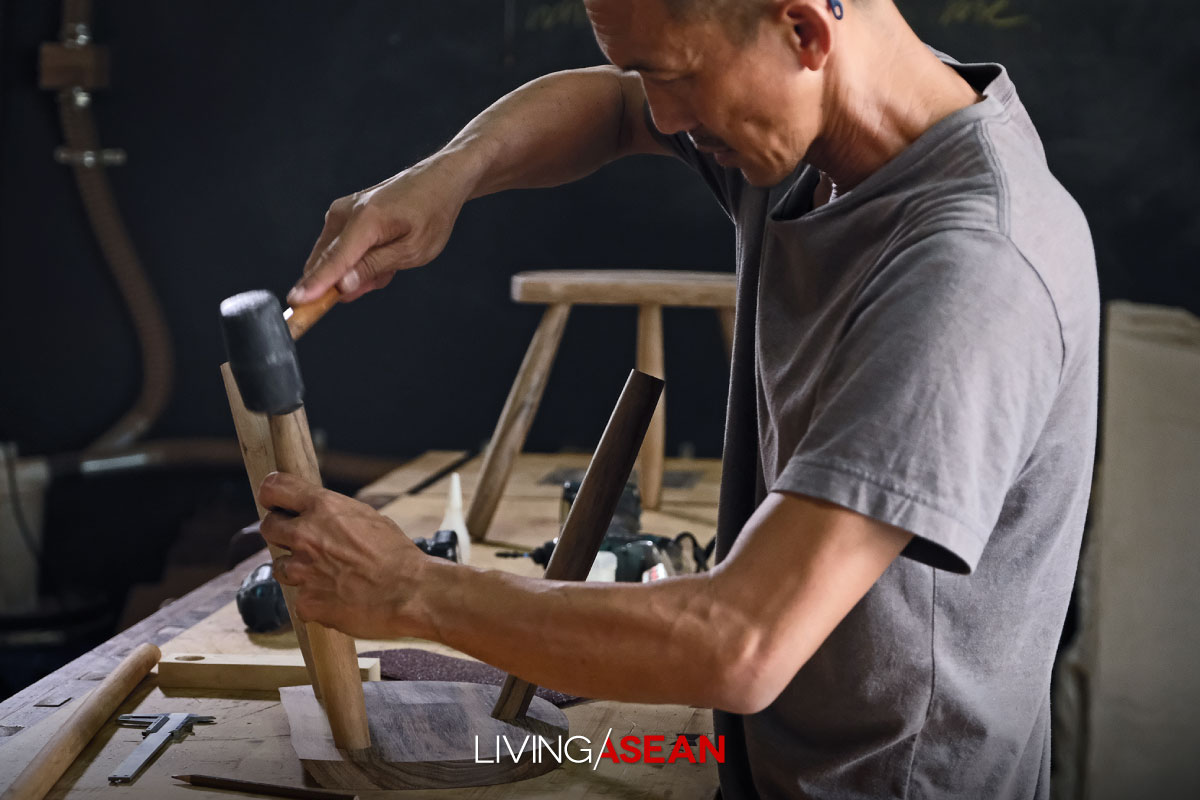 If sustainable design refers to a piece of furniture that's comfortable to sit on, easy to fix using parts sourced directly from nature, and capable of reducing negative impacts on the environment, then Rush Chair would fit that definition, a chair that's eco-friendly in every sense of the word.
As Phisanu puts it, "If we design without focusing on just our needs and start paying attention to the environment, the result will be very different. As for me, I focus not only on the production technique, but also on the wood being used, the tools needed to perform the task, and everything that combines to add value to woodwork."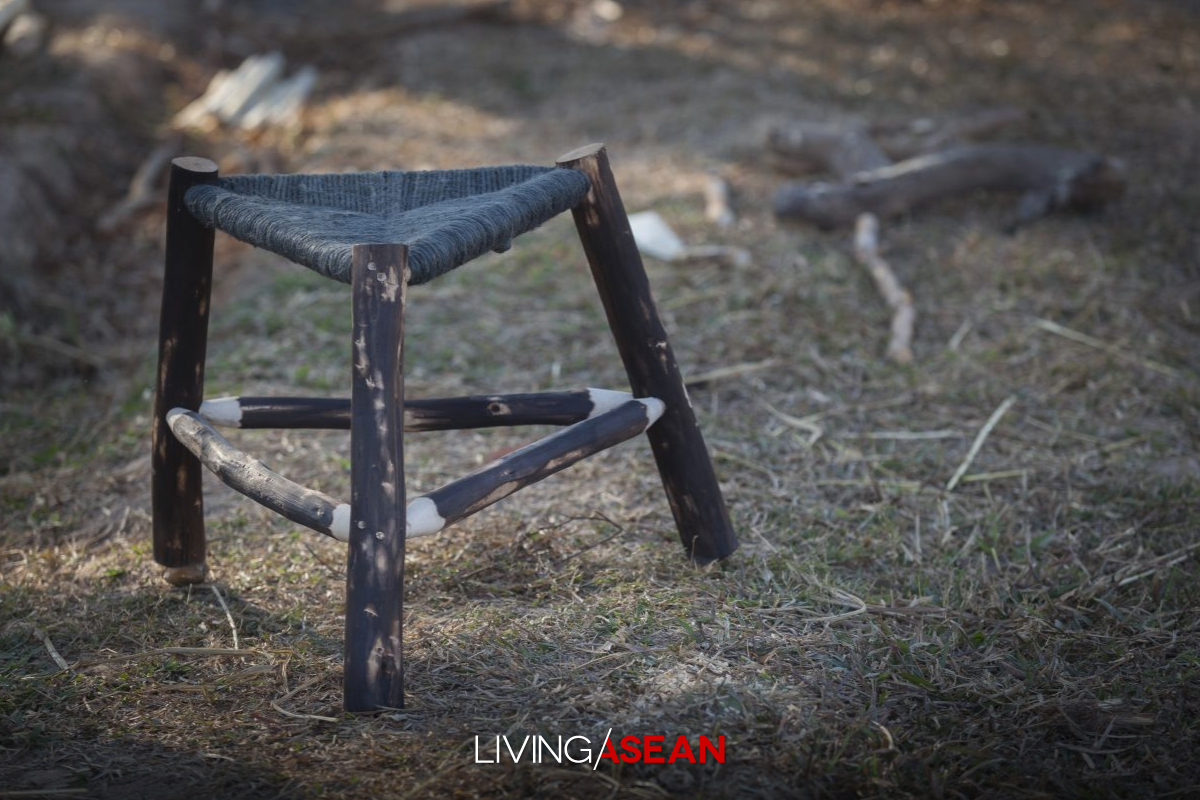 Rush Chair
For the time being, Phisanu has relocated his fully equipped studio from Bangkok's Buddha Puja area to Kuchinarai District in Kalasin. Here, he established a field workshop to make furniture from locally sourced materials. The villagers were available to work after the annual rice growing season had passed. So he persuaded them to join in making the Rush Chair based on design improved in conjunction with o-d-a. By making seat furniture from tree branches found in the area, Phisana subtly communicated the need to protect and preserve the environment among participating villagers. He has discovered the astounding connection between people and trees, and used it wisely promote nature conservation in the long term.
"I believe that between the chair and the trees, our home planet prefers more trees. They are crucial to the physical surroundings, far more important than my designing achievements. By realizing the importance of each and every tree, we are motivated to come up with good design and elaborate manufacturing process, and the resulting effect is worth a try."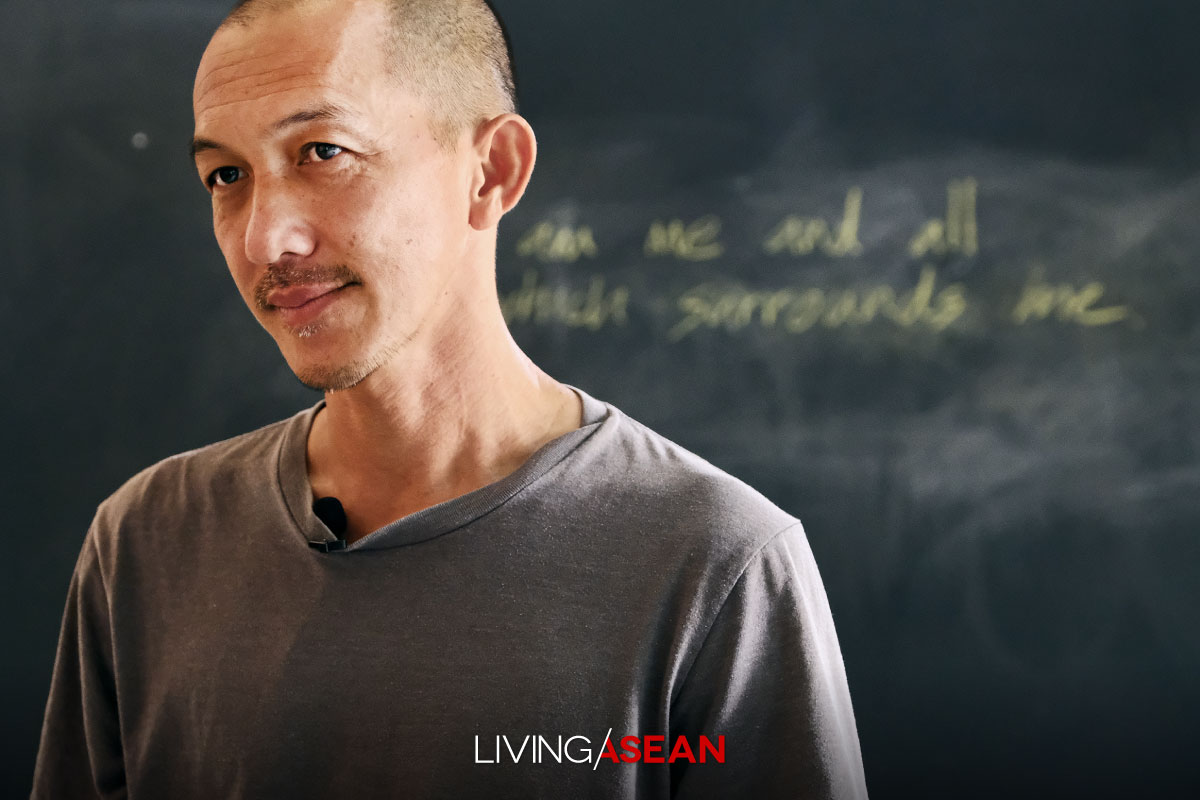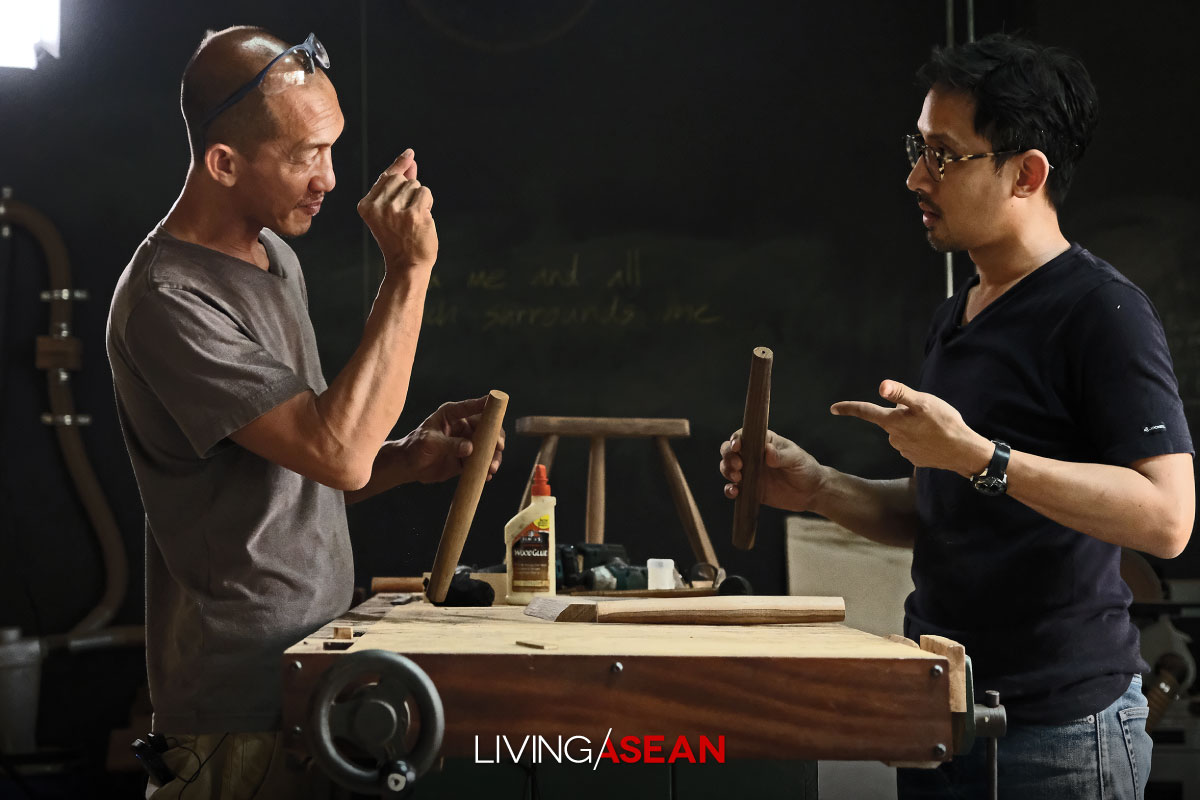 Phisanu Numsiriyothin is one of subject matter experts being featured in an online curriculum titled, "A Passion for Woodworking". It's part of BaanLaeSuan Classroom, a collaboration with the Creative Economy Agency (Public Organization), or CEA. The program is designed for people interested in woodworking and those wanting to acquire basic carpentry skills through furniture making, plus ideas about using local materials and tips for developing a career in creative business. It's hosted by Jeremiah Pitakwong, Editor of BaanLaeSuan Magazine.
Phisanu said: "A stool for milking dairy cows. It's a basic stool, very basic and easy to build. It's lightweight and portable. A first for anyone wanting to try his hand at woodworking. Plus it's come a long way in terms of design history. It depends on the material we can find, or the purpose of use. This one isn't made of wood sticks. I made it instead from a solid tree trunk. And this one from wood slabs. The method differs occasionally. Sometimes we use leftovers or cut wide planks to make legs. We're talking about using one type of material."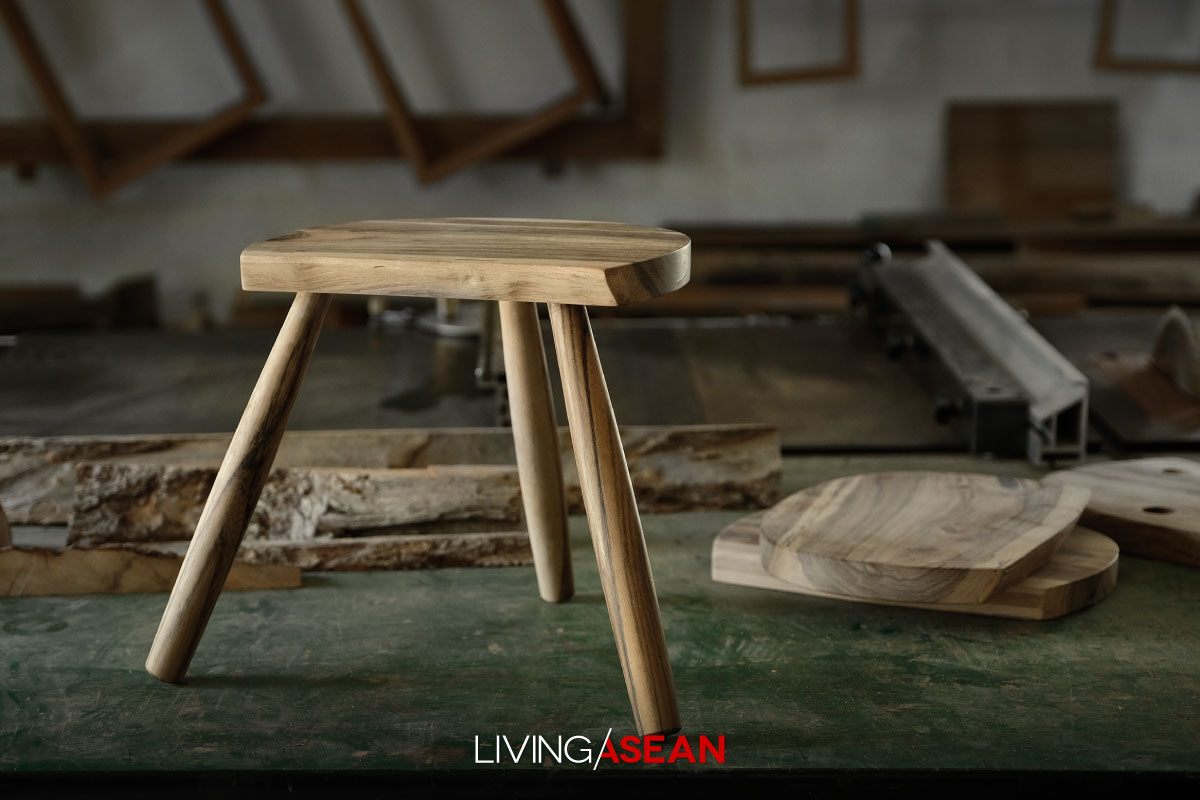 Milking stool
Let's begin with building a cow milking stool. Learn from Phisanu Numsiriyothin, master woodworker and professional carpenter. Click this link to get started https://dai.ly/x7zc9y1