/ Nakhon Ratchasima, Thailand /
/ Story: Wutthikon Sutthiapha / English version: Bob Pitakwong /

/ Photographs: Soopakorn Srisakul /
Not many places make us feel comfortable every time we visit. It's wonderful when a person's own home is like this "House around a tree" at Baan Rai Thaw Si in the fresh mountain air of Pak Chong, Nakhon Ratchasima.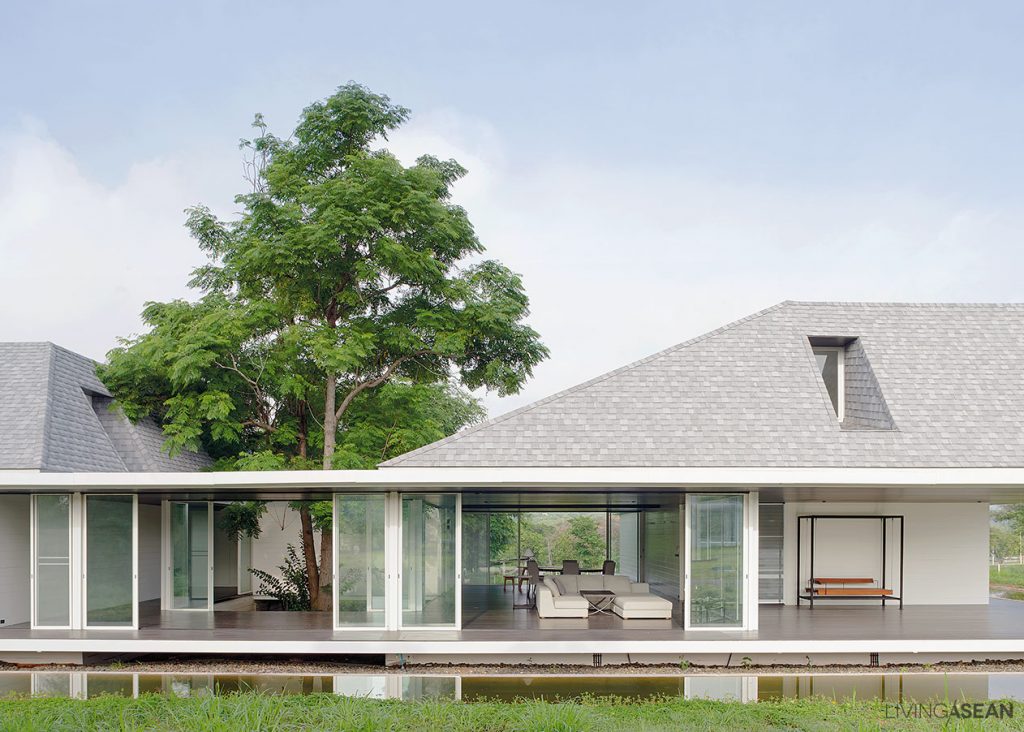 Pui, the owner, became attached to Baan Rai Thaw Si when her mother used to come for meditation at nearby Baan Boon with the monk Shaun Jayasaro.
"She brought me here and I liked it," said the owner.
"She wanted a country house, so here we are!"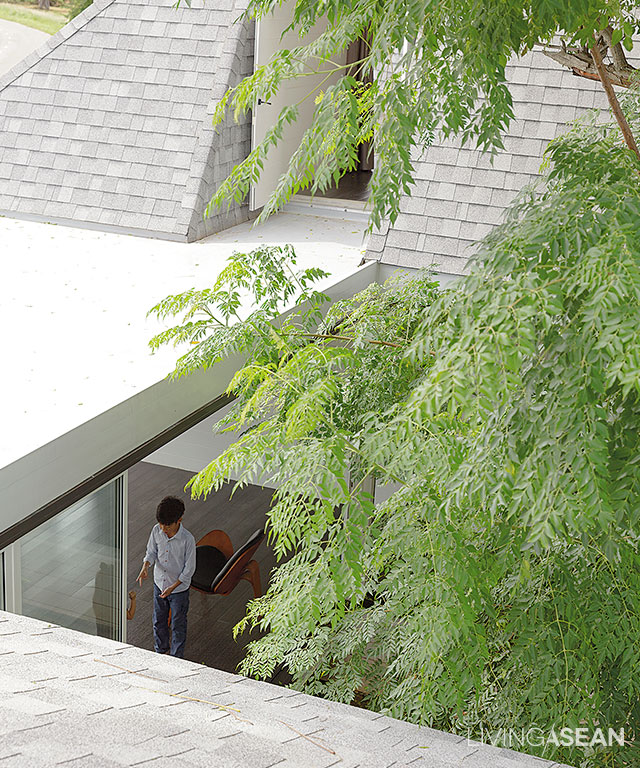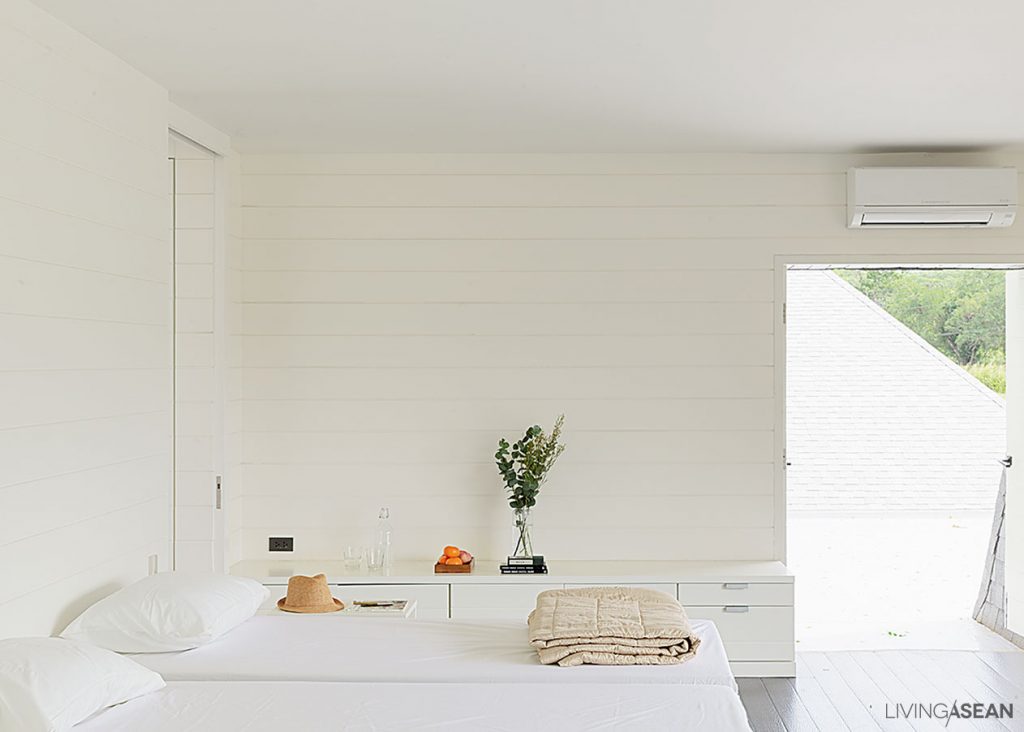 Pui's mother adds, "We built here for a lot of reasons. As Bangkok people, we feel safe living in a project, where neighbors watch out for each other, and this is a peaceful, comfortable atmosphere."
This was certainly clear to our team. Most households are also involved with meditation, adding to the pleasant ambience.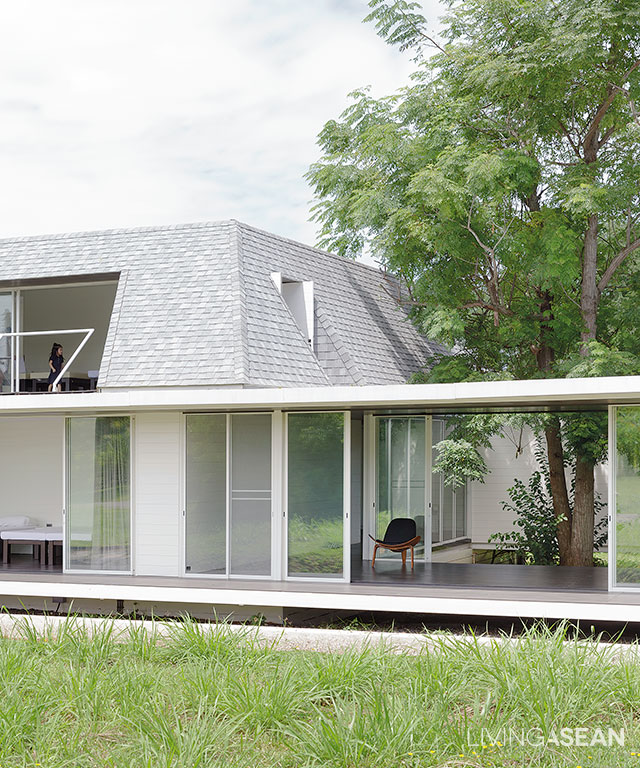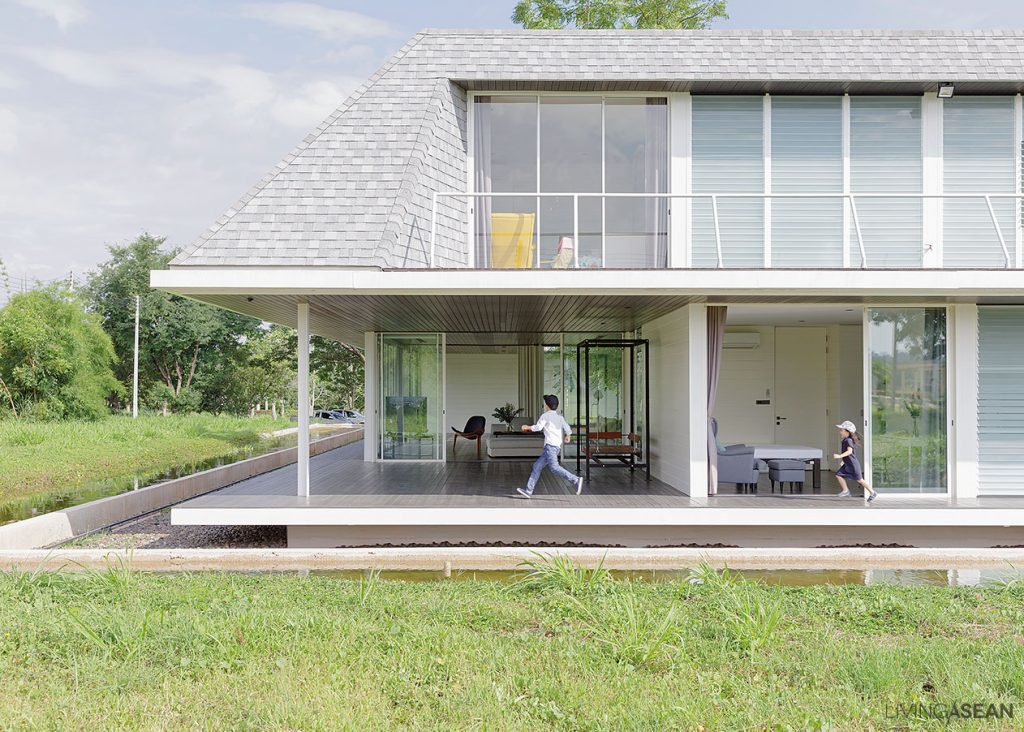 "We wanted a house where we could retire when we got old," continued Pui.
"And Mother is making plans now. Rutjanamphon Ketkasemsuk – also known as Tang – is a university designer and architect whose designs we liked, and he created this open, airy house."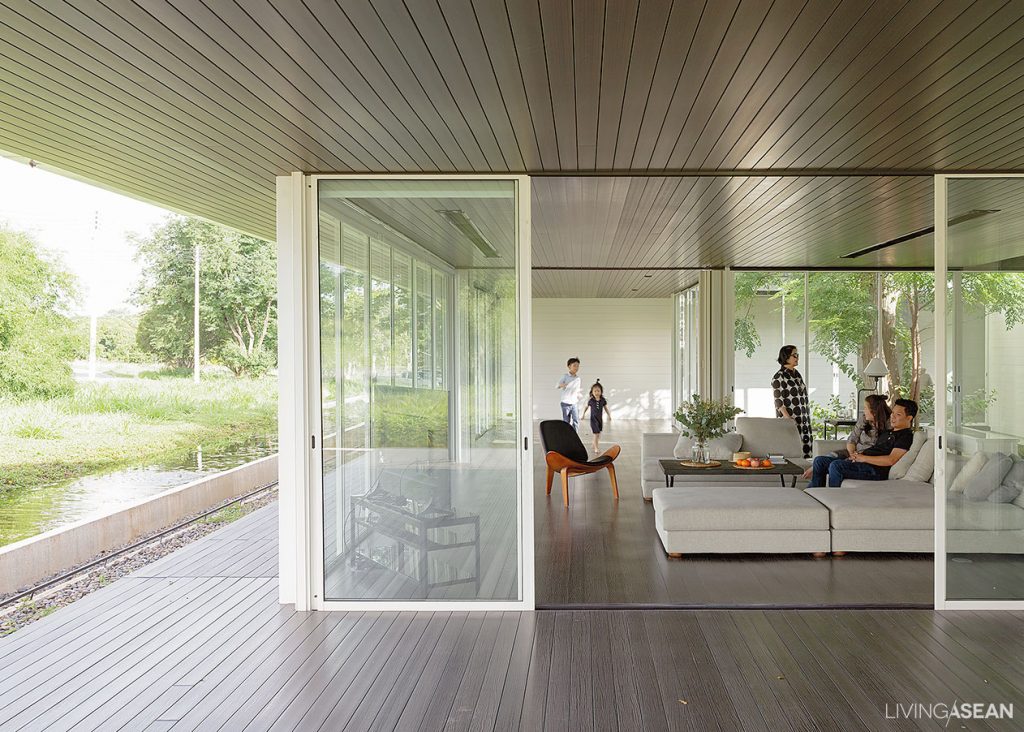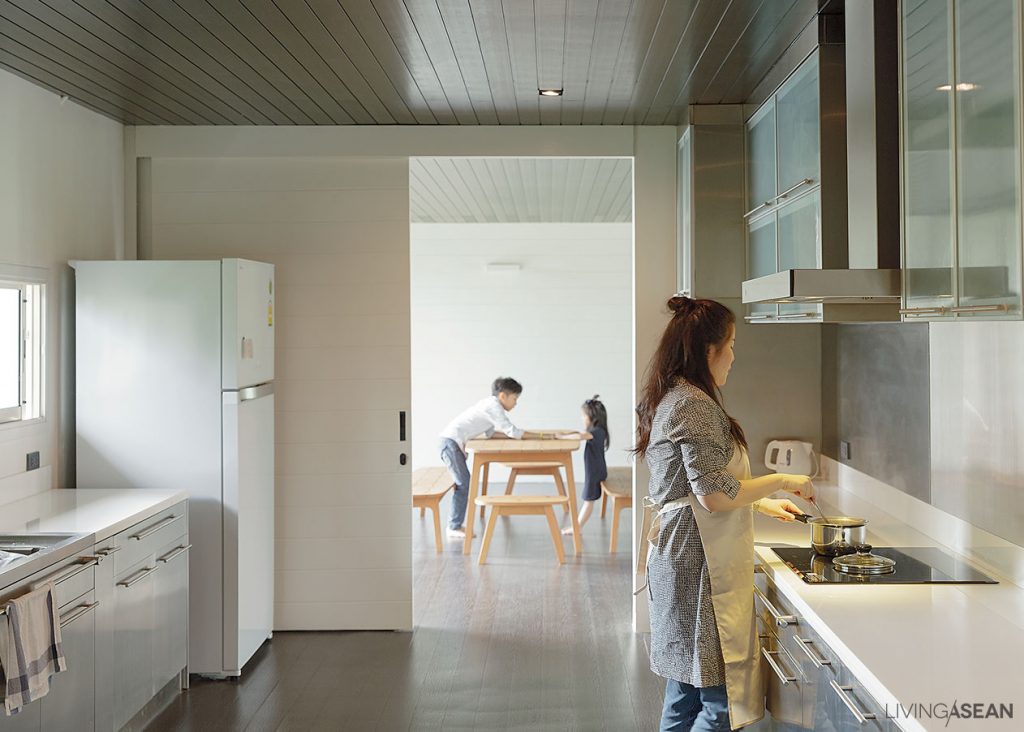 Tang's design includes rooms for overnight guests, access to natural surroundings, and easy maintenance.
From the front, we get a wide view of the house, which blends right in with the natural environment. The first floor has floor-to-ceiling glass doors and windows, and a walkway surrounds it and also serves as a porch.
The second-storey angled roof panels make the house look lighter, and the color combination of white and gray adds to a proper, orderly look, making the tall tree in the center stand out, echoing the beautiful natural surroundings.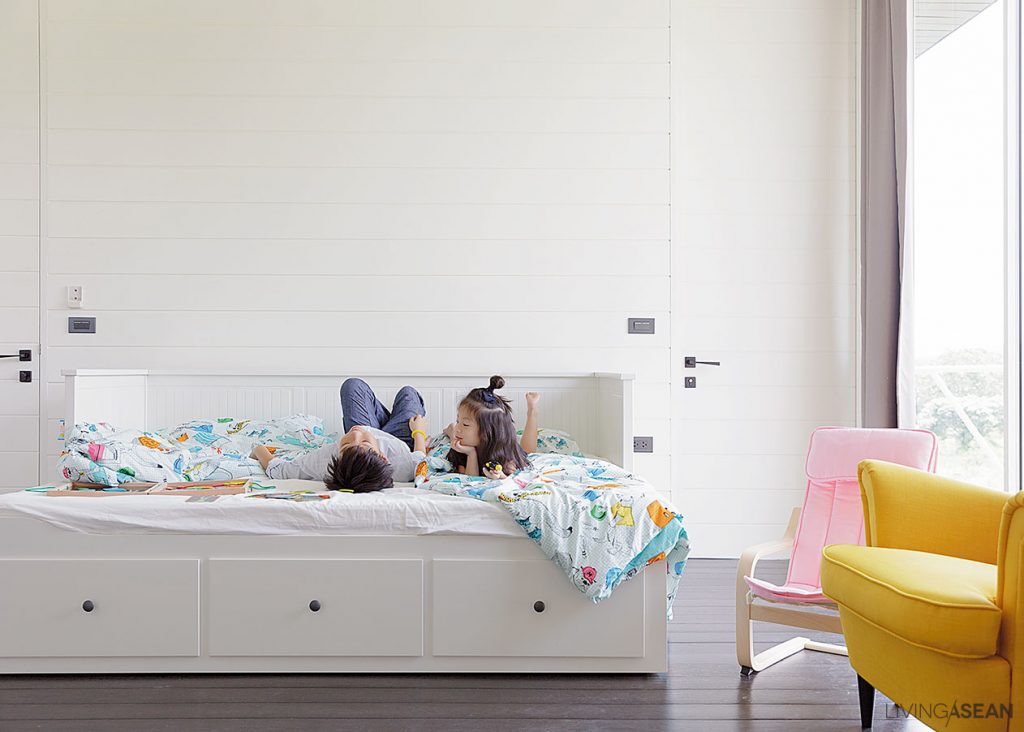 Interior décor is simple, partly because this is a vacation home, but also because the owners prefer it that way.
Furniture is movable, though there's a built-in kitchen.
Floor and ceiling are dark-colored artificial wood, creating dimensional contrast with the glass frames, reflecting the natural world outside and creating a warm indoor atmosphere, especially in the evening when sun shining in through the trees creates breezy patterns on the white inside walls.
The two wings of the house stand separated by a tall tree in the center.
One wing is like a small hostel, with eight guest beds; the other is the family wing, with Pui's mother downstairs and bedrooms for Pui and her husband, with their kids on the second storey.
This "house around a tree" reflects the living arrangement and the comfort and happiness of living close to nature while coming together as a family.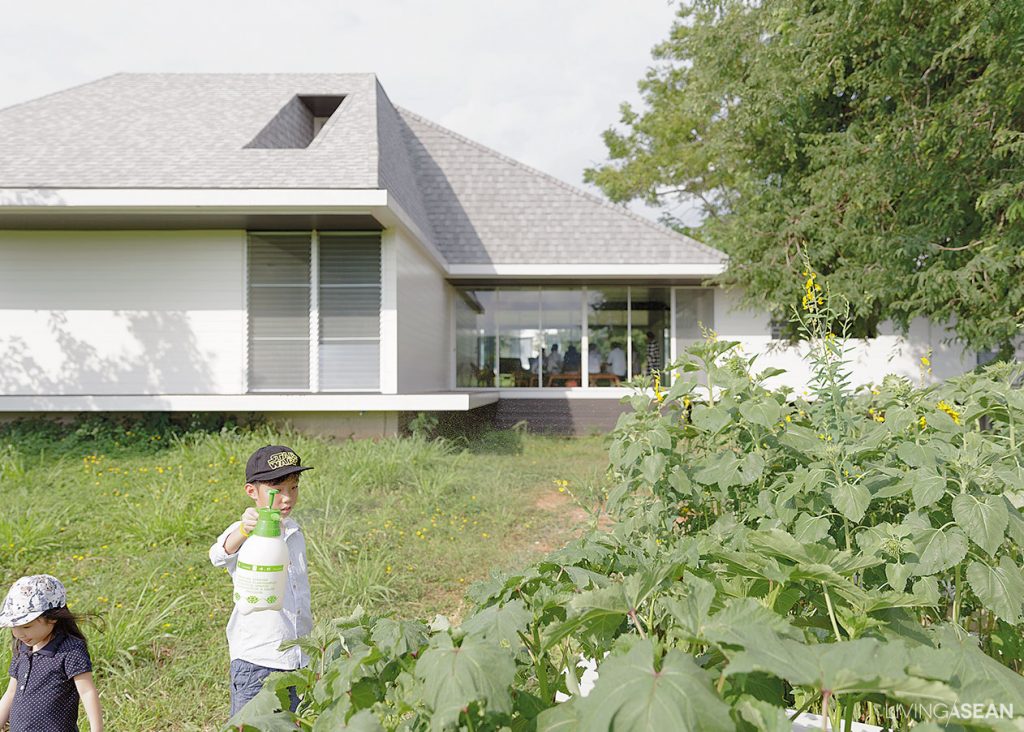 ---
Architect: Sook Architects
---
You may also like…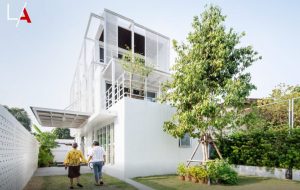 A Modern Home That is Quintessentially Thai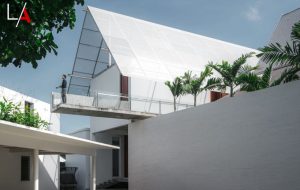 Baan Hing Hoi: A Modern House Exudes Old World Charm