/ Chaiyaphum, Thailand /
/ Story: Trairat Songpao / English version: Bob Pitakwong /
/ Photographs: Soopakorn Srisakul /
It was a journey through time as we paid a visit to ethnic Nyah Kur communities in Chaiyaphum Province, located in the heart of northeastern Thailand, also known as Isan.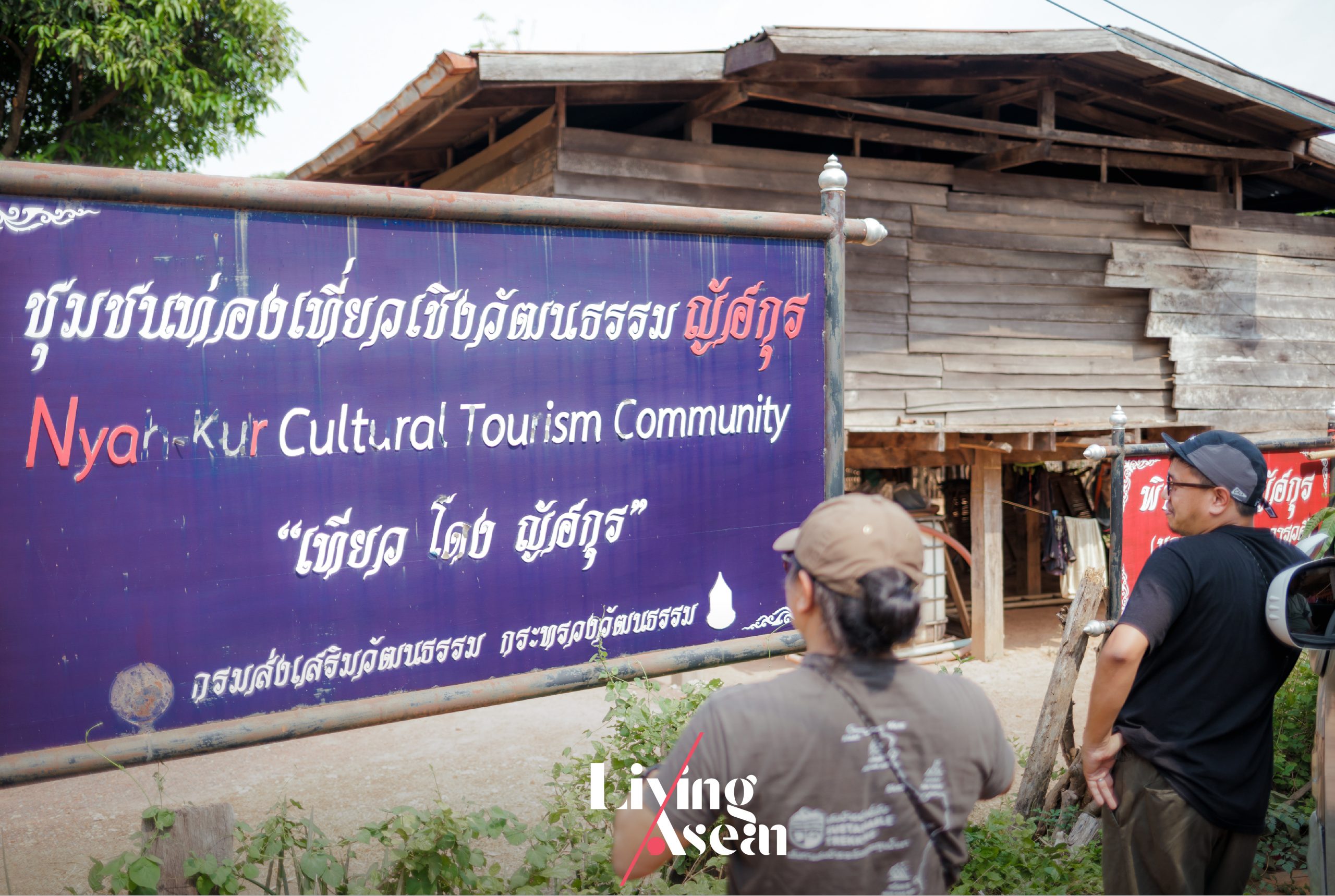 The Nyah Kur are nonurban groups inhabiting several parts of the country. Their language is a branch of the larger Austroasiatic family indigenous to mainland Southeast Asia and eastern South Asia.
By way of introduction, the Nyah Kur is related to the Mons of Dvaravati, a kingdom that flourished from the 6th to the late 11th century in what is now Thailand. Studies show the modern Nyah Kur language shares extensive similarities in the vocabulary and sounds with Mon, the language of the ancient kingdom.
Narita Lert-utsahakul, liaison of the Nyah Kur Community Learning Center, told this writer:
"It will be nice for everyone to learn through hands-on experience the history of the community, its ethnic music, and the rural way of life.
"This way, they will get to appreciate the traditional music of the people native to the region. It's a type of tourism activity that focuses on the conservation and restoration of cultural heritage assets."
That was pretty much a great starting point for our journey to the Isan countryside. The trip took us to a community of descendants of the ancient Mon people located at Tambon Ban Rai in Chaiyaphum's Thep Sathit District.
As we were witnessing history, we were also watching the present way of life unfold in real time, not to mention good food and the beautiful natural surroundings.
Ways of life
We arrived at Wang Ai Pho Village, Tambon Ban Rai to learn about the homes of the Nyah Kur people.  A remarkable lasting legacy of the past, they were built the old-fashioned way — with one exception.
As time passed, the homes once made of bamboo transformed in the appearance and character to ones built of wood for durability. What remained largely unchanged was house-on-stilts design with a three-level floor plan, each level serving a specific purpose.
The beams that supported the floors above them sat atop pile heads shaped like slingshot catapults. An unfamiliar sight for us city dwellers, it's an age-old wisdom that's been passed down from one generation to the next.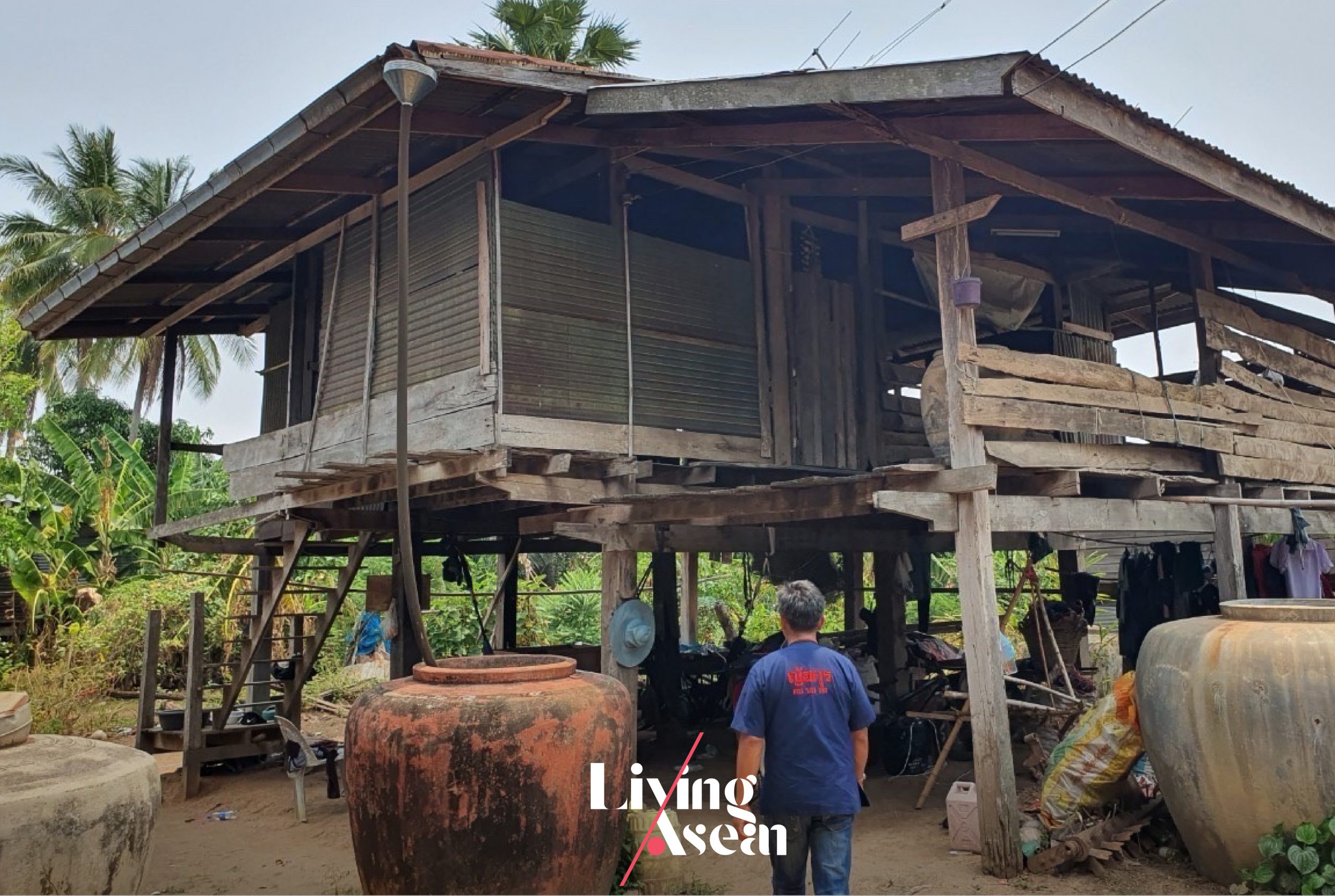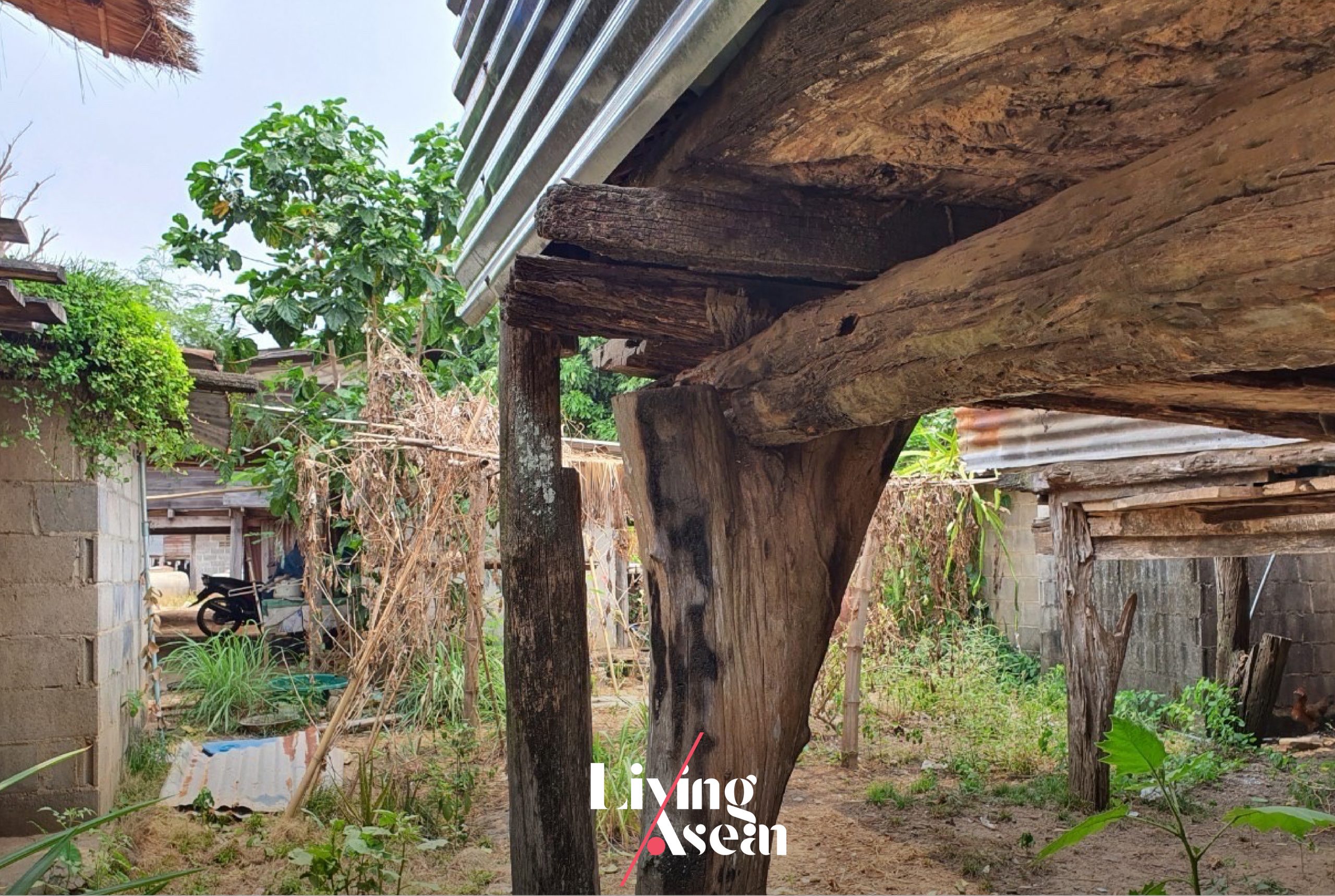 The Nyah Kur people originally settled in the Phang Hoei mountains located at Tambon Ban Rai in Thep Sathit District. Nowadays, ethnic Nyah Kur communities can be found in three provinces.
They made their permanent homes in two districts of Chaiyaphum Province namely, Ban Khwao and Thep Sathit. Their other communities are located in Petchabun Province, and in Pak Thong Chai District of Nakhon Ratchasima, aka Korat.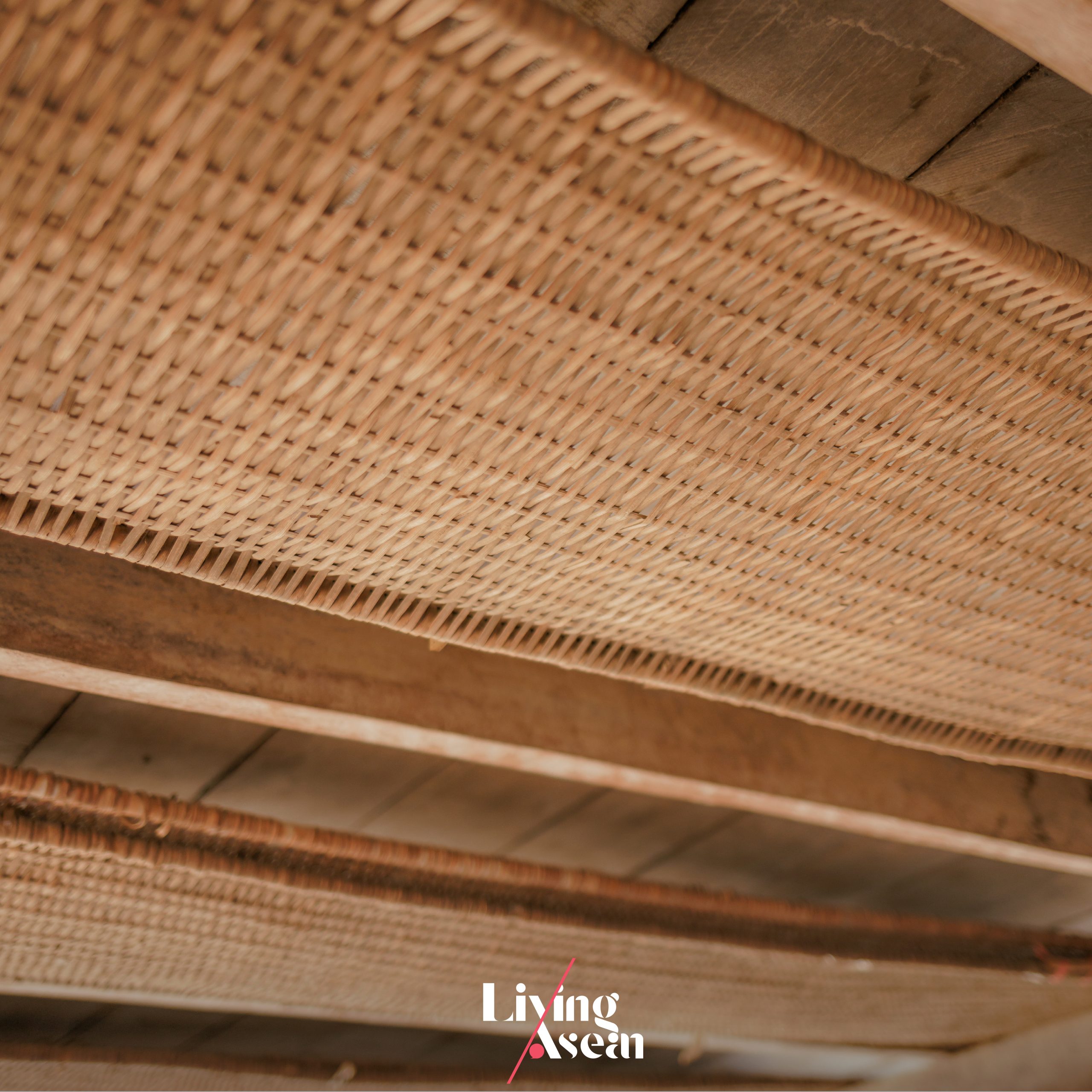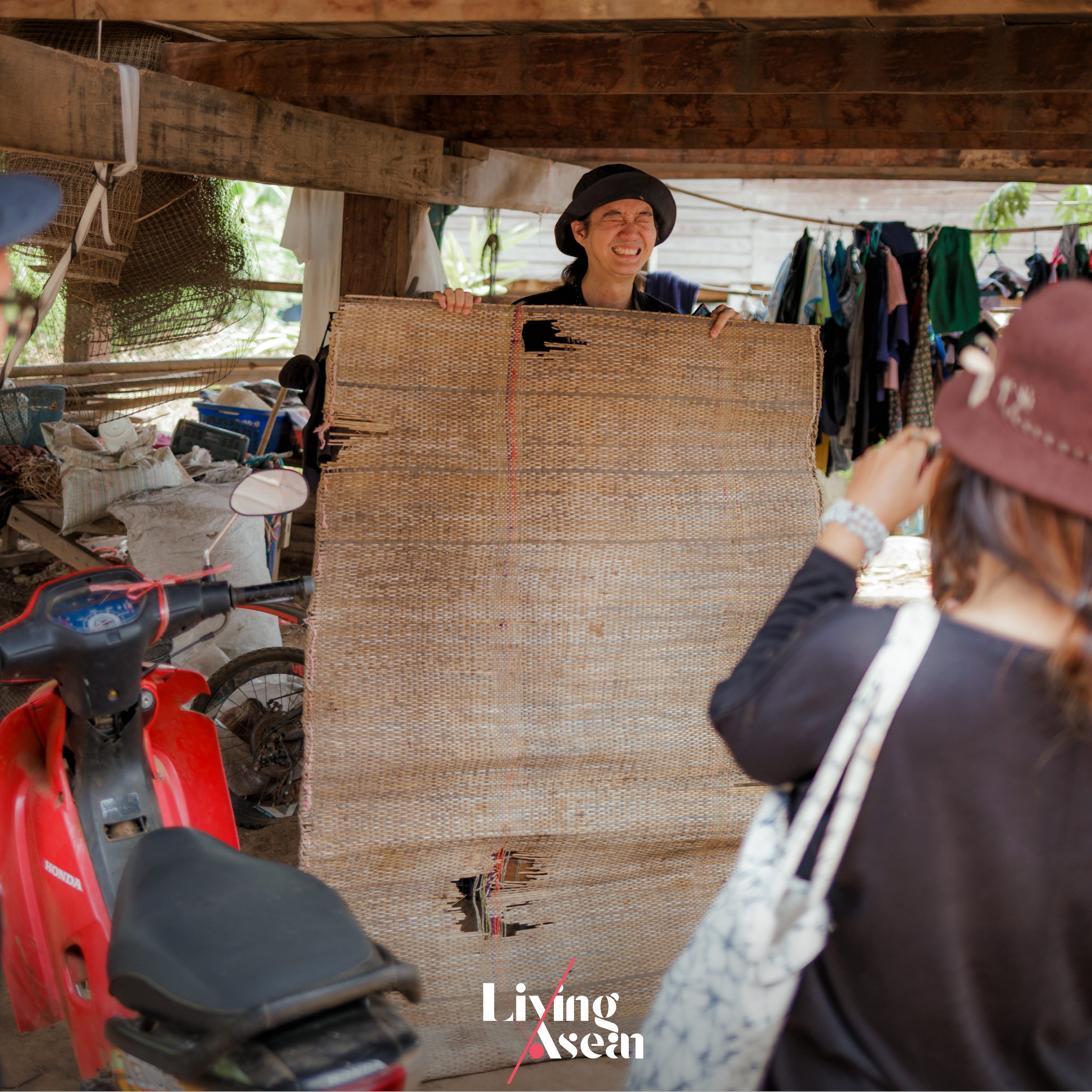 Altogether the Nyah Kur people now number more than six thousand. Their written language is adapted from visual symbols of Thai alphabetic writing. The Nyah Kur refer to themselves in the Thai language as "Khon Dong" or "Chao Bon", literally translated as "People of the Mountains".
Interestingly, "Nyah" is their native word for people, and "Kur" the mountains. Likewise, "Chao" also means people, whereas "Bon" refers to somewhere up there.
Culture
The simple ways of life of the Nyah Kur people are often manifested in smooth performances that combine singing and dancing.
Their musical instruments are made from objects readily available in nature, such as tree leaves. You got that right! They make music by blowing on leaves, a technique requiring practice to make perfect. And nobody does it better than the Nyah Kur, plus they can perform in a band alongside other instruments, too.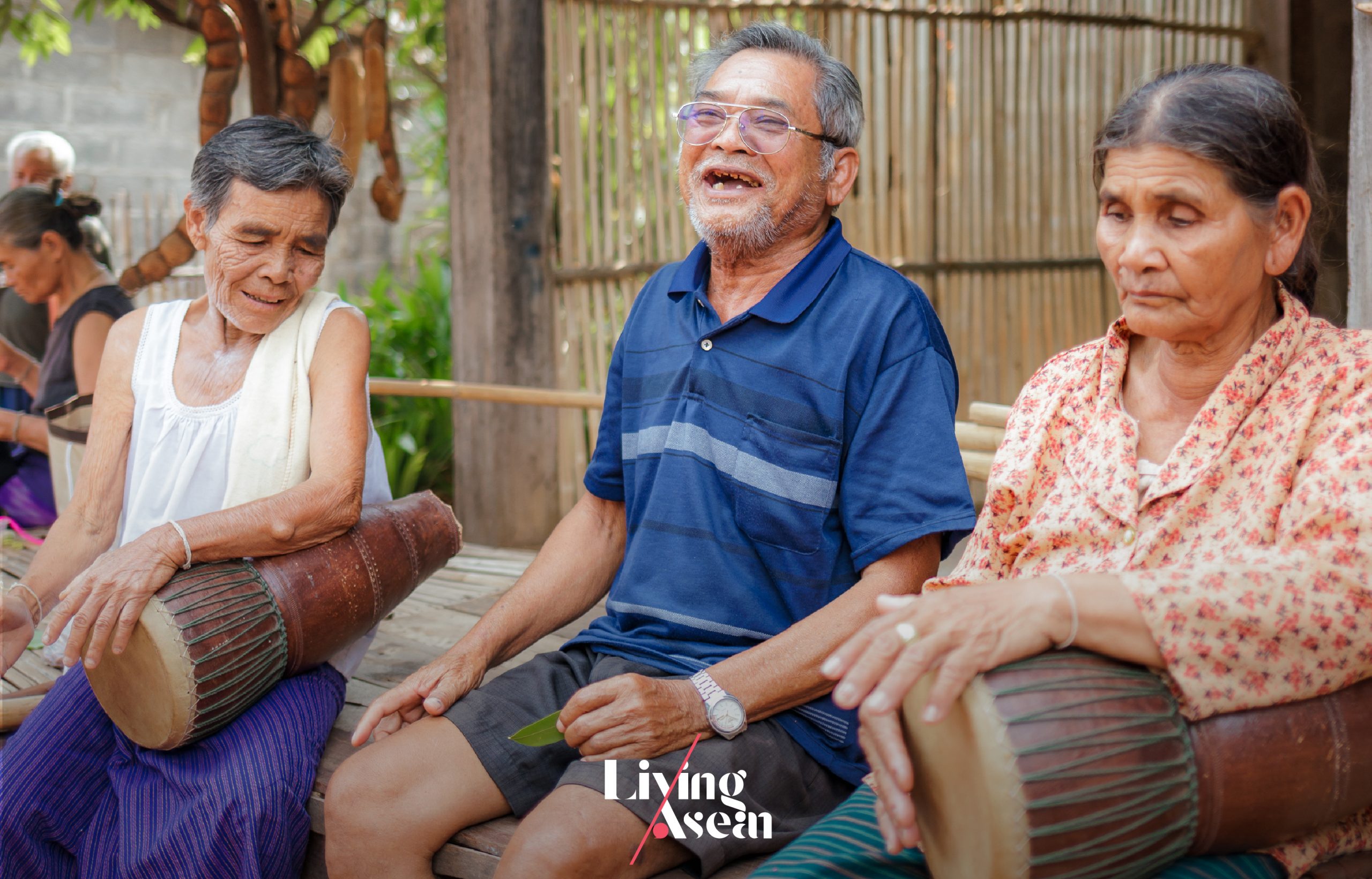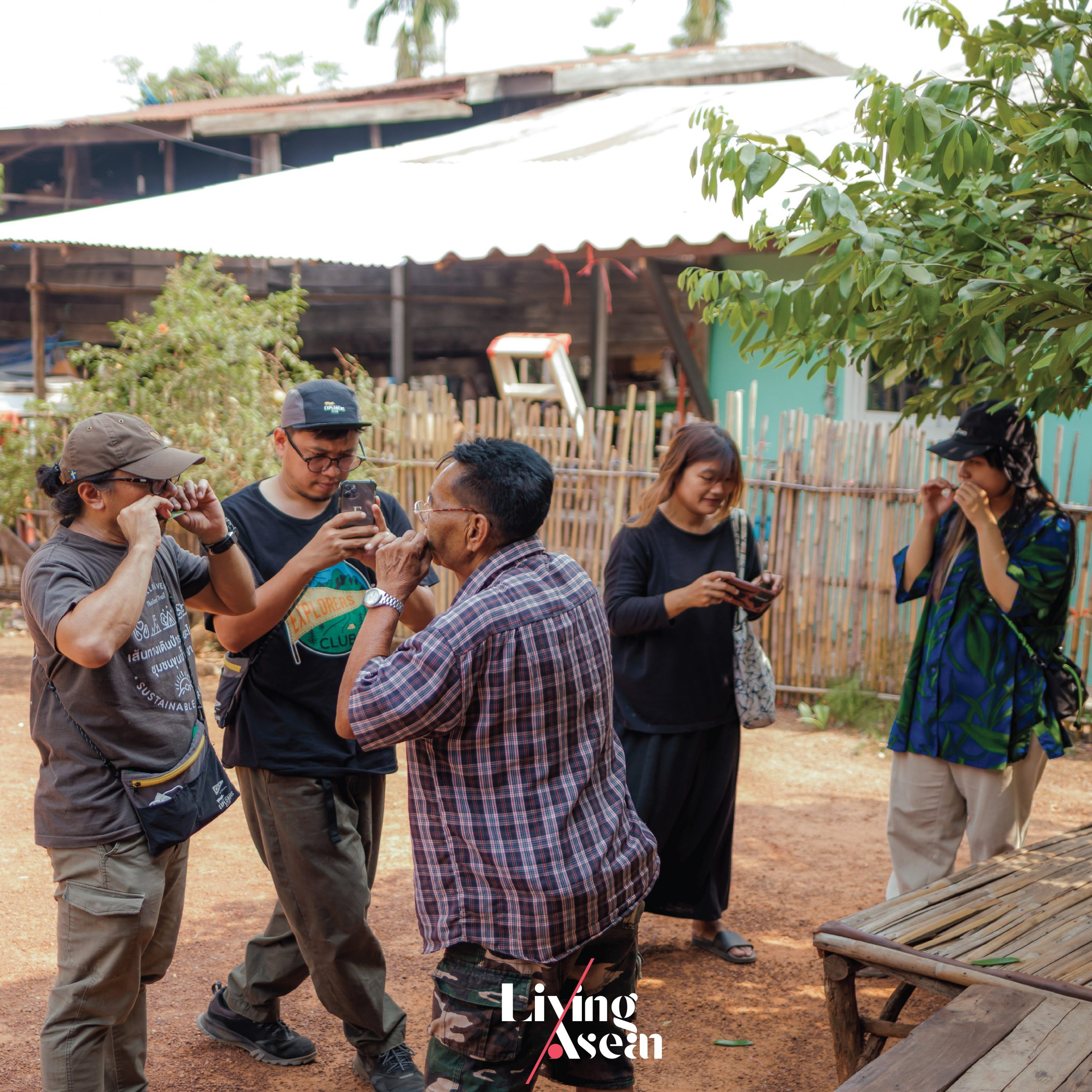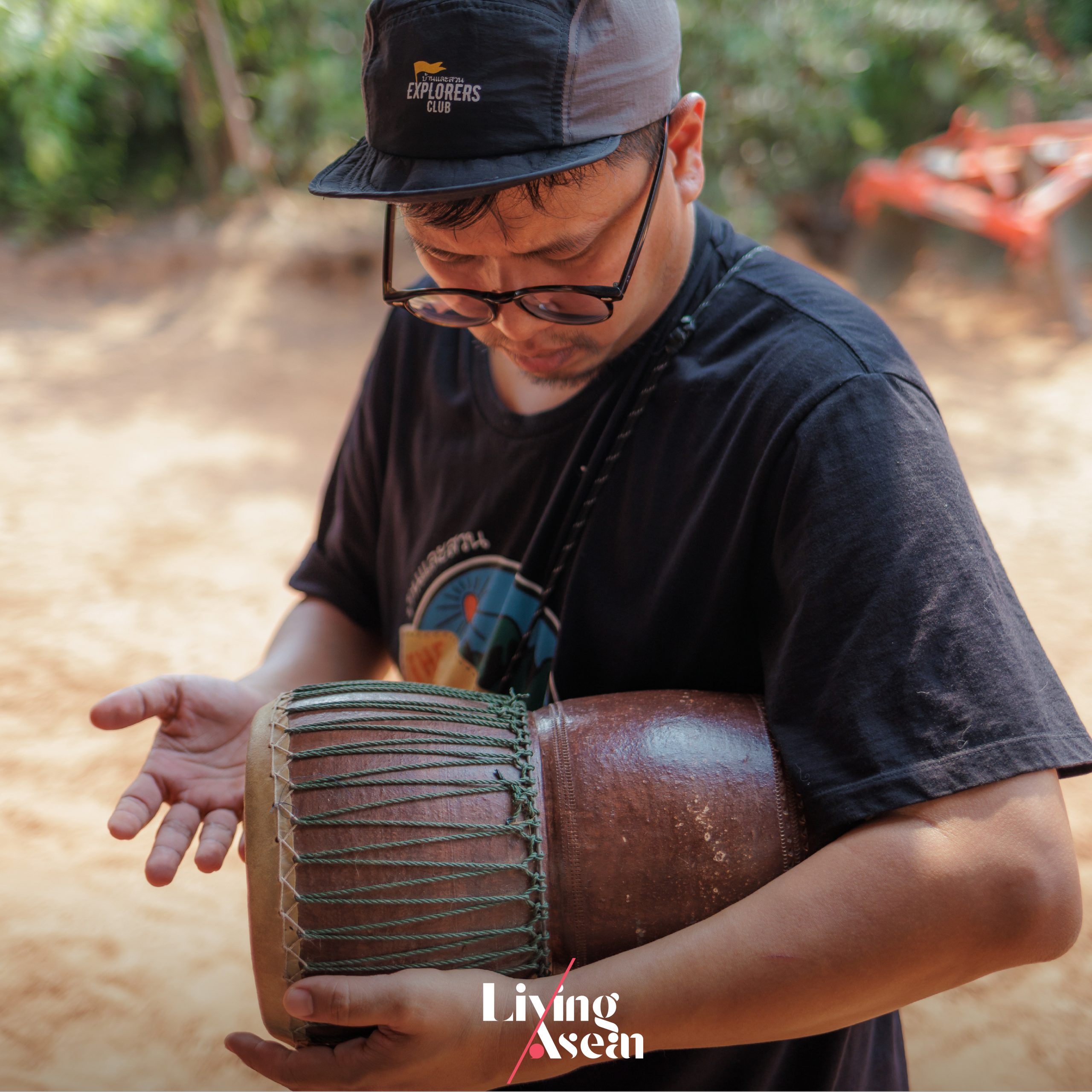 Since ancient times the Nyah Kur have perfected leaf blowing as a means of communication as they foraged for food in the forest. They made short musical sections to signal it was time to call it a day and go home.
And we got to try this technique ourselves on this trip. Sometimes we succeeded in doing it, but more than half the time, we failed.
The Nyah Kur could make music blowing on leaves, while we had fun imitating the songs of birds in the tree. Not bad, ha!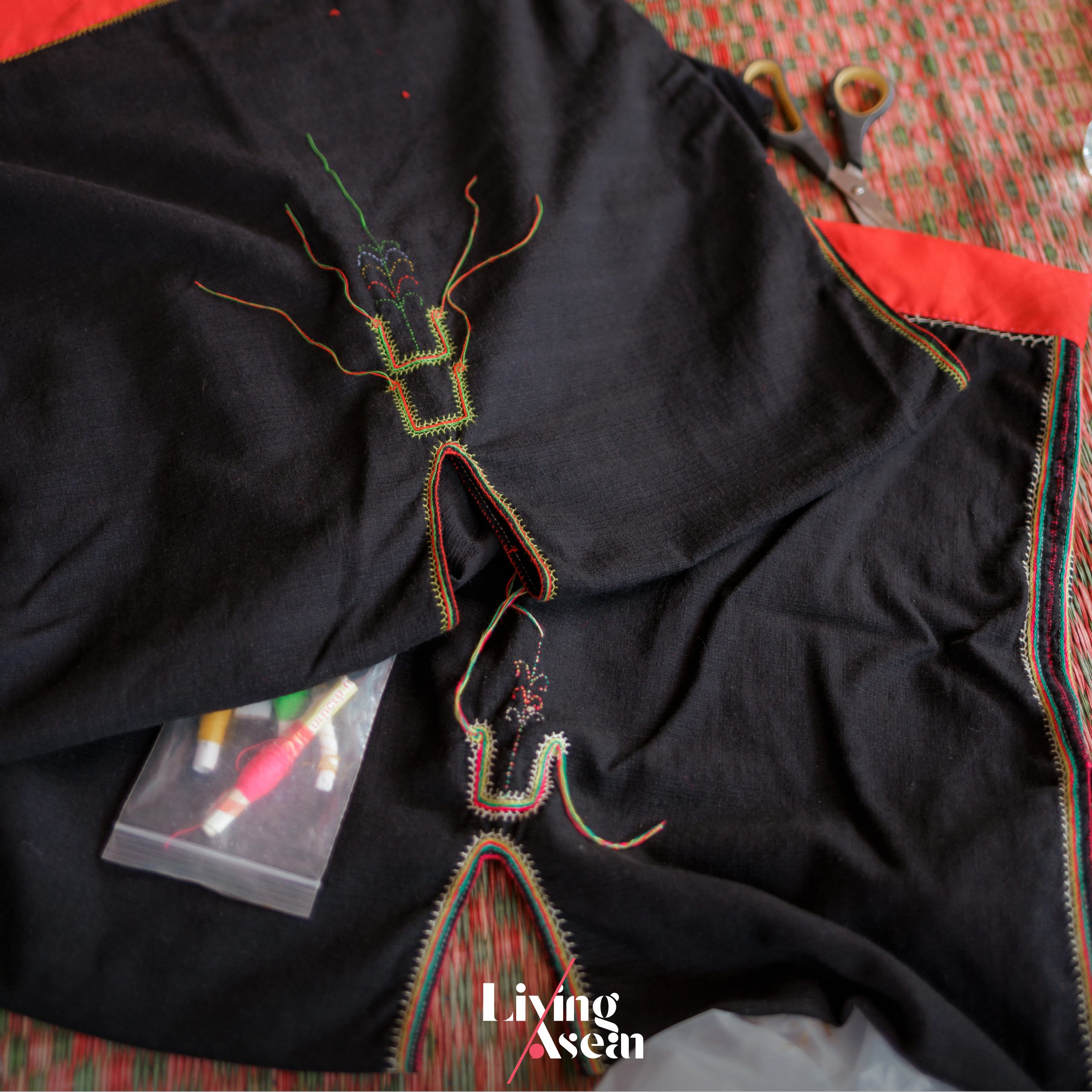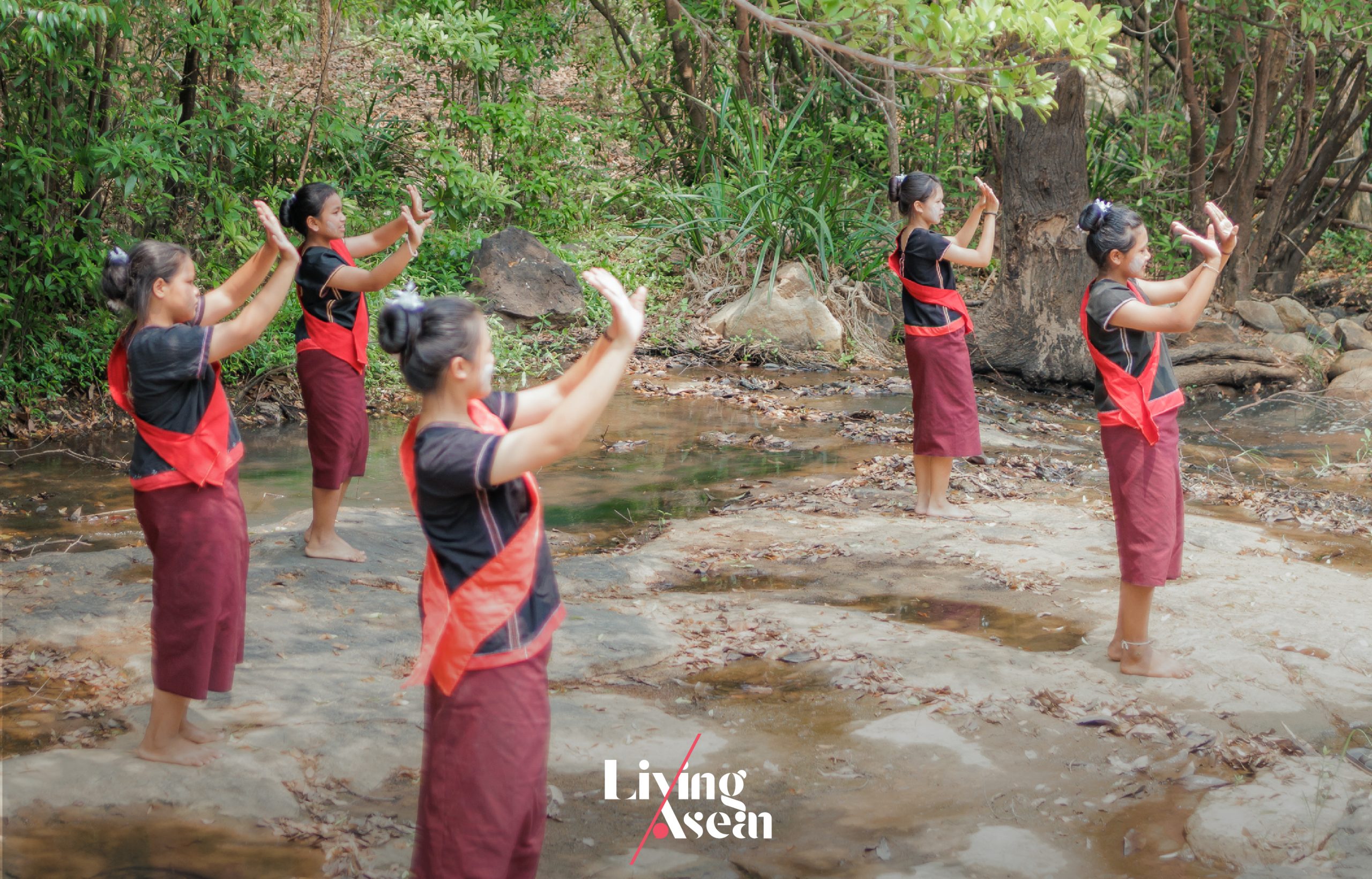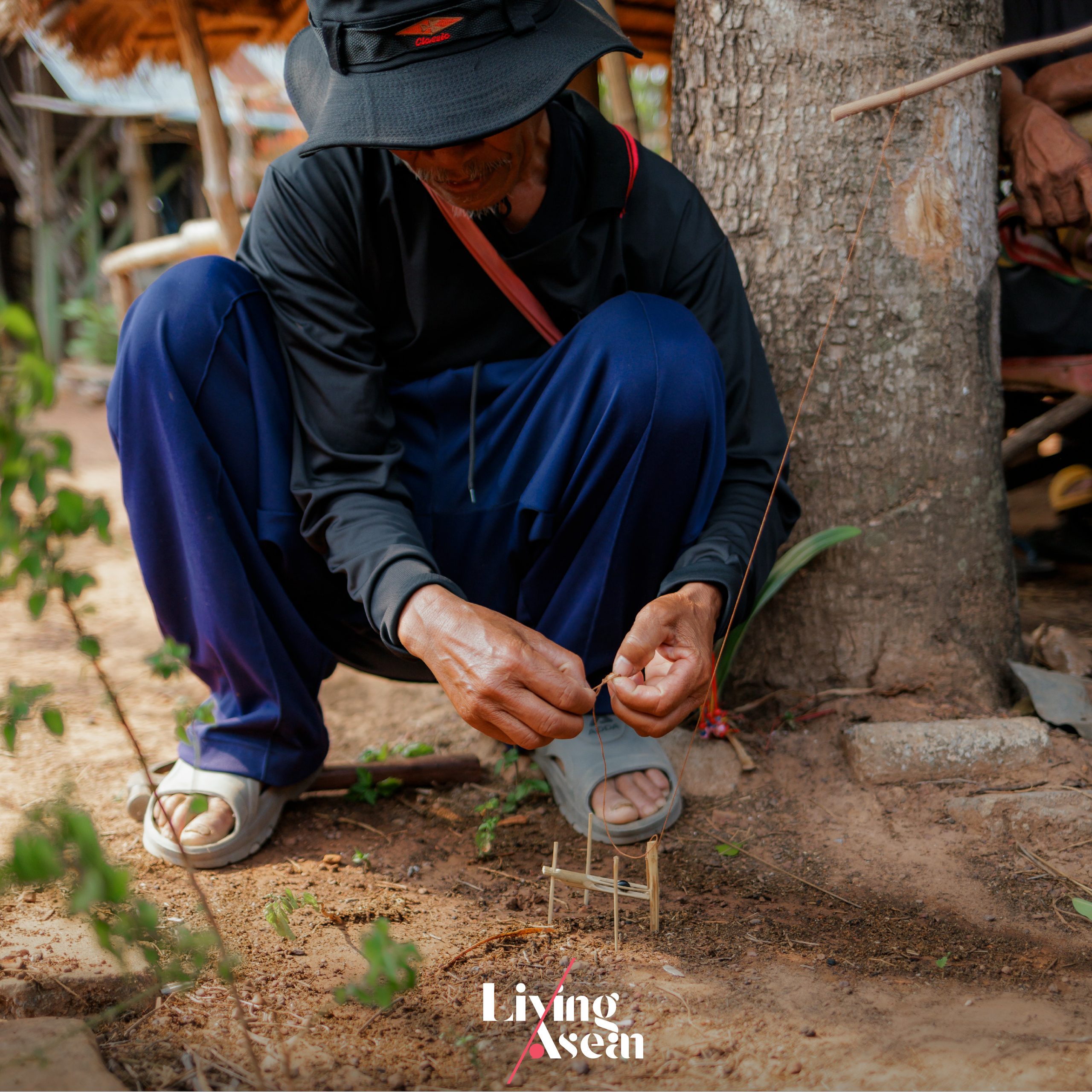 The Nyah Kur society is about caring and sharing. Traditionally women are skilled at performing rituals in their everyday lives.
They use objects with supposed magical powers to make predictions, among them a betel nut wrapped in white cloth, which they suspend from somewhere and spin. Meantime, it's the men who go out into the woods hunting and foraging for food.
Before going on a long journey, they would seek blessings from supernatural beings. And upon their return, it's customary to offer veneration to good spirits as a way to boost morale.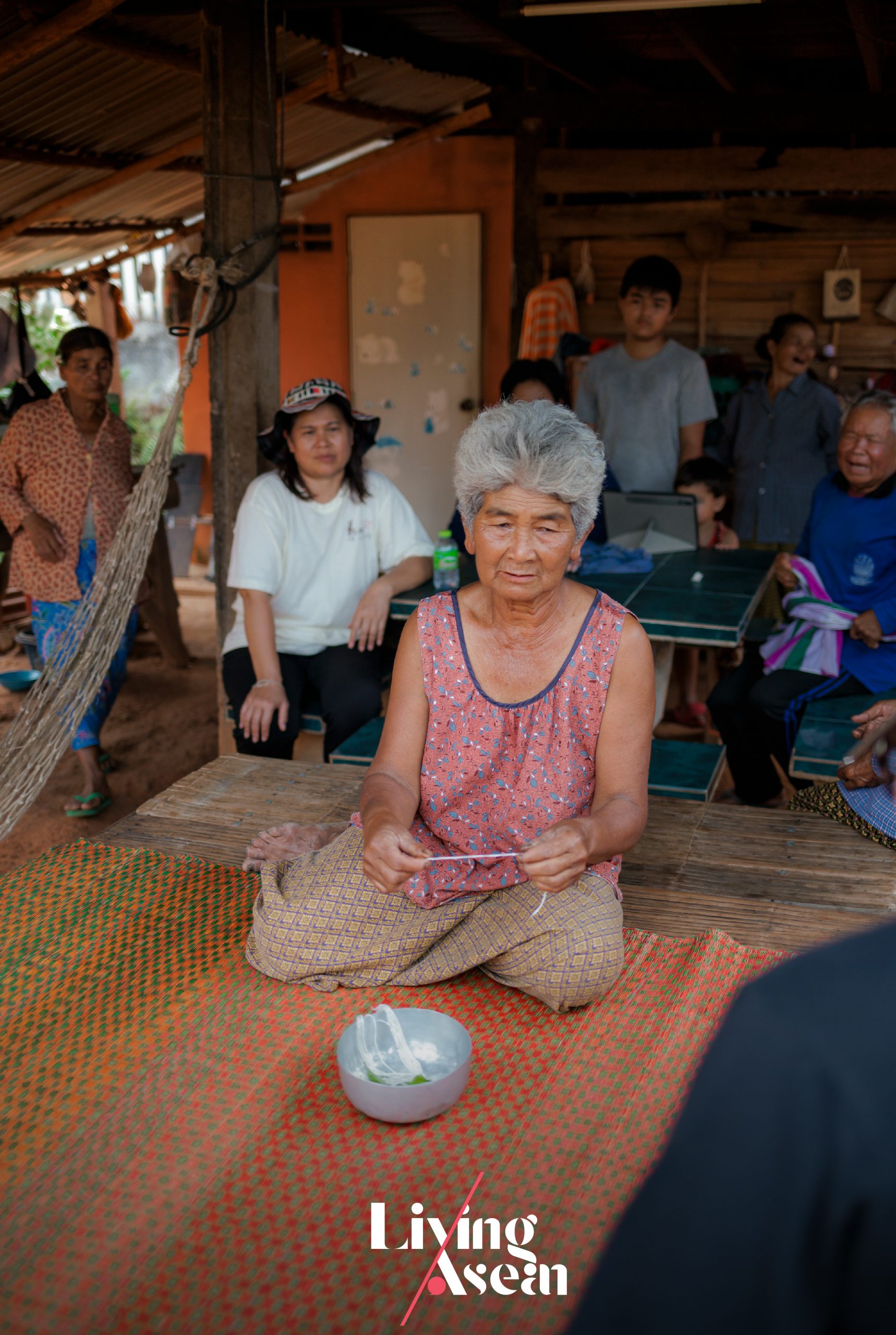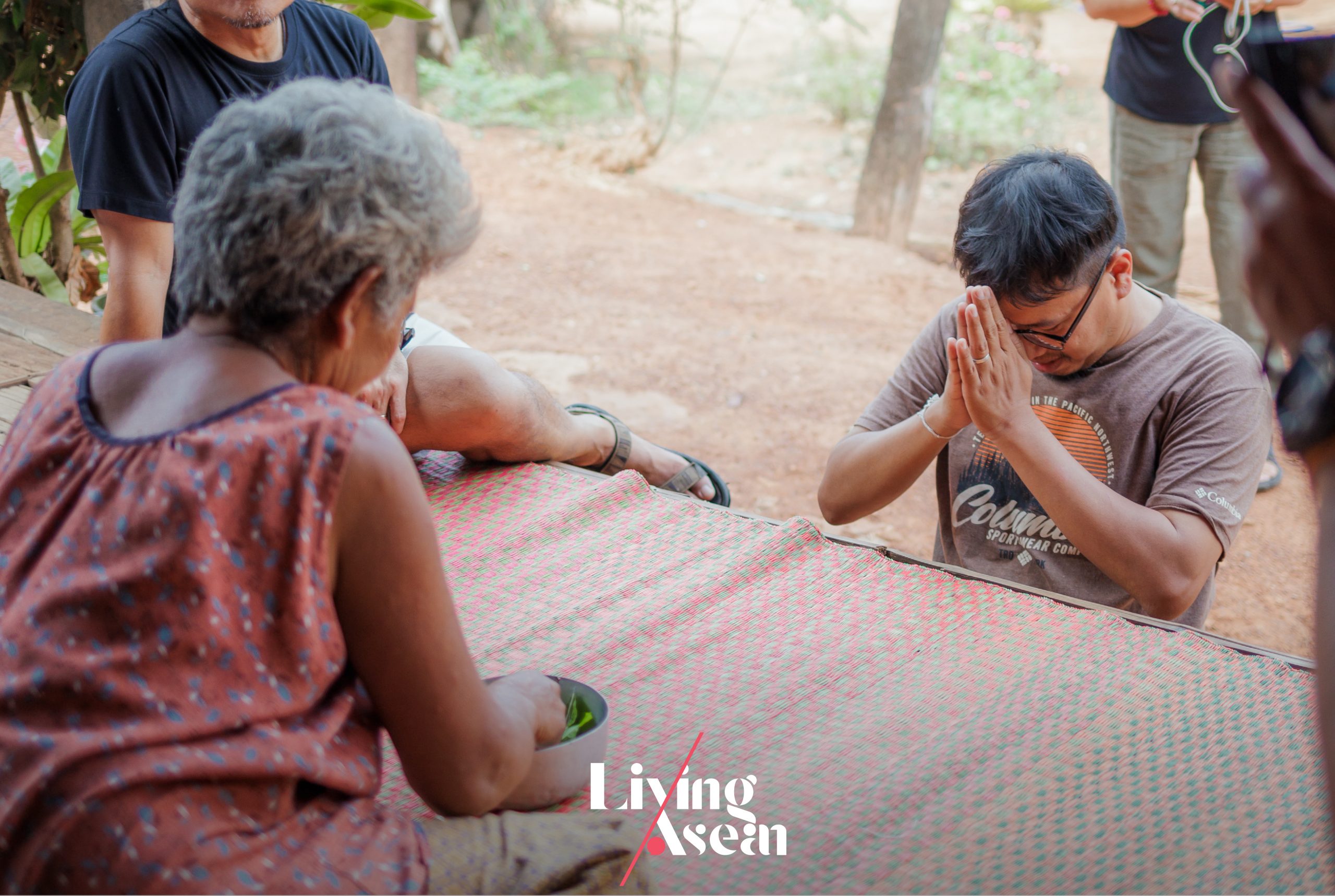 Nature
For what it is worth, the Nyah Kur people are highly thought of for their ability to use natural resources wisely.
They know the forest like the back of their hands. They can tell by experience which plant is edible and which is not. Traditionally they were born hunters. Now they make a living doing agricultural work but still occasionally hunt and forage for food.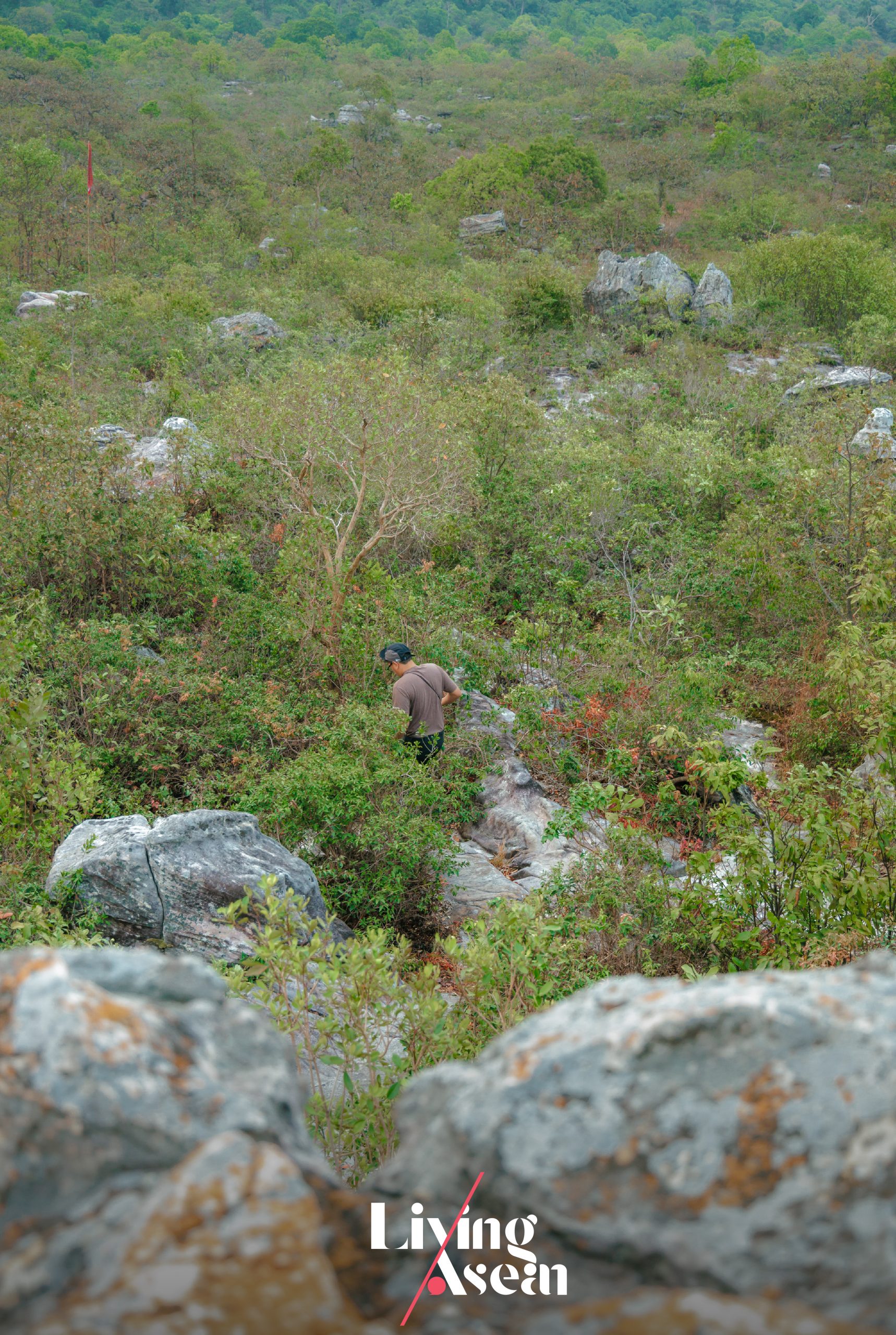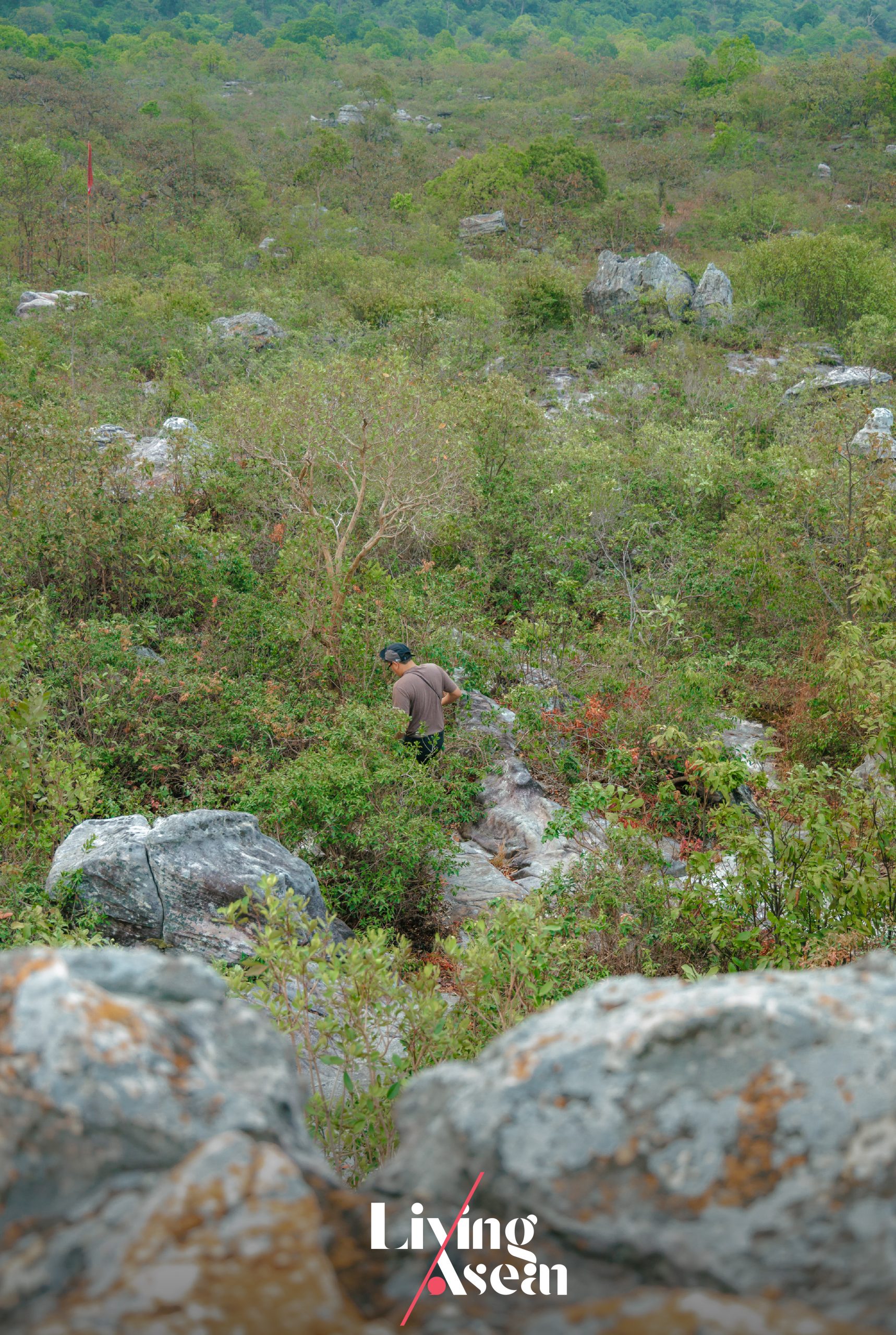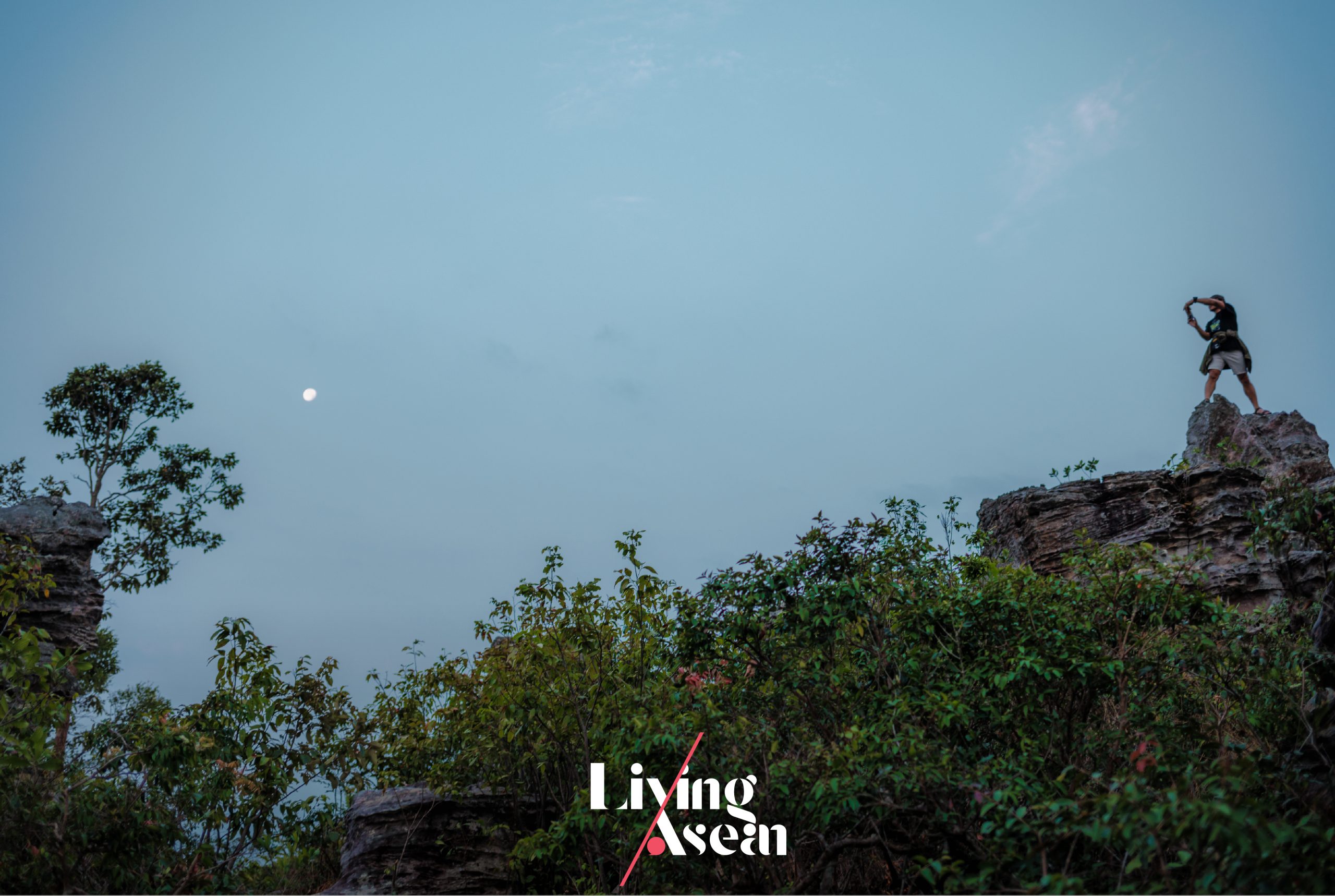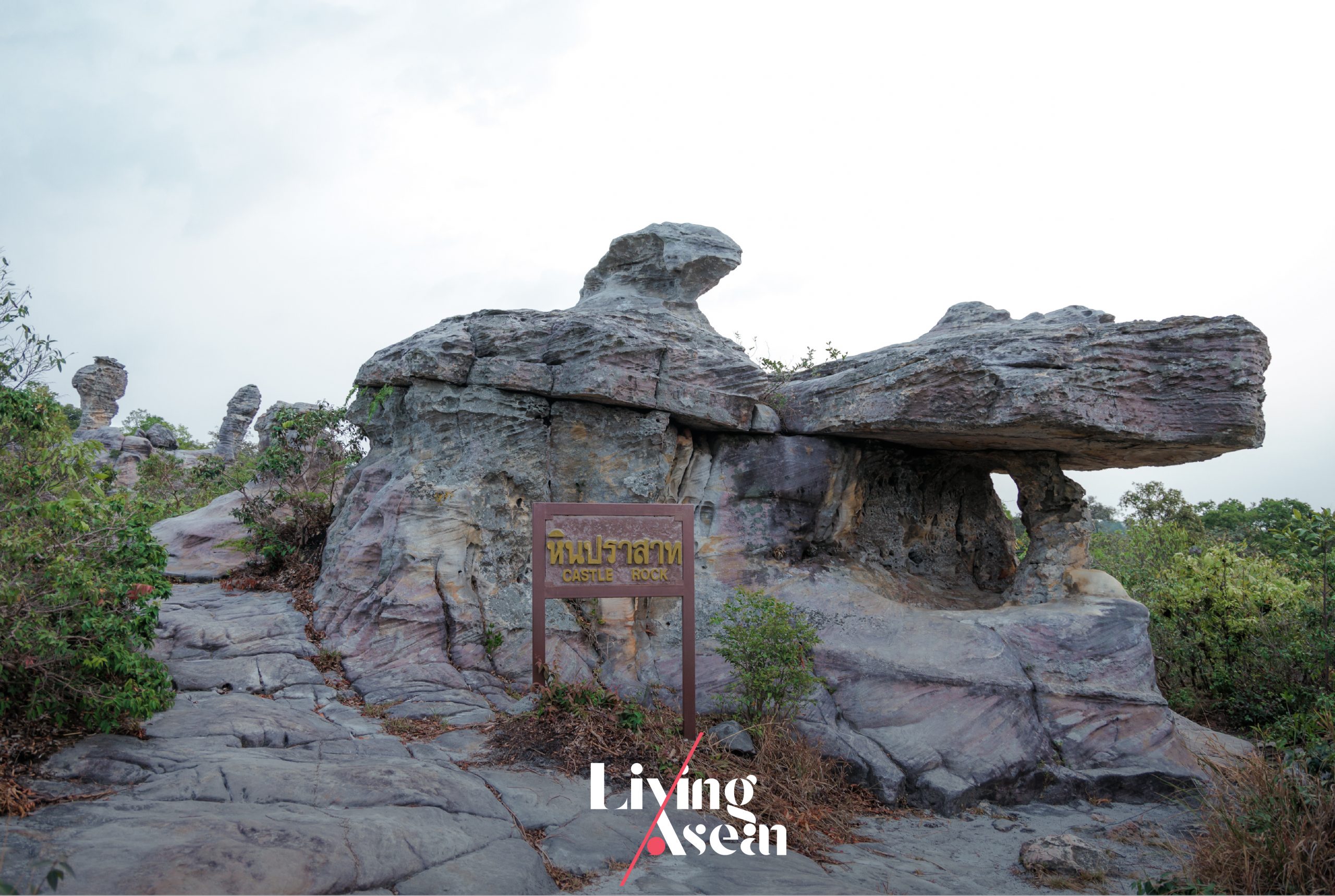 Before the advent of agriculture, the Nyah Kur had lived life strictly following every rule. They didn't just go out into the woods cutting down trees and clearing forest land for farming. Instead, they relied on village elders for good spiritual blessings before making a move.
After that, they would go to bed as usual. If they had a bad dream, it's regarded as a portent of evil, and the intended project must be scrapped. Otherwise, it was good to go. Their philosophy is simply this. Every forest has a guardian angel. If you want something, ask.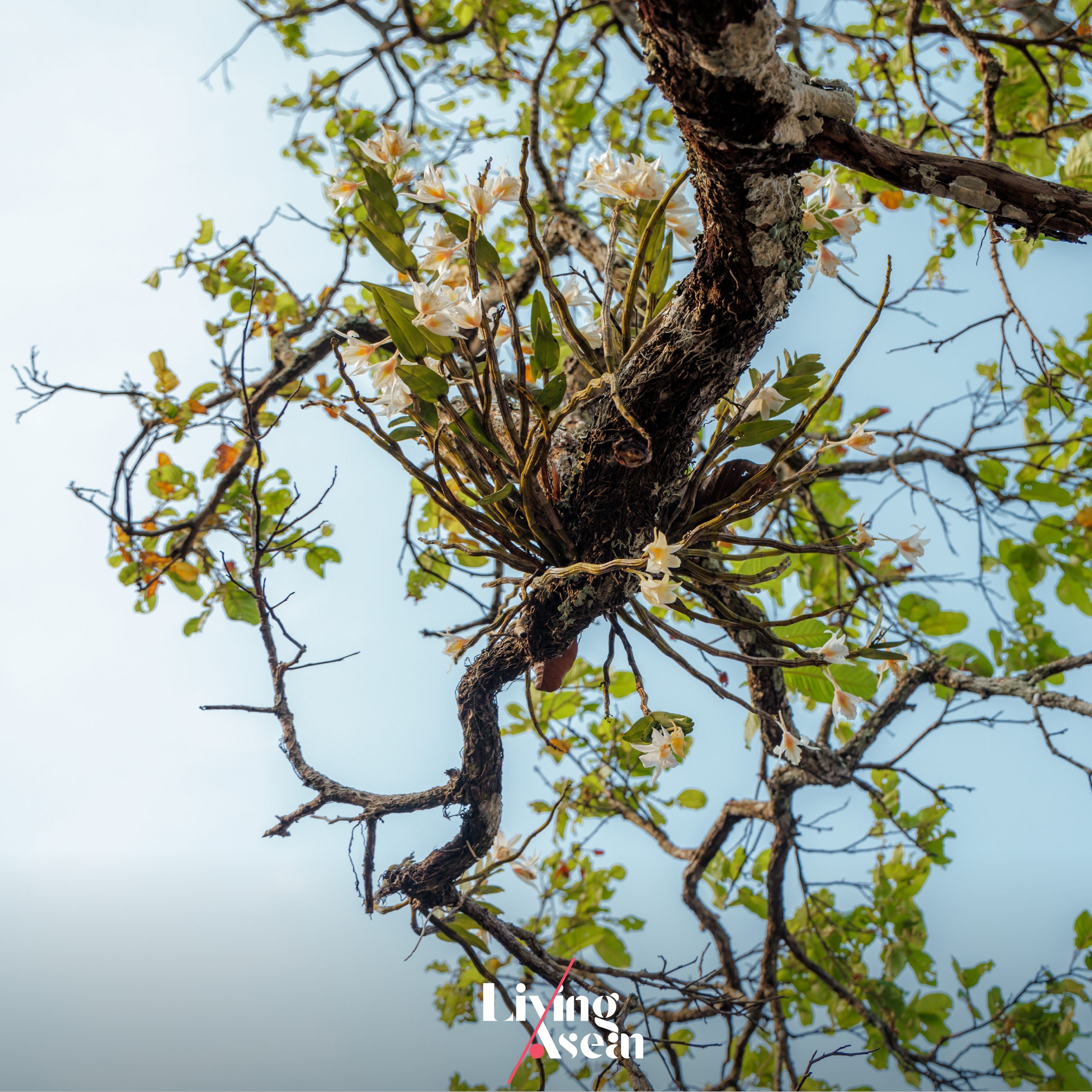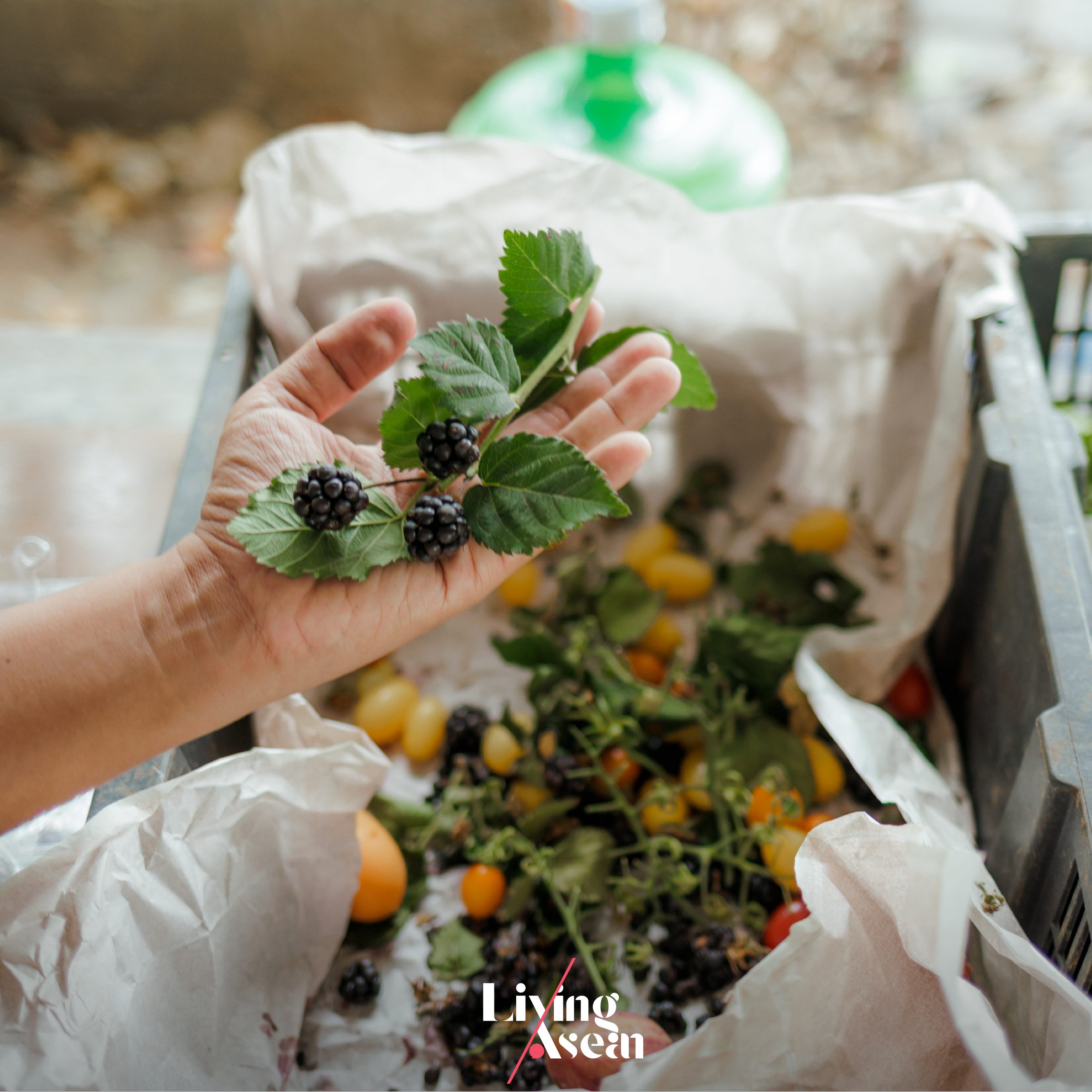 It's their symbiotic associations with nature that have helped the Nyah Kur people to survive in the wilderness. To them, the forest provides food security plus the nutrition and water they need going forward.
Take for example, a favorite recipe known as "Miang," or bite-sized appetizers wrapped in leaves. They are stuffed full of herbs and other good ingredients such as raw banana, eggplants, lemongrass, and elephant ear plants (Colocasia esculenta) that are grown for their edible corms.
To prepare, start by cutting the ingredients into small pieces, add salt and a little bit of hot chilli pepper and wrap with elephant ear leaves. And you're good to go
The Nyah Kur rely on Miang for a healthy, balanced diet. Plus, it's in keeping with the long-established tradition that values sharing and caring. It's a forum for community members to meet as they sit in a circle to share a good meal.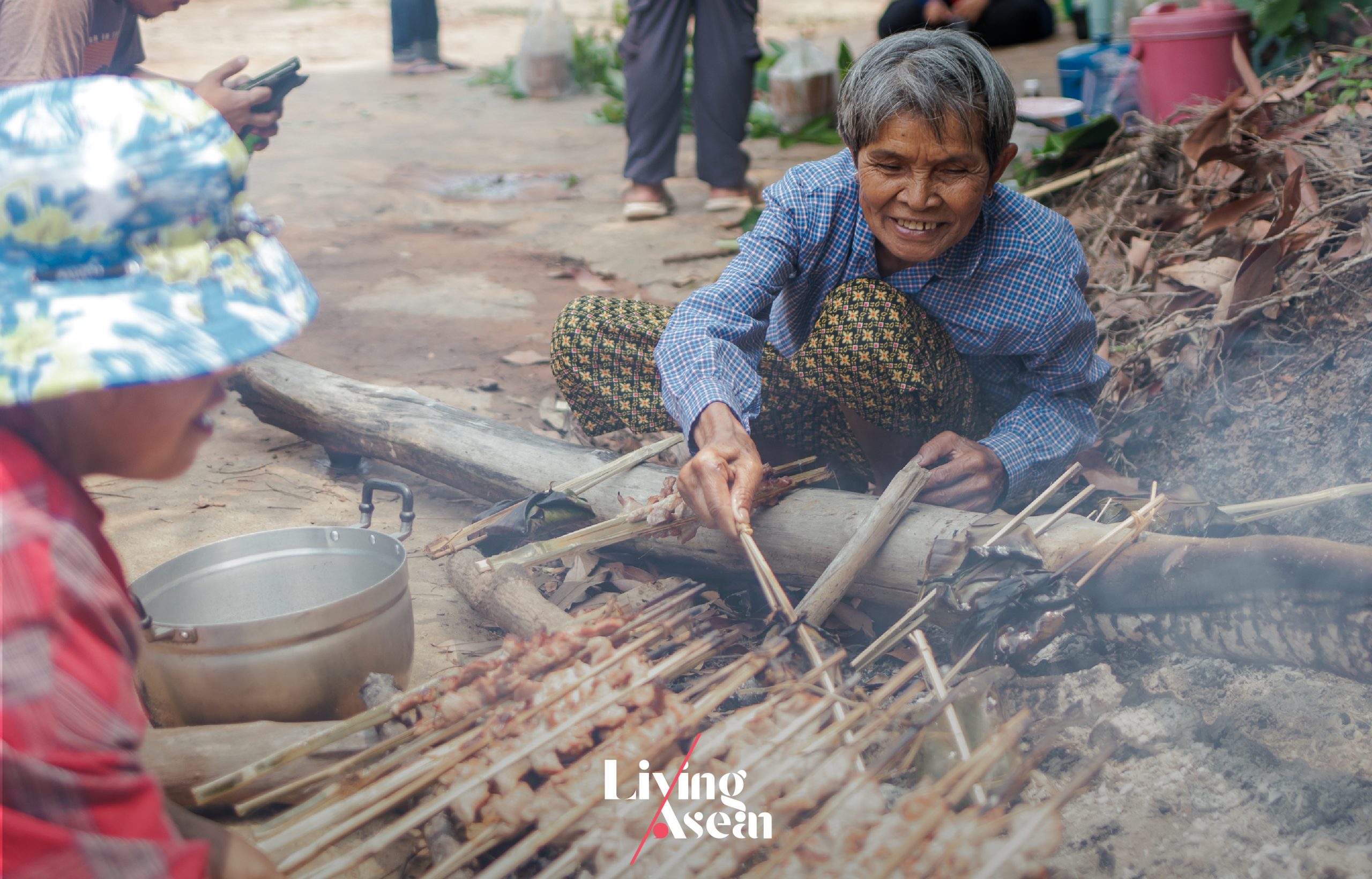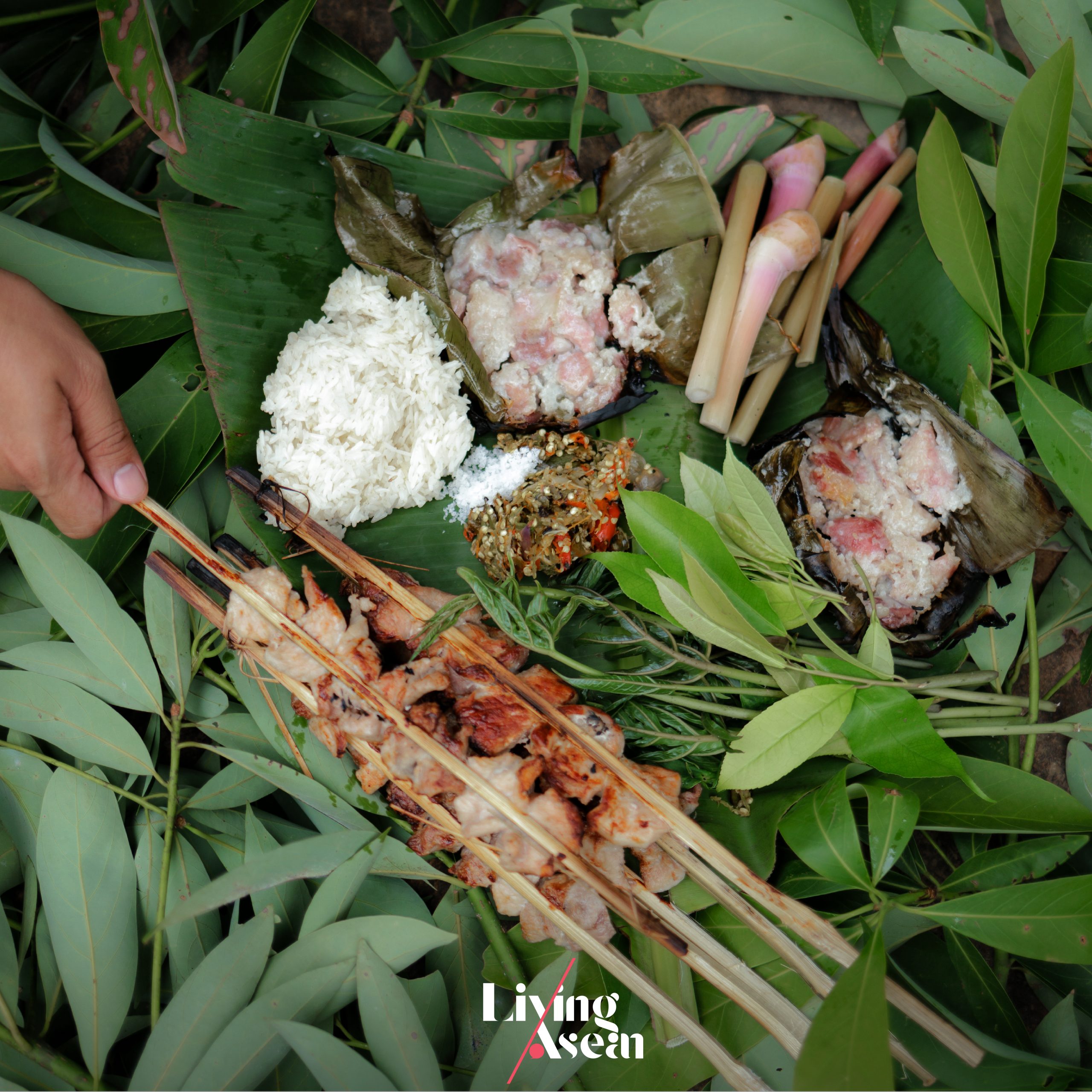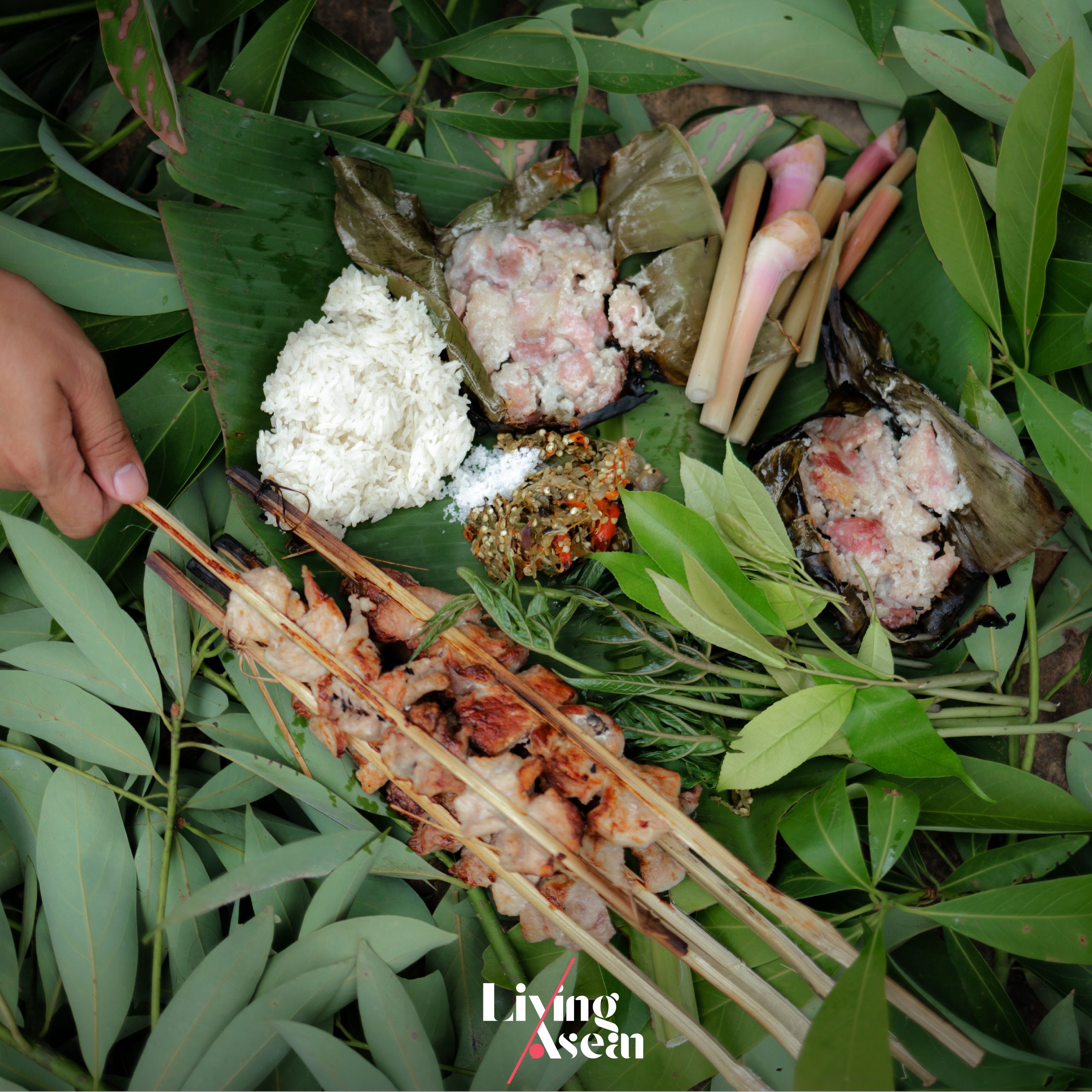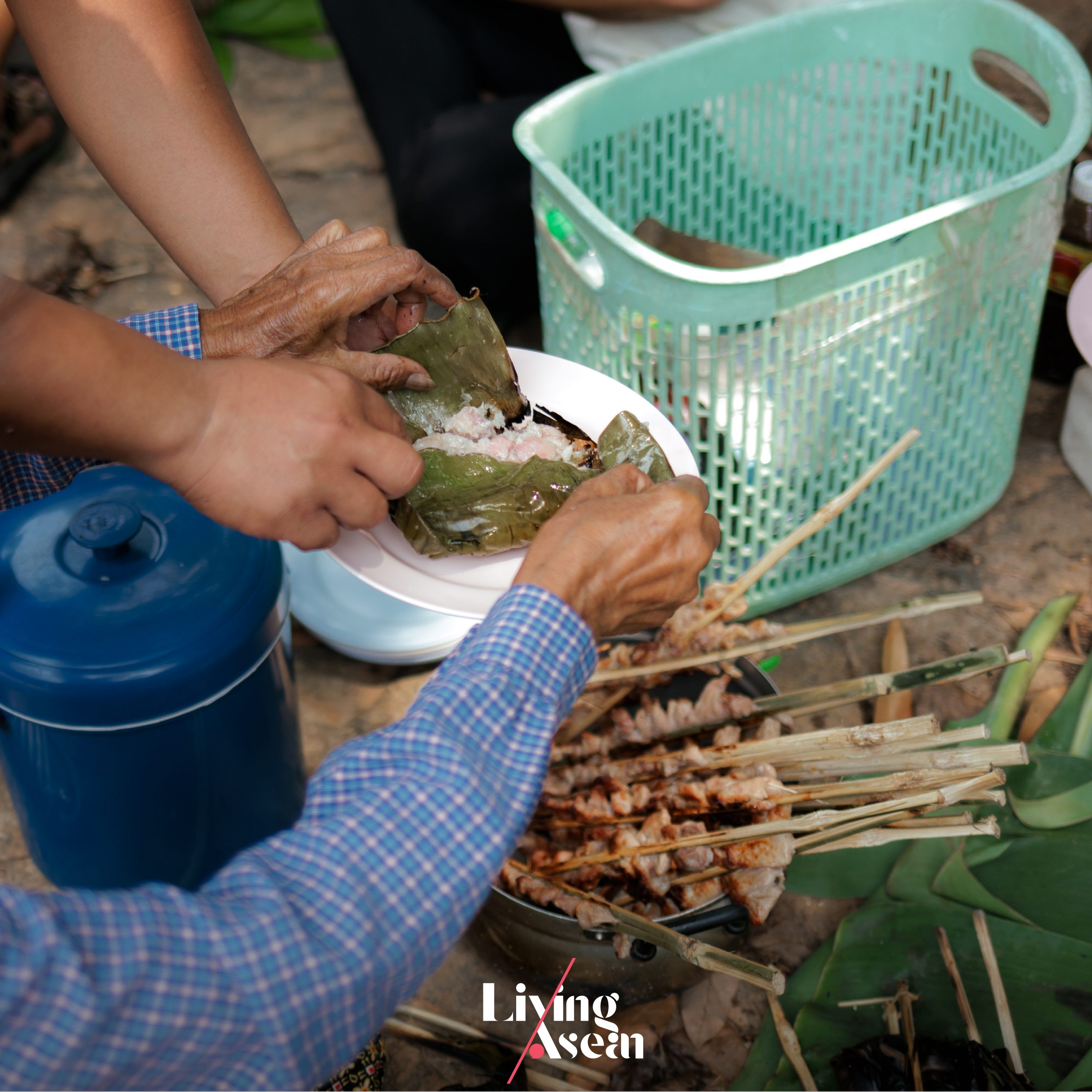 The Nyah Kur group whom we met today coincidentally happened to be the first to discover of a famous Siam Tulip field located deep inside the Pa Hin Ngam National Park.
We spent two days and one night on this journey into the forest. The message is clear. It's amazing how immersing yourself in nature benefits your health. If you have a chance, stop by a Nyah Kur village for a visit. Whether you're planning to spend a night or two, or making a day trip to the Pa Hin Ngam National Park, trust us.
There is a lot to see. It's a naturally beautiful place to sleep in a tent if you love stargazing and night sky watching. It's the only national park open for year-round visits unconditionally. Serious!
---