"Fabric" is one of the most popular materials used in home decoration. It's preferred for an enormous richness of sizes, colors, and types of textiles as well as design patterns to suit every need. There's a variety of fabrics that are developed for the purpose of interior decoration. We call them HOME TEXTILES.
/// THAILAND ///
Story: Ektida N. /// Photography: Supawan S. /// Style: Worawat T. /// Graphic Design: Pornpailin Nateetip
Home Textiles come in 2 categories: One for the curtains, the other for furniture upholstery.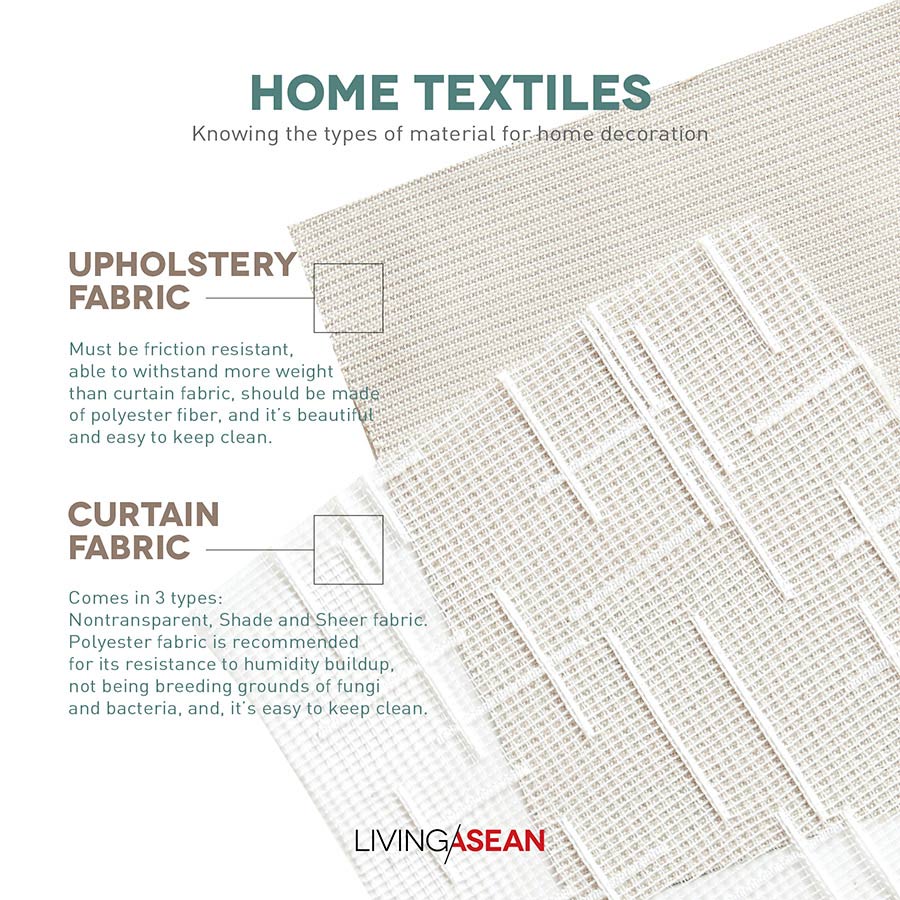 CURTAIN FABRICS
In general, three types of materials are used in curtain making. They include: Nontransparent fabric (the innermost layer), Shade fabric (the one in the middle), and Sheer fabric (the outer layer adjoining the windowpane). Of the three layers, it's the dark curtain that has the most influential visual effects that set the mood of the room. Factors that affect how you feel range from a palette of colors, to design patterns, to the thickness of the textile.
3 Things to consider in choosing the right textile for your curtains
Beauty
Curtains are a decorating material that is replaced the least often of all types of home furnishings. Some may never get changed at all. That being said, it's extremely important to get it right the first time – especially the nontransparent layer. Besides the beauty of the fabric, style matters. It makes your heart sing to have beautifully hung curtains that answer your lifestyle needs and fit in perfectly with the furniture. Together, they set the atmosphere and style options in the same direction.
Fabric Types
The material most appropriate for making curtains is polyester fabric. Made from plastics, it's easy to blend with other fibers and less likely to allow moisture to build up. This in turn makes it fungal and bacterial resistant. Apart from that, it stays beautiful for a long time because the color doesn't fade easily. It's machine-washable, and can withstand steam-press iron up to 165° Celsius.
Safety
For safety, choose materials that are covered by Ministry of Industry quality standards, which ascertain that the chemical process used in dyeing textiles are formaldehyde-free and lead-free. Long-term exposure to high concentrations of the chemicals is known to cause cancer. Start your search with countries of manufacturing, for example Thailand, or Australia, where safety regulations on toxic chemicals are strictly enforced.
UPHOLSTERY FABRICS
Durability takes the highest priority over other matters when selecting fabrics for furniture upholstery. The fabrics chosen for this specific task must be highly capable of withstanding friction and enduring heavier weight than can the materials made for curtains. While curtains are meant to be beautiful, upholstery fabrics are made to last. They have pride of place as soft, padded coverings on the furniture, the headboard, even the wall. Like the curtains, upholstery fabrics should be polyester, which is easy on the eye, and easy to keep clean. And the choice isn't limited to just upholstery. There is polyester to meet every specific need, be it water-resistant, mold-and-mildew resistant, or fire-retardant, even the kind that suppresses noise.
Why100% Polyester?
// Made from plastics, polyester fabric has certain qualities which prevents moisture from accumulating, resulting in exceptional ability to resist to fungus, molds, and mildew. It's easy to keep clean and retains colors much longer than other material. That's what makes it ideal for furniture upholstery, throw pillows, and curtains. //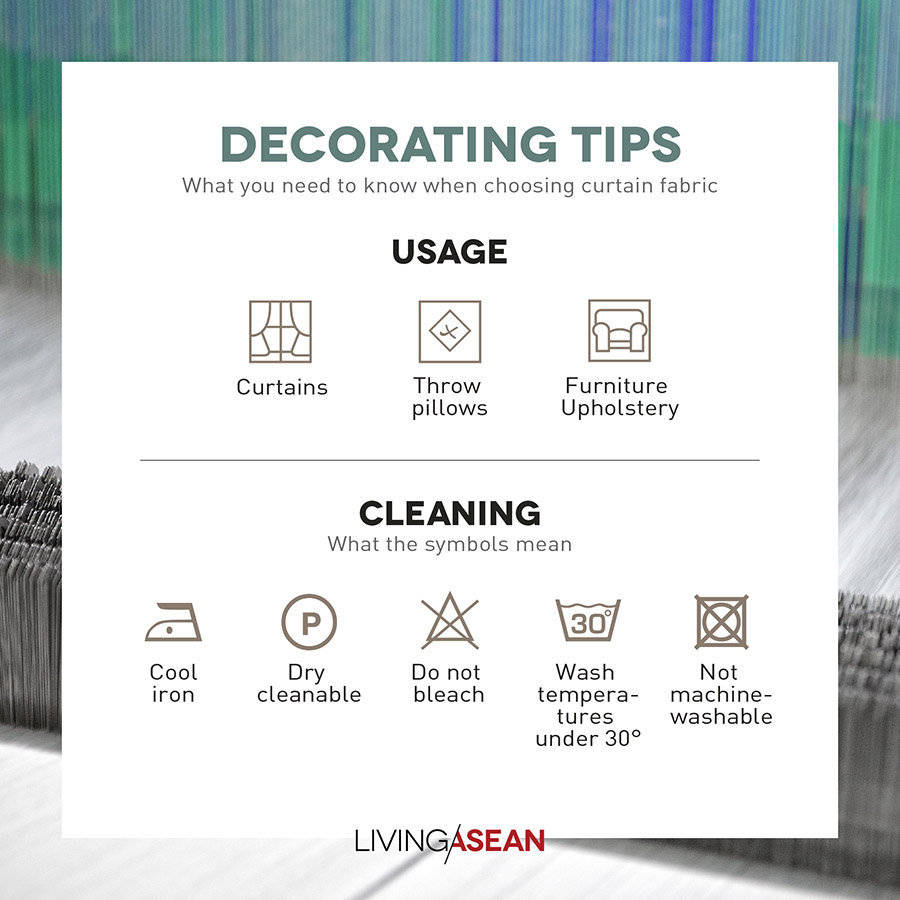 USEFUL TIPS
// Choose fabric that's appropriate for the work to be done. Refer to information on the label accompanying the material for certain. //
NOTE: Check the product code for dimensions, type of fabric, and usage guidelines by referring to information underneath this picture.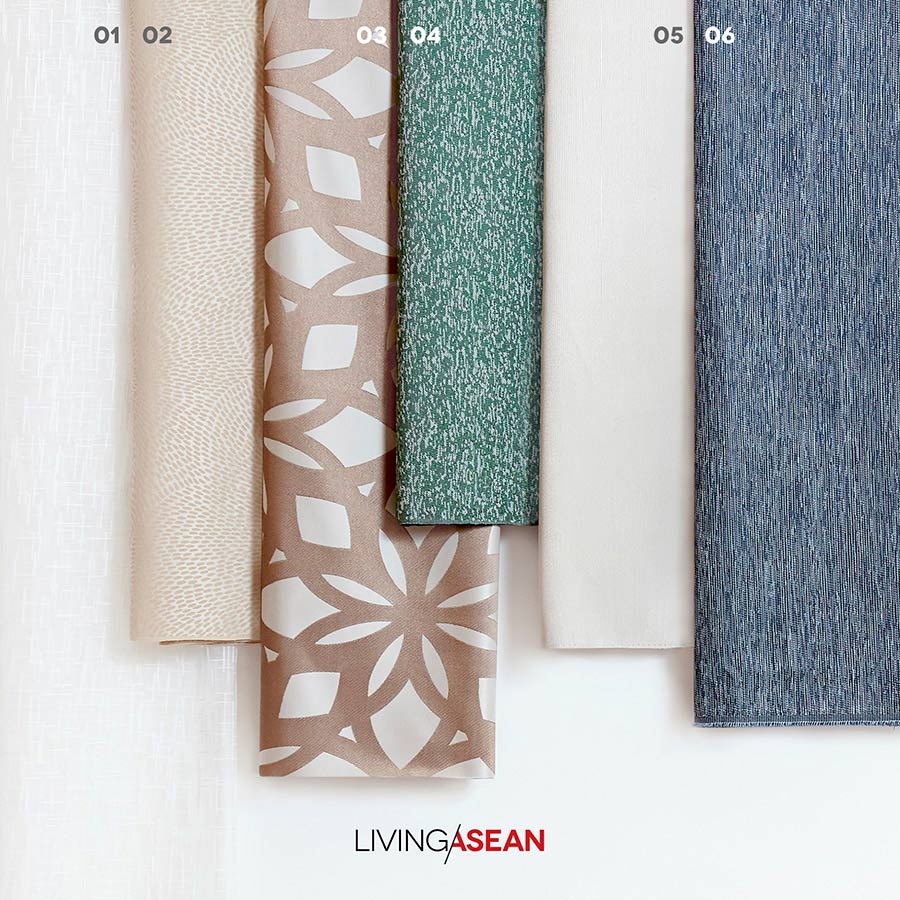 01
Design No. ES044
Width: 300 cm.
Composition: 100% Polyester
Usage: Curtains
02
Design No. 10023/102
Width: 55 " (140 cm.)
Composition: 100% Polyester
Usage: Curtains, Throw pillows, Furniture upholstery
03
Design No. 10016/102
Width: 60 " (150 cm.)
Composition: 100% Polyester
Usage: Curtains, Throw pillows, Furniture upholstery
04
Design No. 10041/114
Width: 55 " (140 cm.)
Composition: 100% Polyester
Usage: Curtains, Throw pillows, Furniture upholstery
05
Design No. : 1692/01
Width: 60 " (150 cm.)
Composition: 100% Polyester
Usage: Curtains, Throw pillows, Furniture upholstery
06
Design No. 10063/116
Width: 55 " (140 cm.)
Composition: 100% Polyester
Usage: Curtains, Throw pillows, Furniture upholstery
---
Data and fabric details courtesy of: HOMEWORK FABRICS
Contact information
9 Yaek 9 Soi Petchkasem 112,
Khwaeng Nong Khang Phlu, District of Nong Khaem,
Bangkok 10160, Thailand
Tel: +662-119-7888 Fax: +662-810-8091
Email: marketing@goldhousedecor.com
Facebook: www.facebook.com/homework.th