From the book SACICT Craft Trend 2018, published by Support Arts and Crafts International Center of Thailand, we take 10 pieces that combine some very hip design with contemporary materials and production and startlingly traditional folk elements. Let's see what's there . . .
/// Thailand ///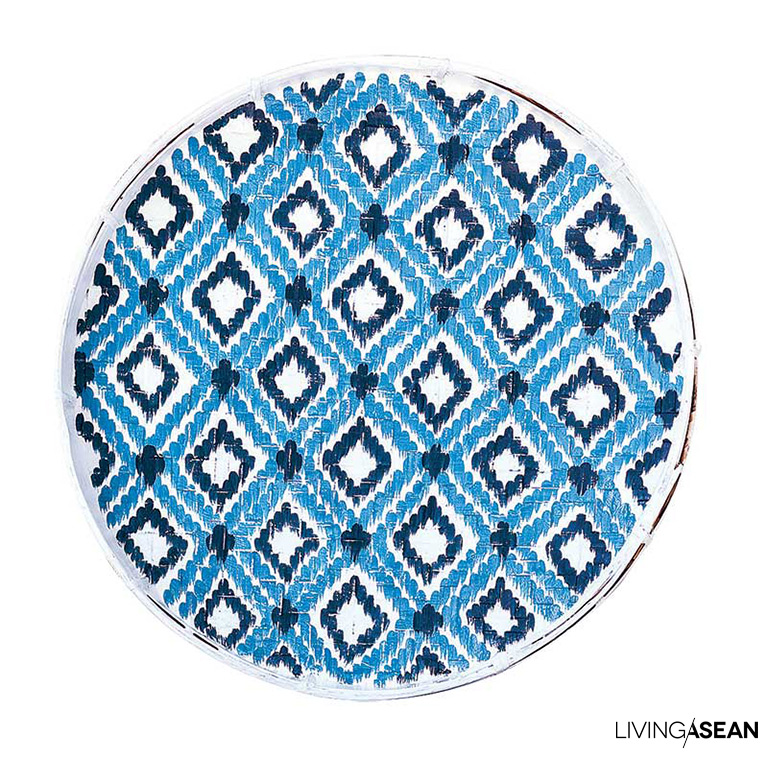 1. Ceramic plate inscribed with traditional local fabric patterns, by Wit's Collection adapts the intricate details of a cloth-based pattern to create a chic ceramic work with an eclectic tribal style.
---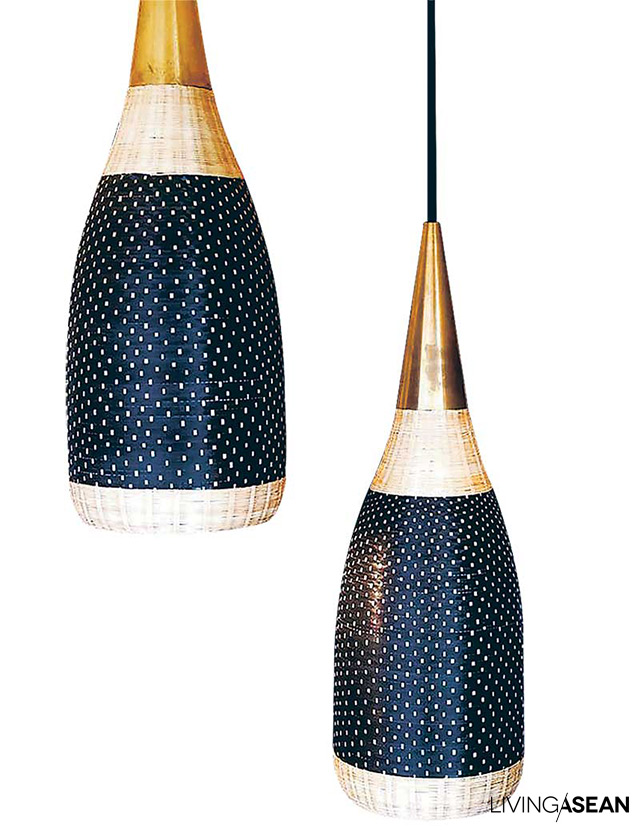 2. The "Raindrop Hanging Lamp" by PATAPiAN: an imaginative blend of old materials, traditionally woven bamboo and moulded brass, formed into raindrop shapes. Great to mix and match with any style.
---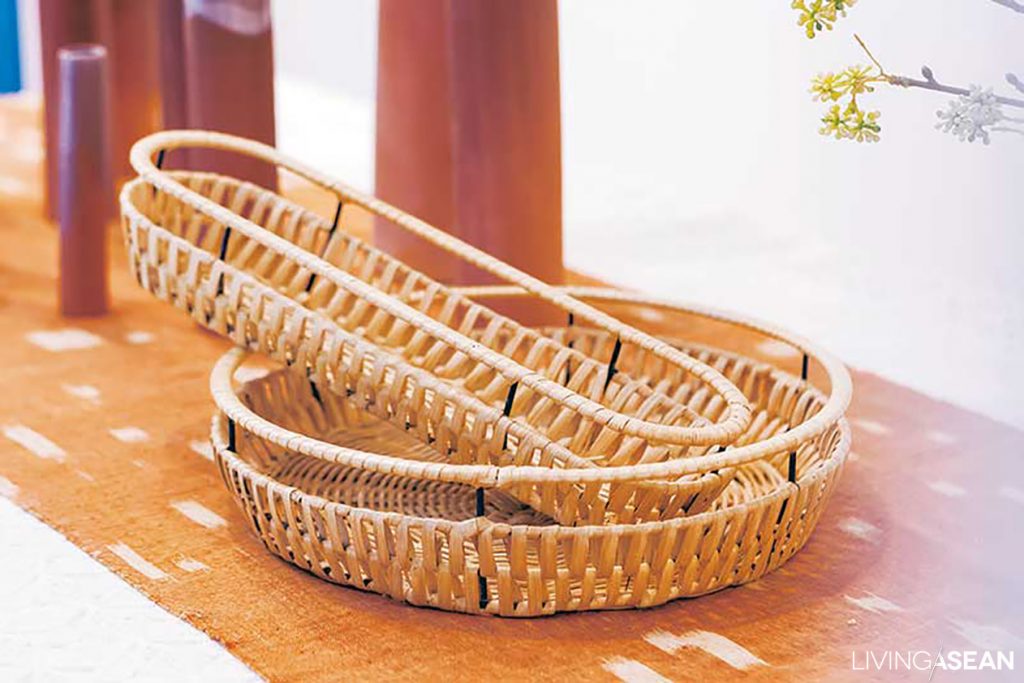 3. "Takra" multipurpose tray by Thinkk Studio and a wicker-weaving group at Baan Chang in Ang Thong Province: material is woven into small frames. This adds a new dimension to wicker work, since the technique was previously used only for large pieces of furniture. The innovation comes from a new generation of designers working with old-time artisans in SACICT's Thai Navatasilp Project, which has received wide acclaim.
---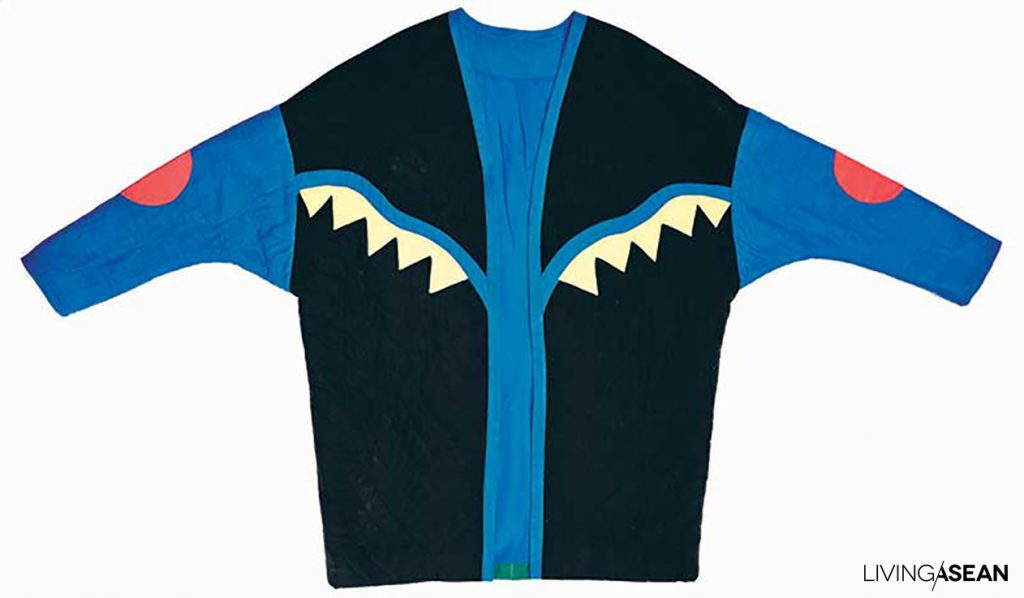 4. Jackets of woven fabric by Trimode Studio and an U-Thong quilting group in Suphanburi Province use plain woven fabric patterned with new designs simplifying an elaborate tribal style. Here excessive detail is smoothed out to give a contemporary look while using a traditional hand-stitching technique, another bit of folk knowledge preserved by SACICT's Thai Navatasilp Project.
---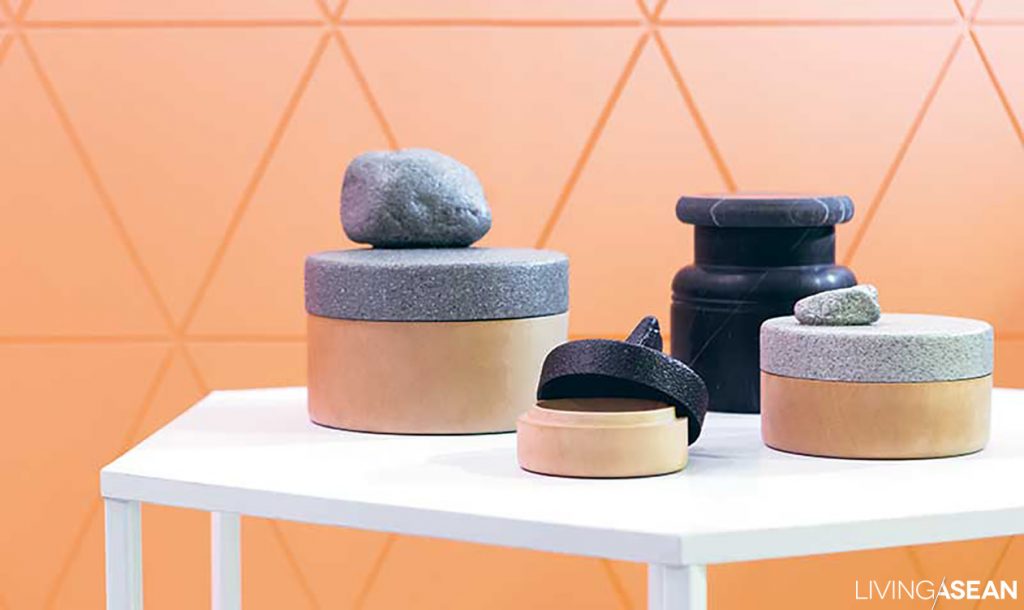 5. The Landscape Pot Box by TRIMODE DESIGN and a mango woodworking group in Hang Dong, Chiang Mai Province: a multipurpose storage box inspired by natural landscapes. The lids of these mango wood boxes are made from colored resin with a texture resembling natural stone. Here the touch of nature is combined with a smooth, very minimalist design.
---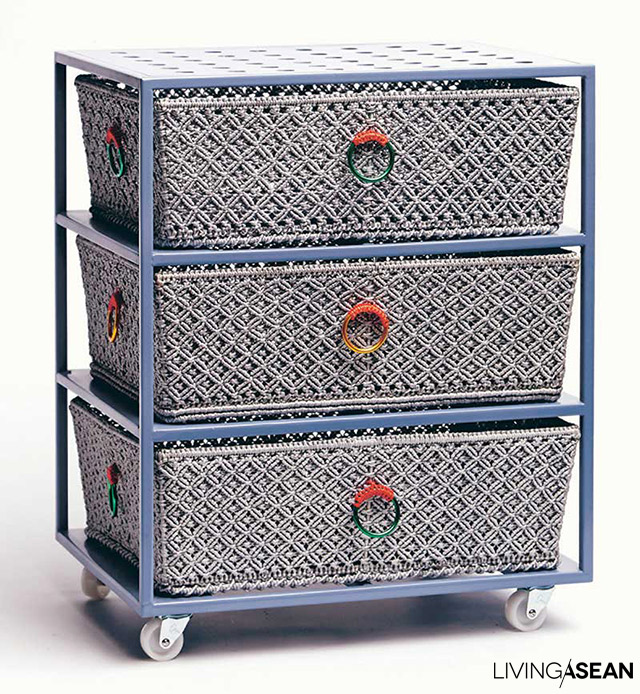 6. "Tribida," by Trimode Studio and a twine-weaving group of Ban Laem Yang, Nakhon Sawan Province is a movable set of storage drawers with interesting shape, color, and materials. The lightweight drawers come in a number of patterns and are woven from baling twine, for yet another attractive product from Thai Navatasilp.
---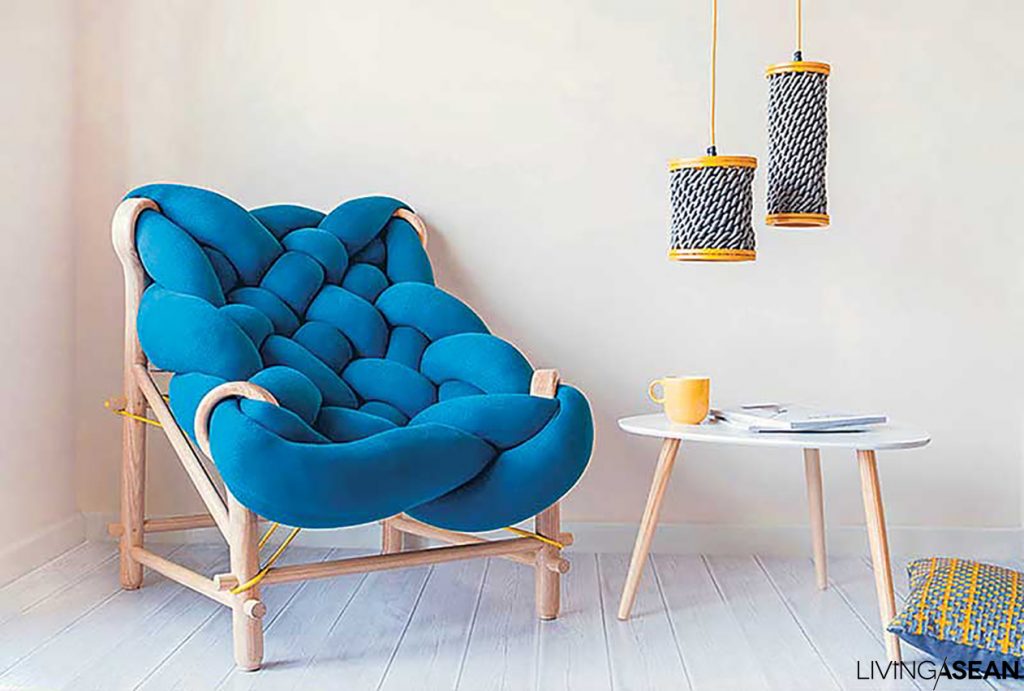 7. The "Needle Chair" by British designer Veega Tankun adapts and extends a traditional silk weaving technique to create a new type of easy chair cushion. This cushion softens the chair frame for a gentler, more modern look while adding a new, truly charming dimension to chair design.
---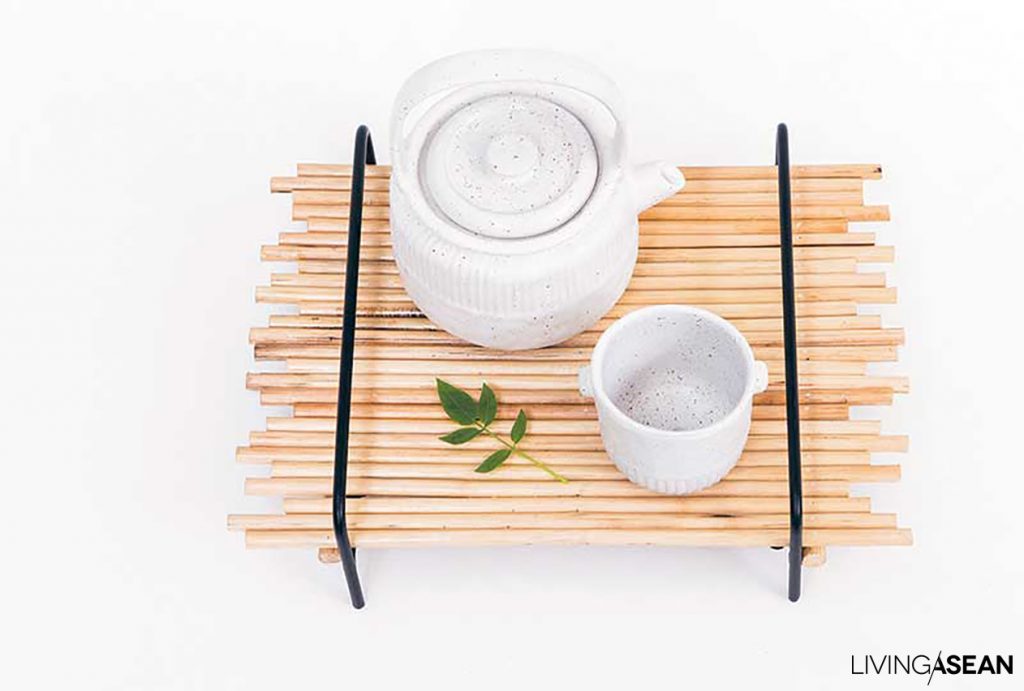 8. "Khrae Tray," by Thinkk Studio and a wicker-weaving group in Baan Chang, Ang Thong Province, is a multi-purpose tray that got its inspiration from dwarf bamboo, its small bamboo slats charmingly set in a black steel frame. It can be put to all sorts of uses, including as a support for food dishes, or as a tea set tray.
---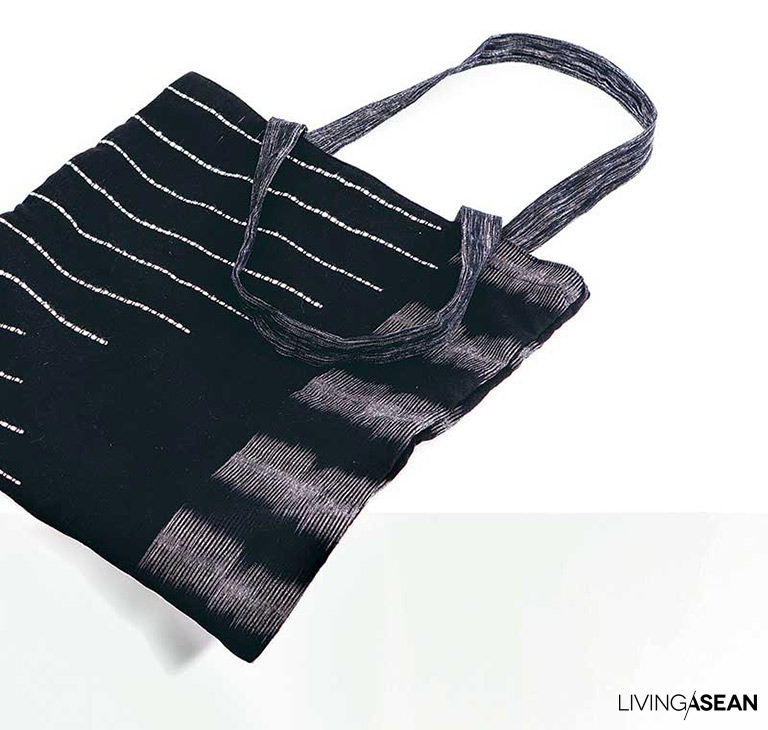 9. The Line Tote Bag by Thinkk Studio and a natural-cloth-dyeing community enterprise group at Nong Bua Dang in Chaiyaphum Province is a shoulder bag with an intriguing shape, made of stylishly dyed woven fabric and adorned with simple, attractive monochromatic graphics and patterns that add to its contemporary look. This, too, is a Thai Navatasilp product.
---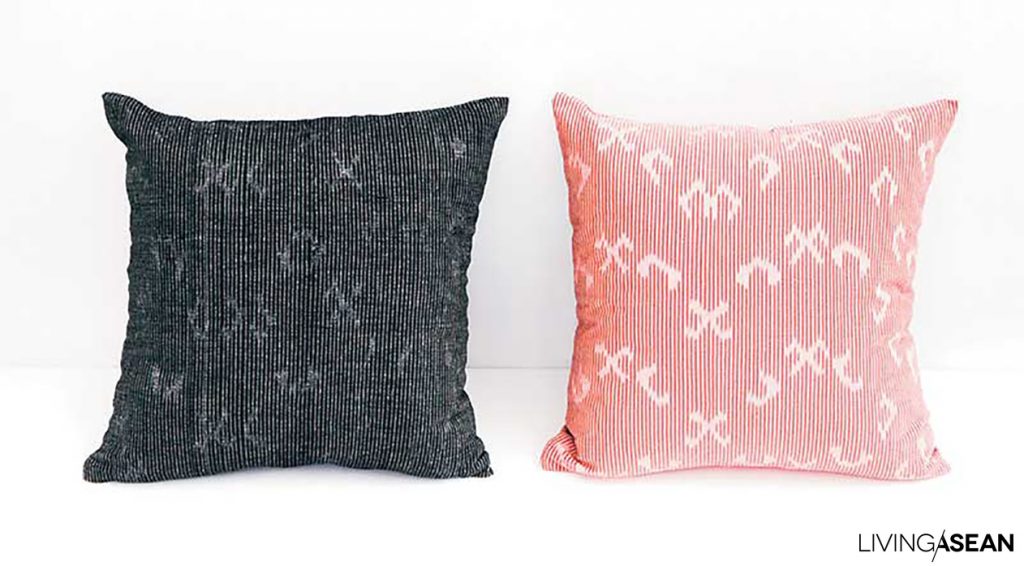 10. "Mon Mai," by Thinkk Studio and a natural-dyeing community enterprise group in Nong Bua Daeng, Chaiyaphum Province: these beautiful woven mudmee silk patterns are warm and modern, with reduced pattern detail suggestive of fashionable graphic art. The natural dyes give a gentle feeling reminiscent of pastels. Another proud example of SACICT's Thai Navatasilp Project.
These ten craft art pieces use traditional Thai handicraft techniques adapted by leading designers to create stylish products, many of which are either still on display or in the inventory at SACICT Concept in Bang Sai, Ayutthaya Province. For further information, visit www.sacict.or.th or keep current with the news at www.facebook.com/sacict.
---
You may also like…