Passing by a futuristic real estate development on Wireless Road named "One Bangkok," you'll notice three large art works on the grass lawn, and not far away a boxlike two-storey rectangular building tagged with the name "BAB Box." We're seriously suggesting you check it out.
/// THAILAND ///
Story and video: Taliw /// Photography: Wara Suttiwan
A lot of folks know that BAB Box is one of the international contemporary art festival "Bangkok Art Biennale 2018" sites, and indeed it is. But you might not know that BAB Box is more than simply an exhibition space.
"…We'd like everyone to have the time, space, and interest to come experience this that we call 'joyous, energetic art,' or 'beyond bliss.' Easy enough to hear us say it, but maybe harder to actually do it."

—Professor Dr. Apinan Poshyananda, Chief Executive and Artistic Director of Bangkok Art Biennale
BAB Box is the command center for Bangkok Art Biennale 2018. It's a creative space for art lovers to stop by and swoon. It's a place to meet, a tourist destination, and a location for amazing world-class art. Perhaps most important, BAB Box tells us Bangkok will continue to host of international contemporary festivals in the future. This last is true for at least two more events.
We were lucky enough to speak with Prof. Dr. Apinan Poshyananda, Chief Executive and Artistic Director of Bangkok Art Biennale 2018, who told us, "Bangkok Art Biennale will be here at least three times: this one (2018-19), next year (2020), and again in 2022. Since this will involve continuity and long-term planning, I thought we should have a designated Bangkok Art Biennale location, and that's how BAB Box came to be."
After the first Bangkok Art Biennale showing pulls up stakes in February, art activities will continue: films, performances, workshops. This is to be a creative space, providing elements of knowledge to Bangkok communities. On looking around it became apparent that this was a perfect place to hold activities for artists and art lovers.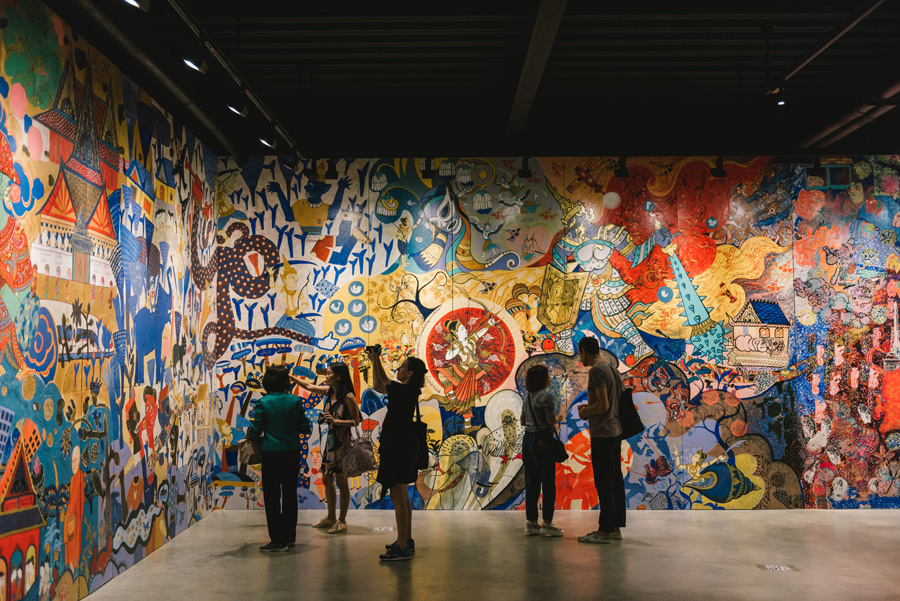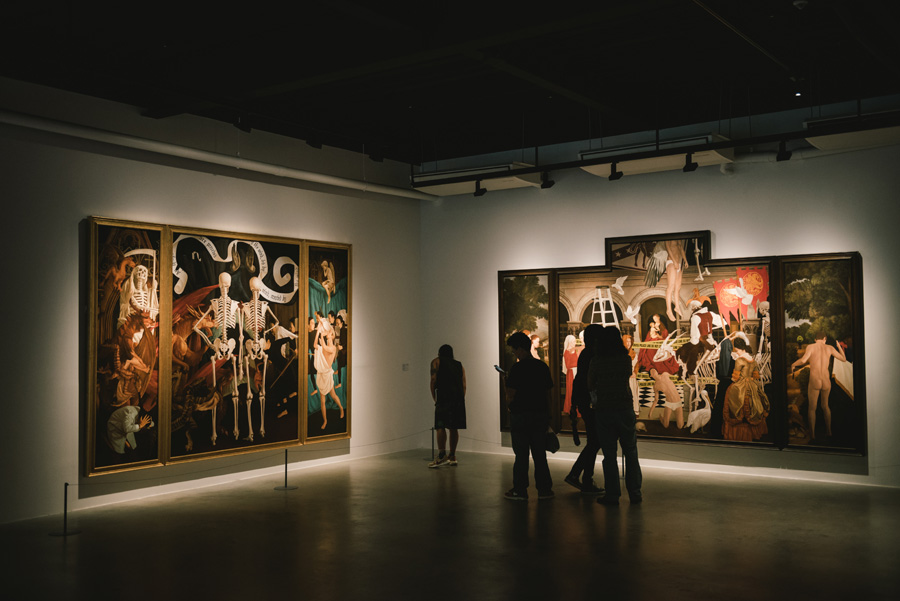 "So . . . what were the selection criteria for the art works shown at BAB, and BAB Box in particular?" Dr. Apinan replied, "Our theme is 'Joyous Energy, the Power of Art,' or more simply 'Beyond Bliss.' Here is just one of the 20 exhibition sites, but this one is special in that we created it specifically for this showing.
"The idea was to draw out famous Thai and foreign artists to present here. We set it up to international standards of temperature and humidity control, security, and numbers of visitors. We had long discussions about the art, and were looking especially for content dealing with history and diverse cultures coming into contact and interacting with each other."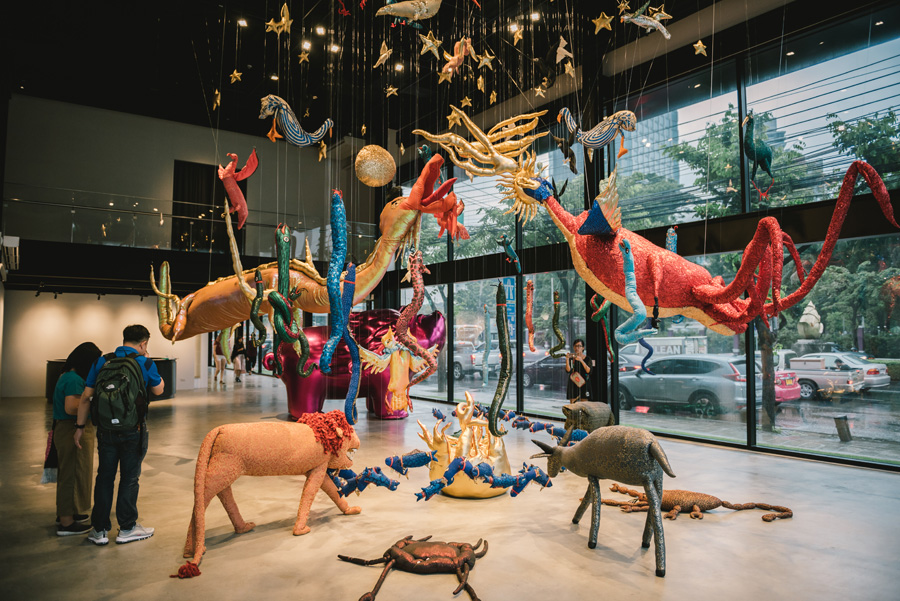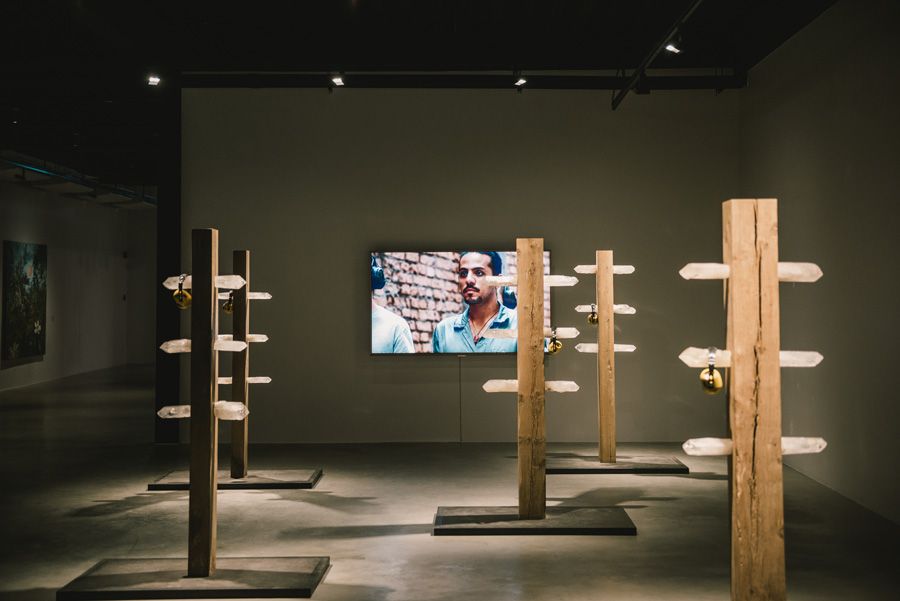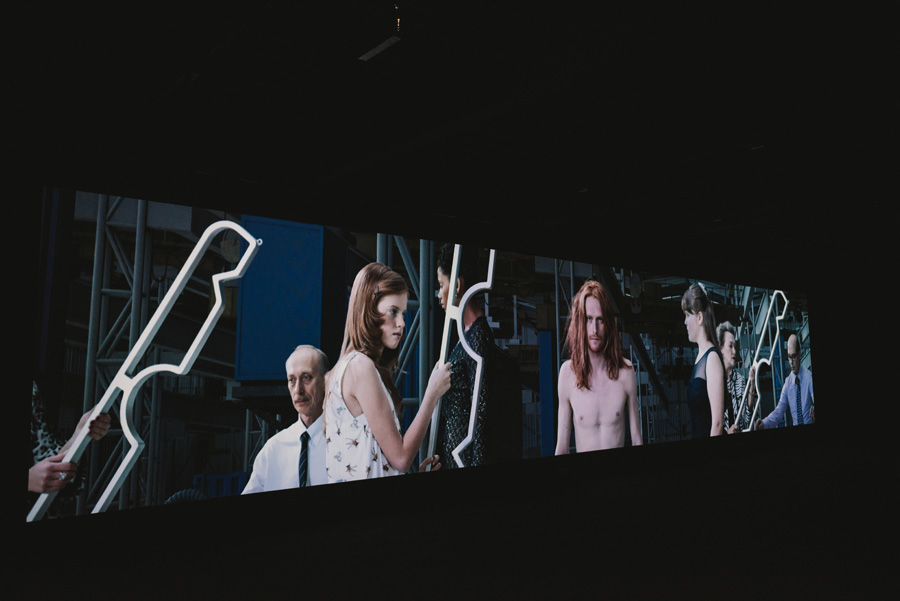 BAB Box is a two-storey building full of open space. The first story contains the work Animal Kingdom by the Turkish artist CANAN. Next to it is Happy Happy Project: Love Me Pig I, by Choi Jeong Hwa of Korea.
The second floor showings are from a diverse selection of artists, beginning with The Adventure of Sinxay, a painting by Hooptam Laos – Thai. Walking deeper in we find wooden columns and crystals, interactive installation art entitled Standing Structures for Human Use, by famous artist Marina Abramović, followed by a canvas oil painting from Thai artist Natee Utarit entitled Allegory of the End and Resistance, and a video piece projected on three large screens by the Russian collective AES+F called Inverso Mundus.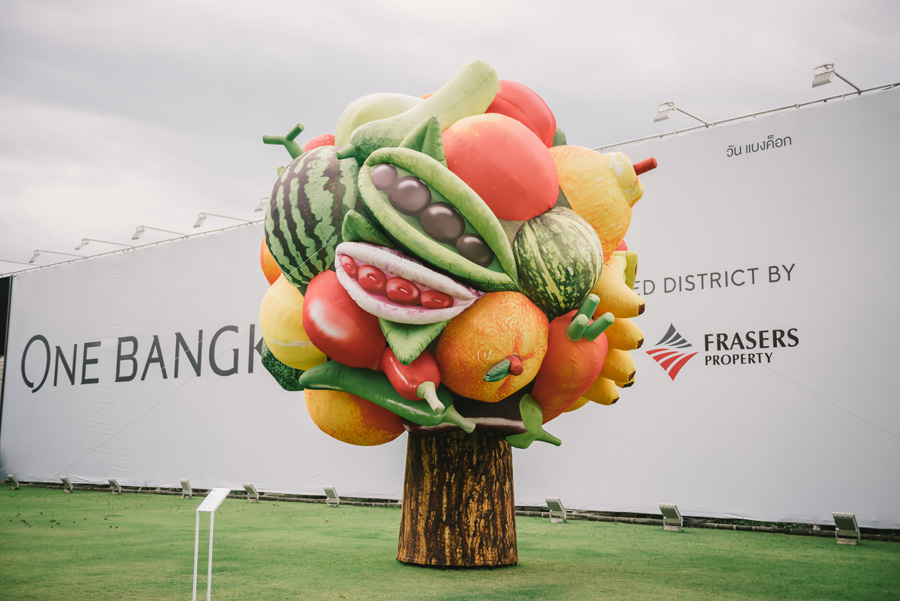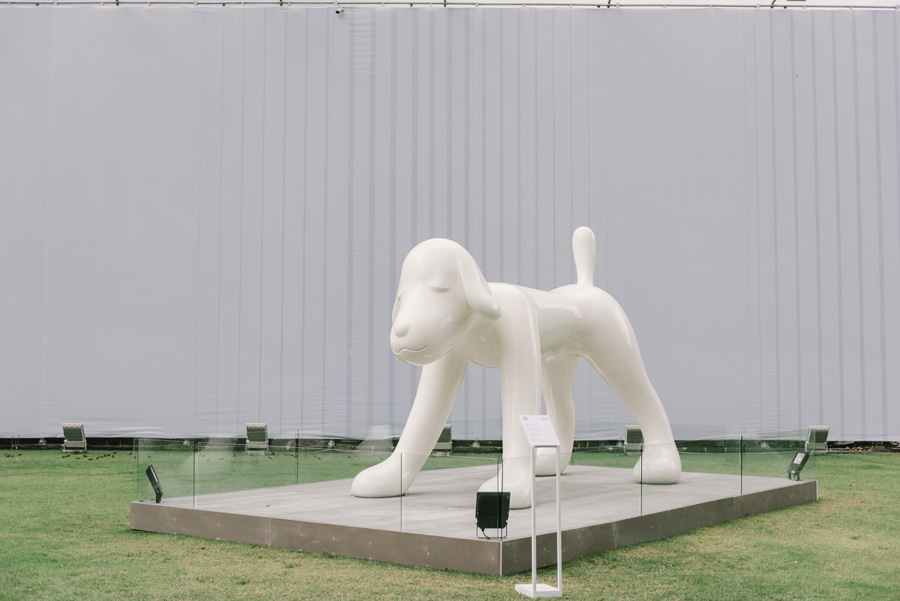 BAB Box isn't merely a gallery limited to showing art works, but also a creative space. We can enjoy hanging out at the BAB Café, to sit, rest, sip our favorite drinks, hand in hand with the charm of the surrounding art.
"We think of it as a space to relax and contemplate the art we've seen, Thai or foreign, and talk about it. It's a coffee house! Maybe after exercising in the park you'll stop by of an the evening and drink something. There's even a roof deck, perfect for shooting the breeze," said Dr. Apinan.
BAB Café is an open space design accessible from above, with tables, chairs, and sofas, set out to accommodate customers in a simple atmosphere whose charm comes from choice of materials, dark colors, and a design pleasantly compatible with the overall BAB Box ambiance. And there's a nice, diverse food menu you'll want to check out.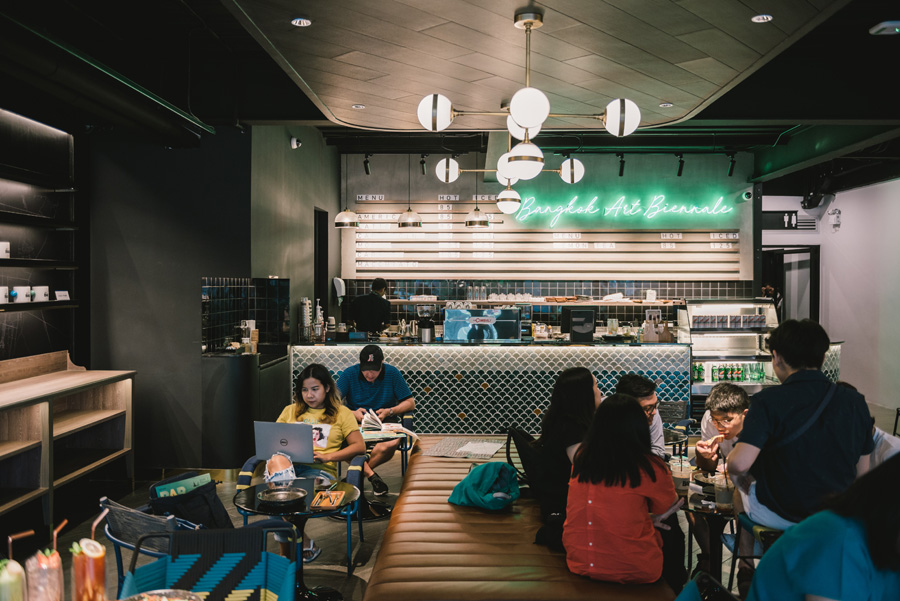 The food on the menu is enticing, starting with a Ham & Cheese Panini (185 baht), warm toasted bread stuffed with ham and cheese, delicious fresh vegetables on the side: simple, but pleasingly mellow. Or there's a Smoked Salmon Croissant (215 baht): salmon is stuffed into a freshly baked croissant and served with French fries. Don't ignore the Caesar Salad (155 baht), made up of fresh, fresh vegetables with a side of crispy fried bacon.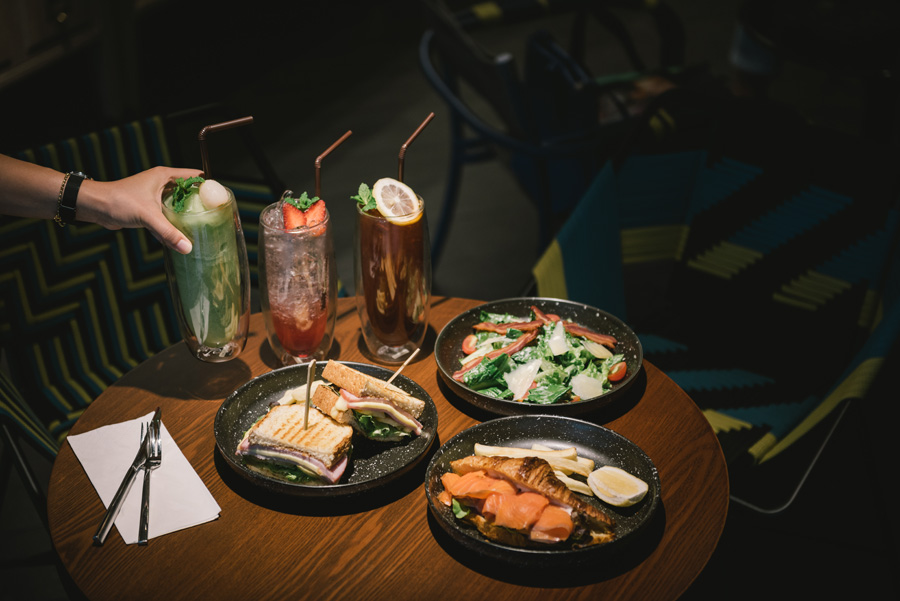 Drinks? BAB Café has a nice variety, starting with basic coffee, but on to innovative tastes such as Mintchee (135 baht), a blended drink mixing lychee with mint leaves for an incredibly refreshing and cooling taste. You might want to sip some Strawberry Soda (85 baht), colorful and sweet (with a hidden sour) from strawberry syrup and a splash of soda, topped with a fresh strawberry. And there's lemon or lime tea (125 baht), known by all, favorite of many.
BAB BOX
• Address: One Bangkok, Wireless Road (MRT Lumphini)
• Time: 10:00 a.m. – 9:00 p.m., closed Sunday
• FB: www.facebook.com/bkkartbiennale/
Bangkok Art Biennale is held between October 19, 2018 and February 3, 2019 at 20 locations in Bangkok.