The beautiful cottage garden at the Melt in Your Mouth riverside cafe' was born out of a warm, semi-formal style of southern France.
/// Thailand ///
Story: Warapsorn /// Photos: Sitthisak Namkahm /// Photographer Assistant: Busakorn Kuankid /// Garden Decorator: Suthathip Phaiboonnunthaphong and Isara Phaengsri
Two siblings, Somboon and Poonsuk, have always been hard-core coffee lovers. They decided to make use of a plot of land belonging to their father by turning it into a cozy café on the bank of the beautiful Kok River in Chiang Rai.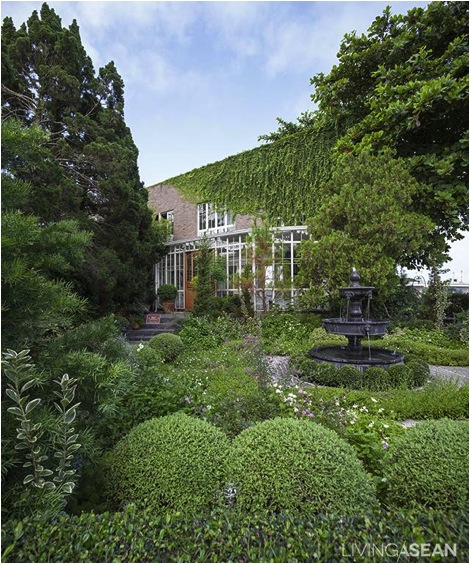 "The original design was a raw, wooden-focused because there were only coffee and few Northern dishes on the menu. Later the architect suggested that the café would be too big for just a small number of dishes. At the time, a senior acquaintance of ours came up with European food and cake recipes. So, we toned down the café design from a raw look to a French vintage style." Kulnaree Suralertrangsan, Somboon's wife told us.
"We knew nothing about garden landscaping. Luckily, someone introduced us to Suthathip and Isara. Customers often asked us about the style of our garden. We had to go back to Suthathip and Isara to learn more. They said it was called Southern French style. The design coincided with the café by chance."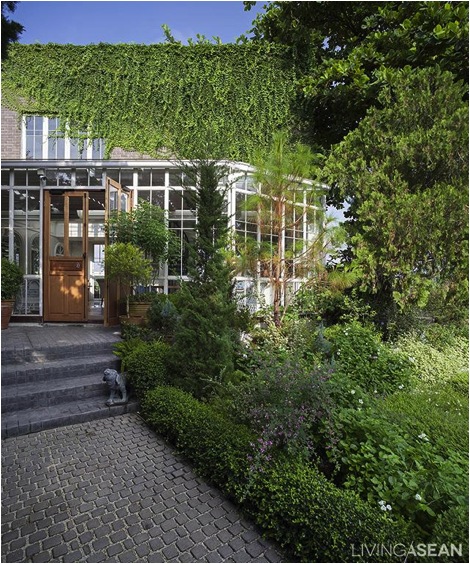 The garden is semi-formal in style with a black water fountain at the center. It's an outstanding feature there. The garden floor is covered in black carpet stones with fine-grained gravels filling the gaps in between. Neat, well-trimmed shrubs, notably Fukian tea trees (Carmona Retusa), thrive along the edges. Nearby colorful flowering plants abound. They include Chinese violets (Asystasia gangetica), cat's whiskers (Orthosiphon aristatus), snow roses (Serissa) and shrubby bush clovers (Lespedeza bicolor). Their vibrant colors provide a welcome contrast with the surrounding hardscape.
Different types of pine trees are also grown here, for example, creeping junipers (Juniperus procumbens), Italian cypresses (Cupressus sempervirens L. 'Stricta'), Khasi pines (Pinus kesiya Royle ex Gordon) and Orientali arborvitae (Thuja orientalis Endl), which go together well with a European-style garden and thrive in cool weather in the northern part of Thailand.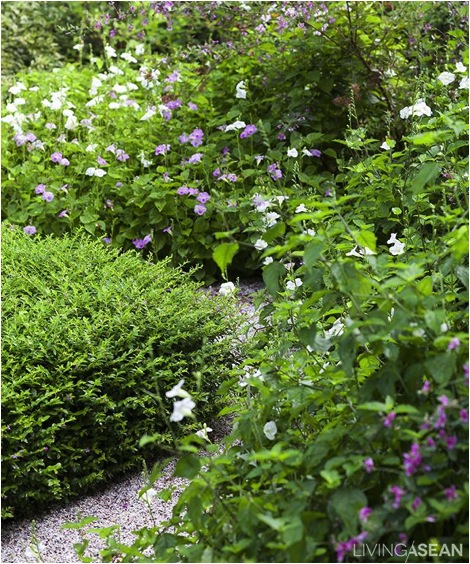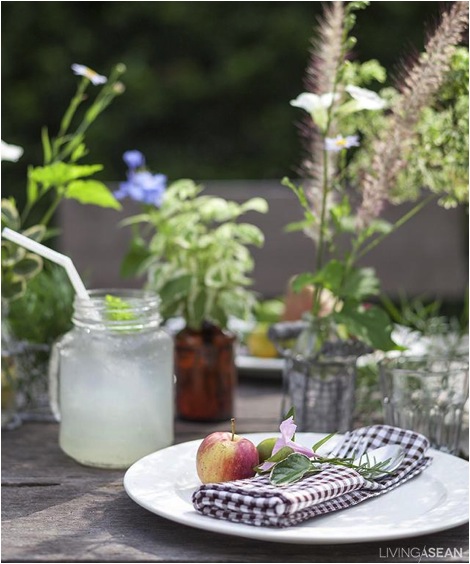 There is a seating area next to the front courtyard, which serves as a reception area and a popular photo spot. Table sets await customers who prefer dining alfresco on a nearby stone-on-grass lawn. Meantime, cool breezes keep the spacious river-view terrace comfortable all day long. It's a lifestyle in close touch with nature. Herbs, such as rosemary and mint that thrive on the premises, are picked fresh everyday for use as ingredients in food and drinks on the menu.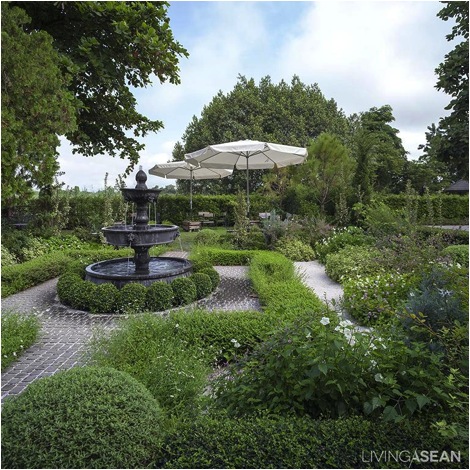 Besides the relaxing atmosphere, the Northern cuisine is the main attraction here. Those mouthwatering dishes made the traditional way combine to make this café an enchanting place to be. Its first-class recipe is a heritage from Somboon's great grandmother, who was a housekeeper for Princess Dara Rasmi in times past. For visitors to Chiang Rai, spending an afternoon here is obviously an unforgettable experience.