Want to get the most out of your time in Bangkok? Sure, there are great shopping malls, but where else to go? Here are some Living ASEAN recommendations on enjoying Thailand's capital city. For comfort and convenience, we suggest using the BTS system for your weekend jaunt to see new lifestyles and interesting art works, or spend time with gods and angels at sacred sites all around town.
/// THAILAND ///
Story: favforward.com /// Photography: Sitthisak Namkham, favforward.com, YAYOI KUSAMA Courtesy of Ota Fine Arts, Tokyo, Courtesy of Artists
Start out on the Sukhumvit Line
>> BTS National Stadium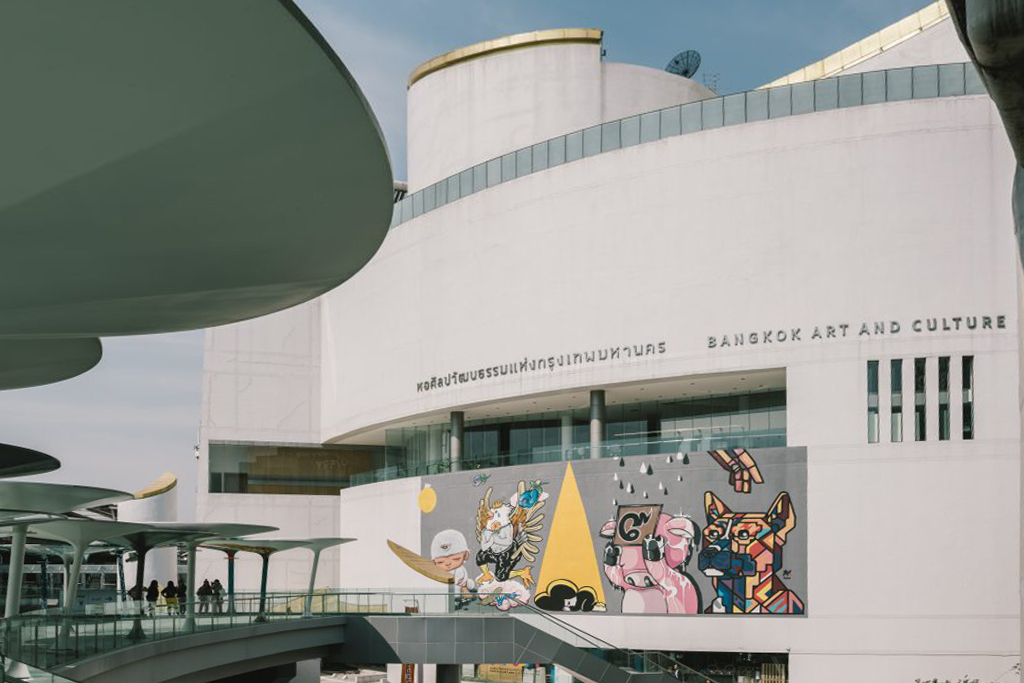 Where's the largest art exhibition space in the "Big Mango?" Easy. It's right here at the Bangkok Art & Culture Centre: exhibitions, music, films, literature, education, and, on the 5th floor, handicraft art. Then there's the BACC souvenir shop for buying art show mementos, works by the artists themselves, and plenty of other things. Shows here aren't just uplifting, but inspire our own creative instincts. Right now BACC is one of the prime locations for Bangkok Art Biennale 2018 Festival l, showing such works as "Basket Tower" by Choi Jeong Hwa and "Tape Bangkok 2018," by Numen For Use Design Collective.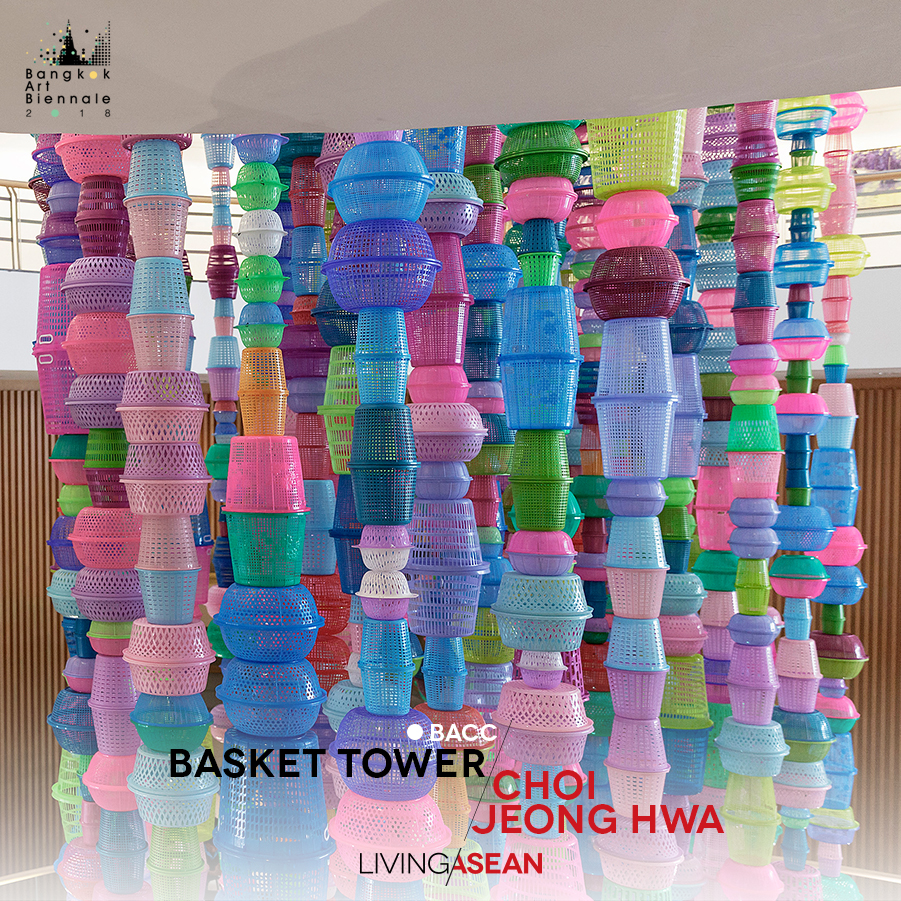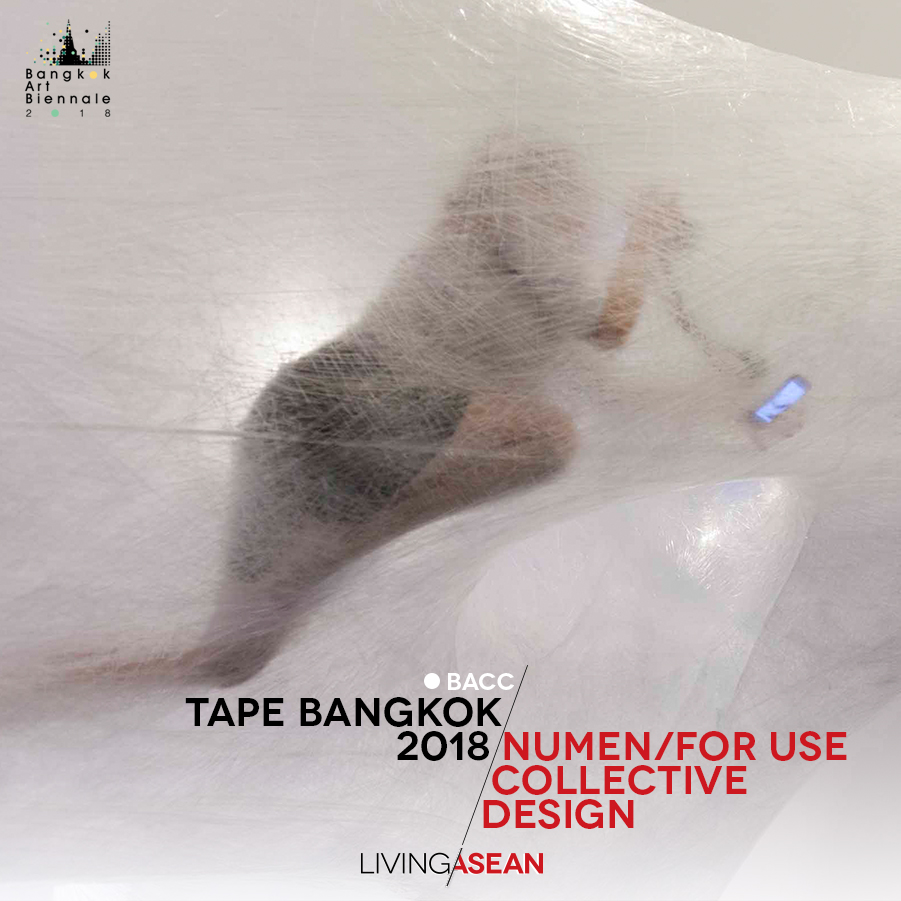 >> BTS Siam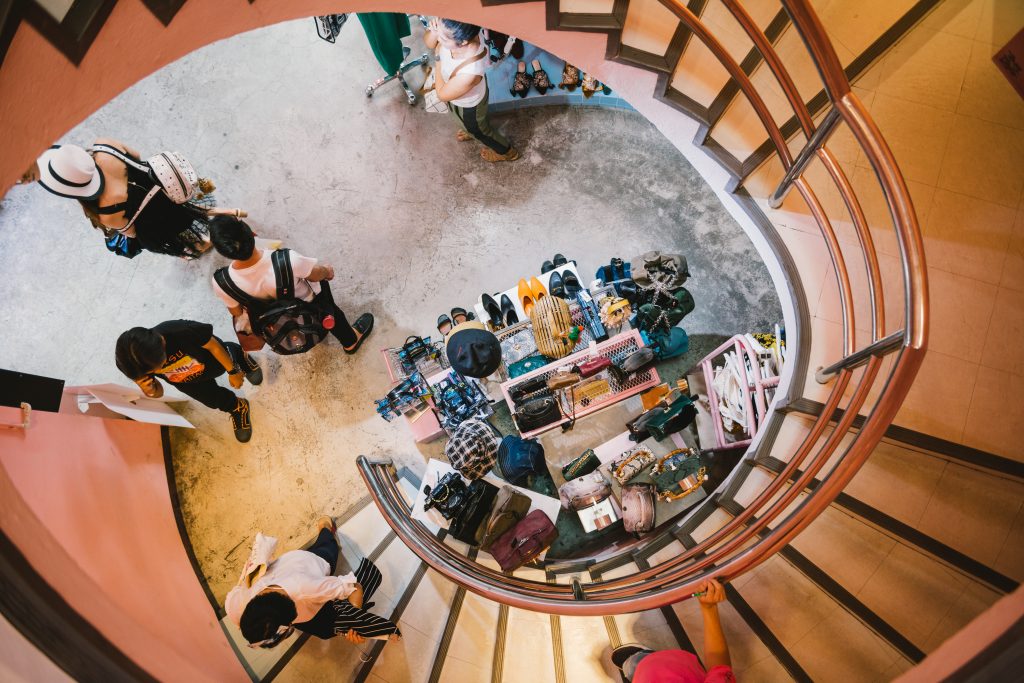 This location is a sort of urban landmark, not merely a place for teenagers to hang out, but a showplace for the modern age. There's a center for technology and innovation, plus a bezillion shops and outlets: Siam Discovery, the Siam Center, Siam Paragon, and Siam Square, each distinct area offering its own select products and product selections.
Bangkok Art Biennale 2018 shines here, too, featuring works of various prominent artists brought in from abroad. One such is Yayoi Kusama, an 81-year-old Japanese known as the "Princess of Polka Dots." She has extended her love of that quirky blob into many branches of creativity: sculpture, painting, arrangement art, and many more, to become one of the world's most highly esteemed contemporary female artists, giving exhibitions and receiving top international awards in many countries.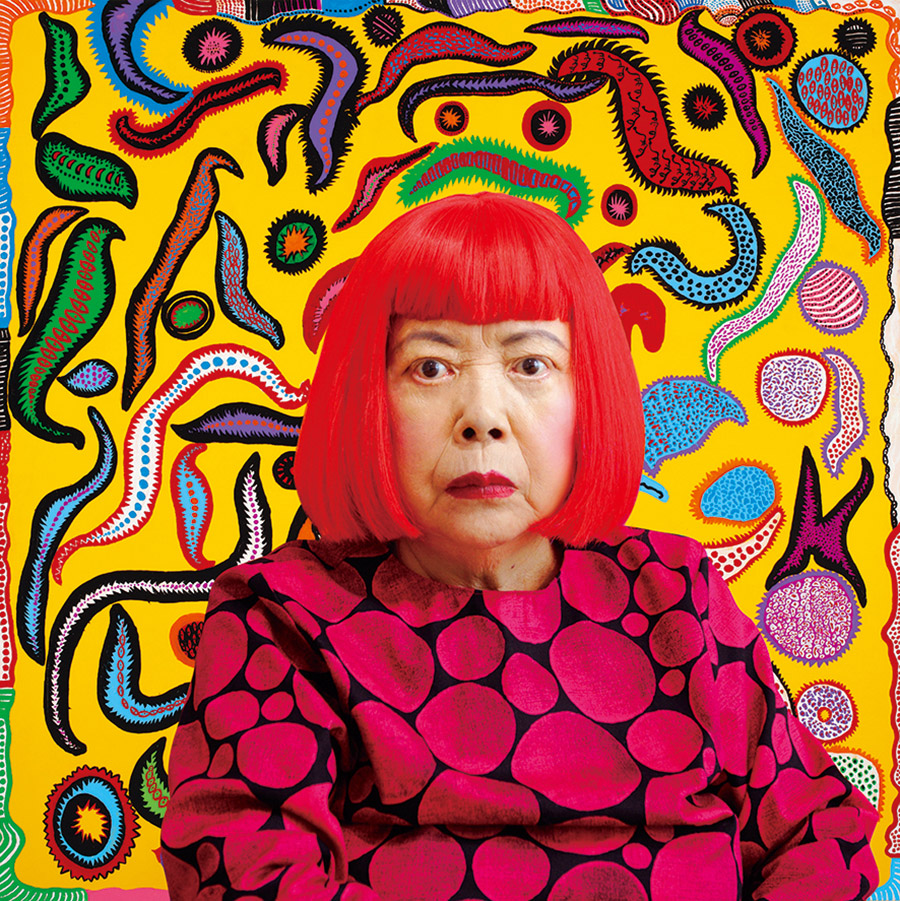 You can see some Kusama signature works on display at Central World: the beautiful arrangement art piece "Inflatable Pumpkins Balloons" hangs suspended from high above and polka dots adorn escalator handrails, changing this massive space into an art gallery where you yourself are a participant in the creation. More Kusama is seen at nearby Siam Paragon in "I Carry On Living With The Pumpkins," where you'll find the polka dot theme continued on a silver pumpkin with mosaic-style skin.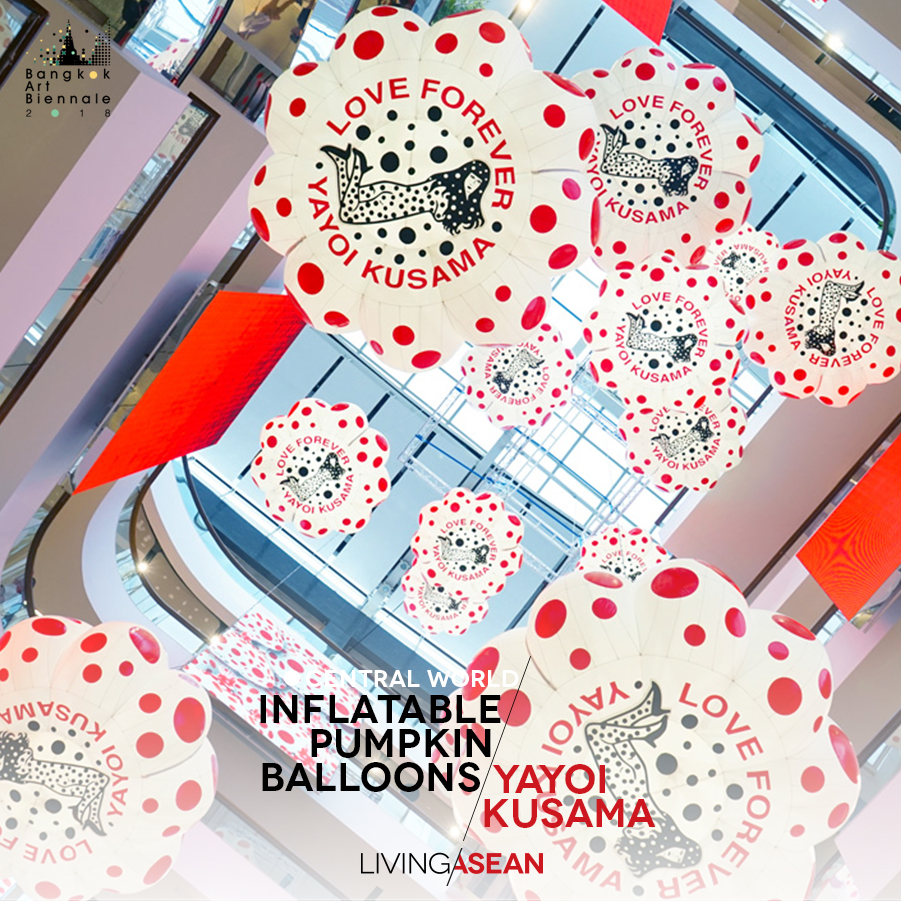 >> BTS Chit Lom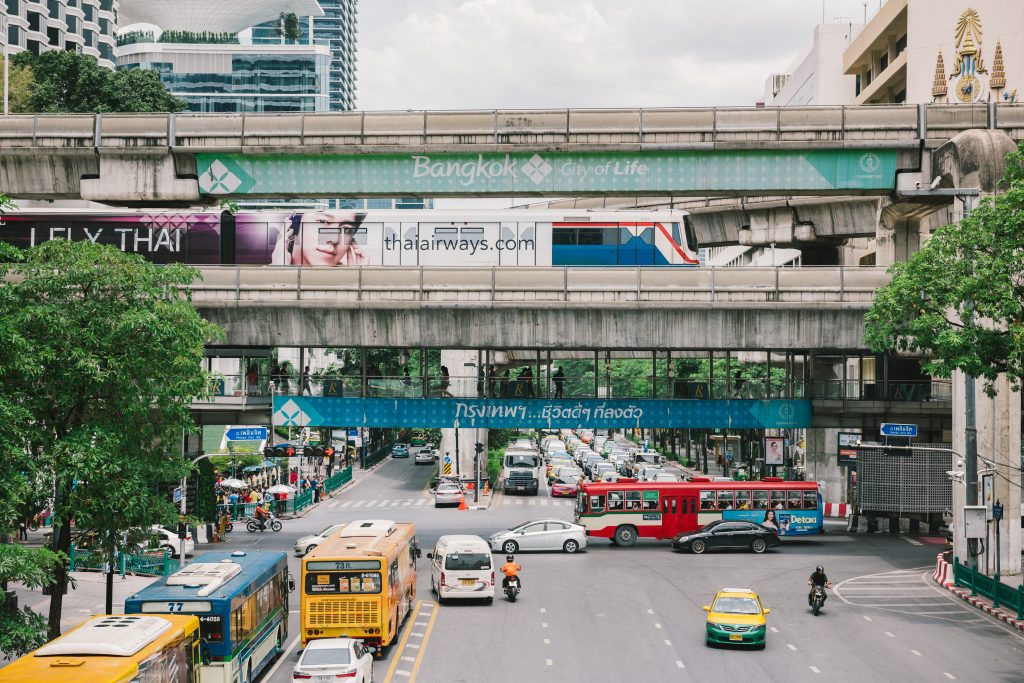 Walking along the skywalk between the BTS Chit Lom and Siam stations you can reach a lot of great locations: Central World, Central Chit Lom, Gaysorn Village, and a lot of famous hotels. The Erawan Shrine is right below, where pilgrims come to pay homage to six divinities believed to grant blessings to worshippers petitioning for success in work, money, love, or various other realms.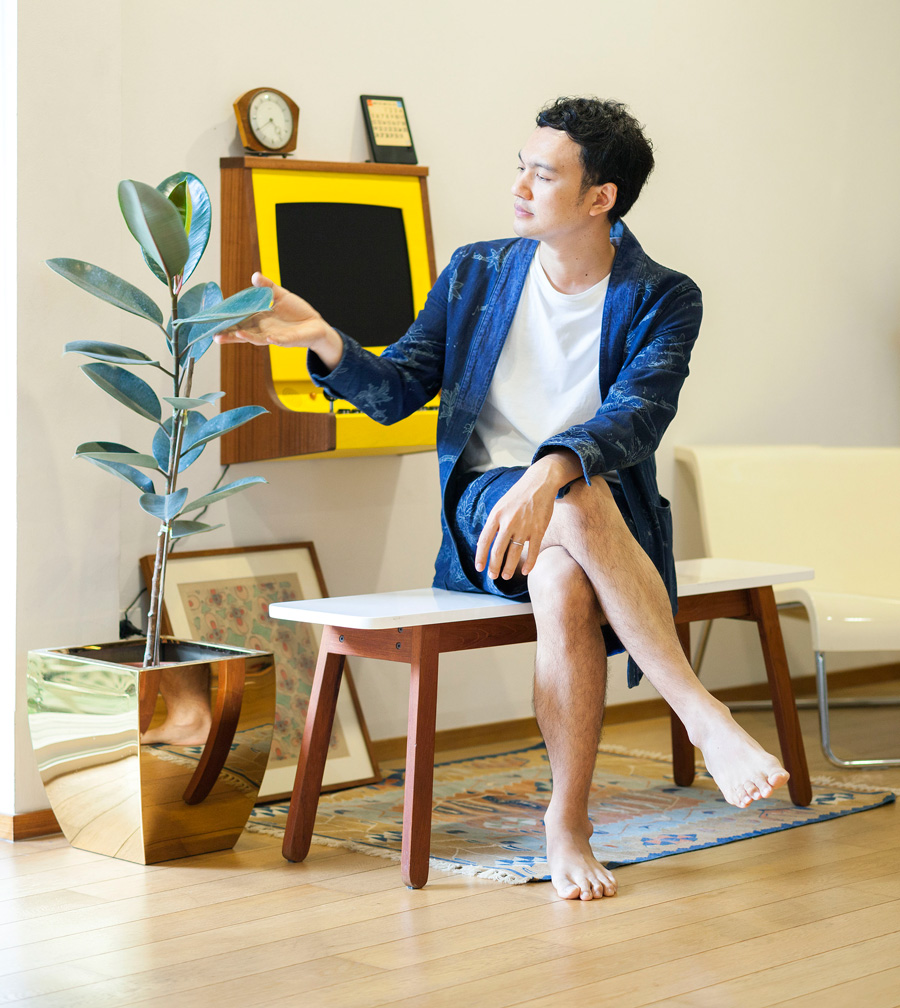 At Central World is yet another Bangkok Art Biennale 2018 Festival display: an exhibition featuring the beloved Miss Mamuang, by artist Wisut Ponnimit, cartoonist and illustrator. Stop by to meet Miss Mamuang and take pictures with these rare art works.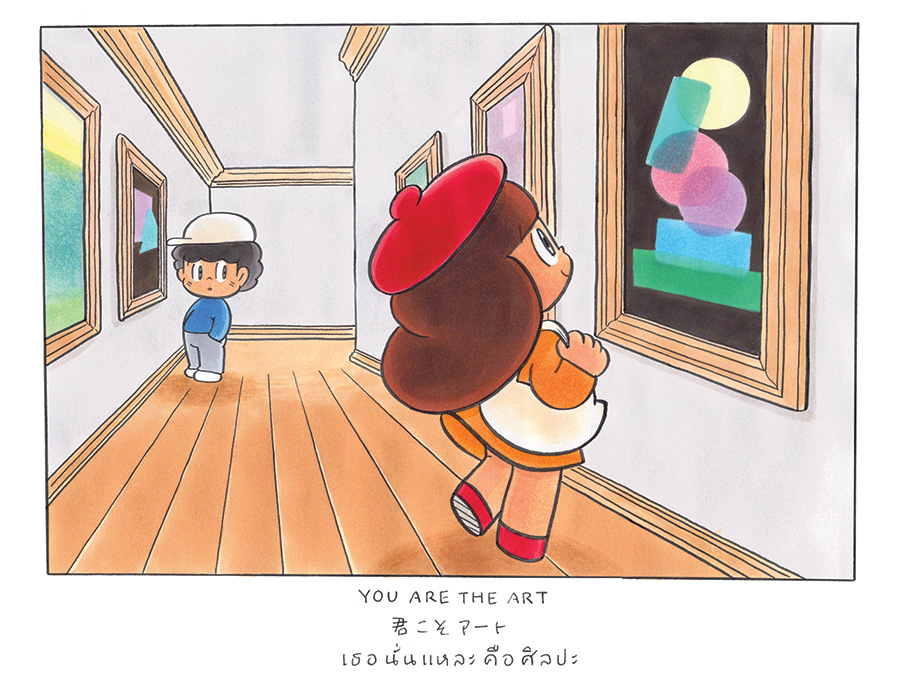 >> BTS Ploenchit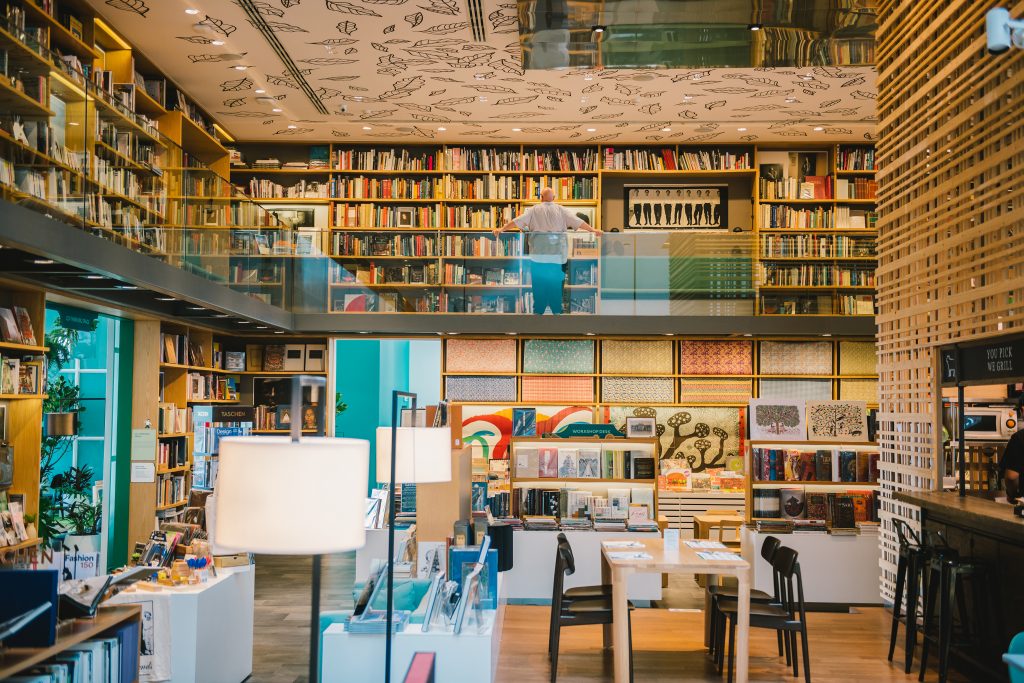 The Ploenchit area has not only major office buildings and governmental locations such as embassies, but also department stores and hotels. And near here is a major passenger boat pier for connections to Pratu Nam (the Watergate district) and various locations along Phetchaburi Road.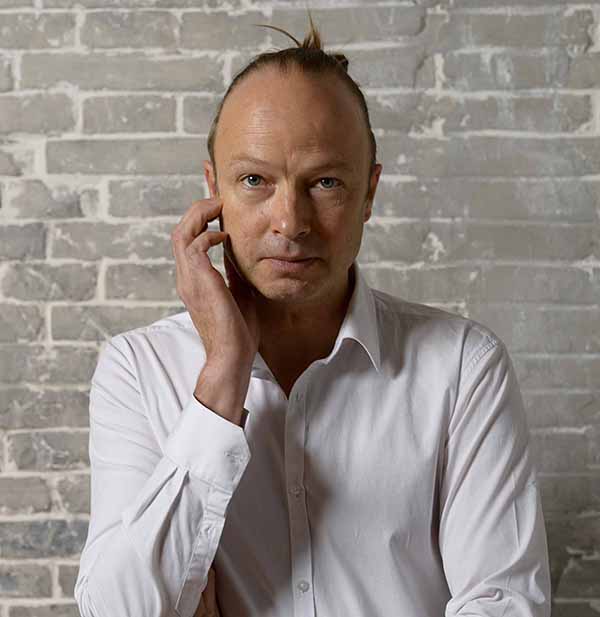 Getting off at the BTS Ploenchit Station gives you additional access to Bangkok Art Biennale 2018. Famous art works are shown nearby at Central Embassy, Nai Lert Park Heritage Home, One Bangkok, and Alliance Française Bangkok. One especially interesting collection features the work of Marc Schmitz, whose fascination with the relationships between people and spaces has produced paintings, large arrangement art pieces, and video art. Mr. Schmitz looks to challenge the limits of communication on many fronts, giving us works that really make us think. His goal is to stimulate a continuing conversation between observer and art piece that at some point becomes like real personal communication. His later work contemplates commonly known relationships between people and history by means of large works installed in public spaces, filling the gap between art history and contemporary art in useful ways. You can see his works at Nai Lert Park Heritage Home from Oct. 19 to Feb. 3.
>> BTS Asoke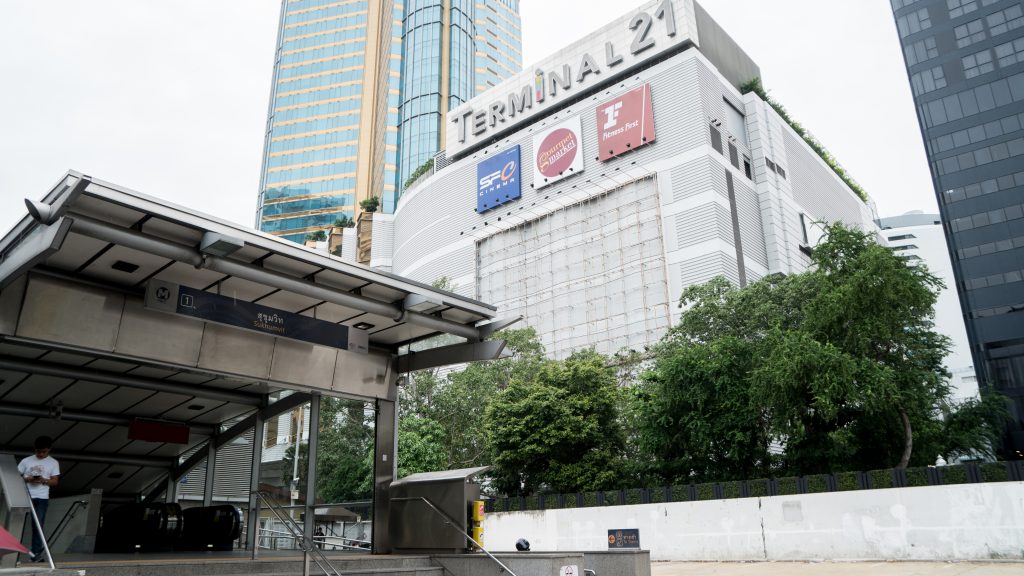 Asoke: district of prosperity, and one of the capital city's major communication and transportation hubs. From the Asoke Intersection, where Asoke Montrii, Rathchaphisek, and Sukhumvit Roads meet, a network of streets and alleys can whisk us to important areas all over Bangkok. The super-fast, convenient, and comfortable BTS and MRT rapid train systems connect here, helping efficient time management. The Airport Link train is just one stop away by MRT, adding convenience for foreign travel. Directly by the rail stations is the Terminal 21 shopping complex, each floor designed with many shops and services mimicking a different international airport, and with a giant food center where you can partake of different lifestyles, all open for your daily enjoyment.
>> BTS Phrom Phong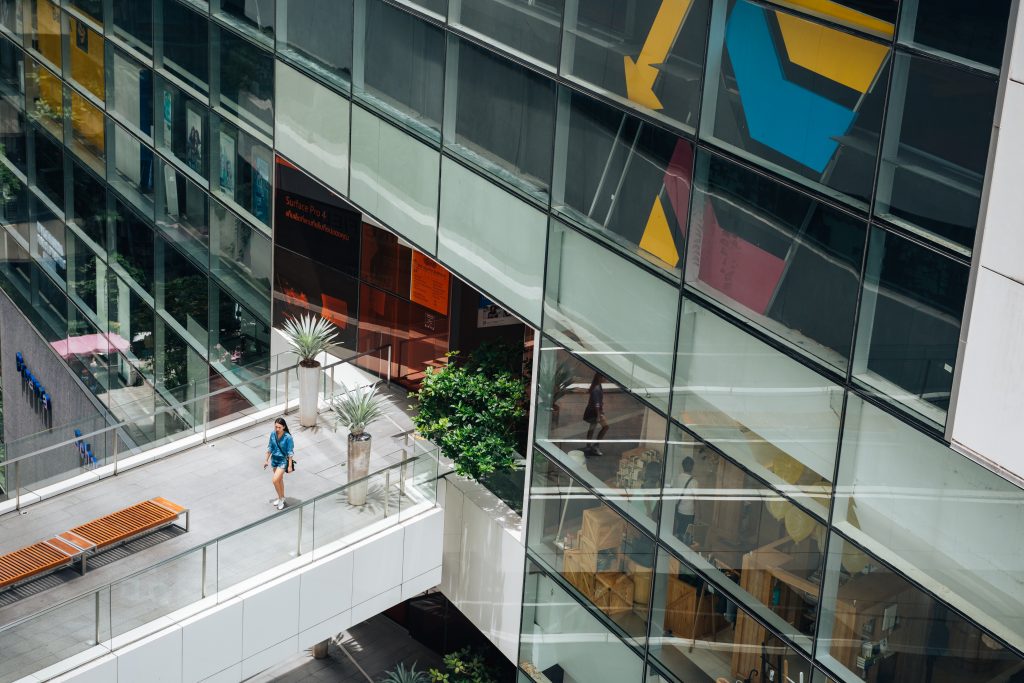 Here the "EmDistrict," meaning EmQuartier and the Emporium, flanks Sukhumvit Road on both sides. EmQuartier has three shopping complexes. The Helix Quartier, or Building A, is distinctive for its "floating garden" starting on the 5th floor. From here you'll walk up and around, up and around on a helical ramp where you can dine at luxury restaurants and visit shops along the way.
The Glass Quartier features high-end outlets, fashion shops, a Virgin Active Fitness center, and the Bhiraj Tower (Sammachawanich Building 3) is a 30-storey office building. The Bhiraj has a central reception hall on floor M from which you'll take a high-speed elevator up to the 15th floor, where you'll find a helipad and a roof deck with a stunning view. Be sure not to miss the hall on the 45th floor, home to the Bangkok Art Biennale 2018 Festival's display of works by artist Kawita Vatanajyankur.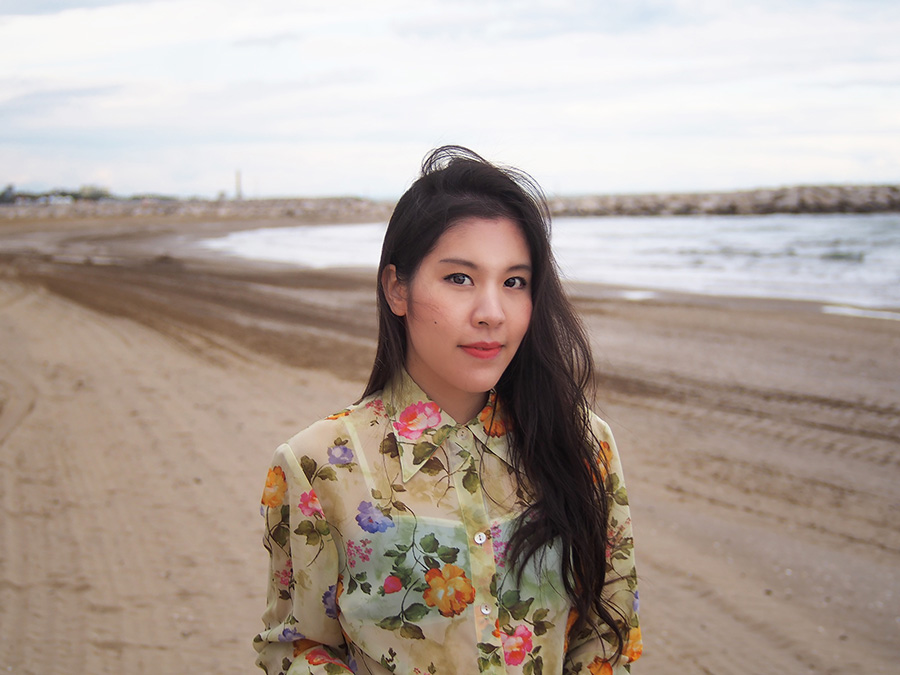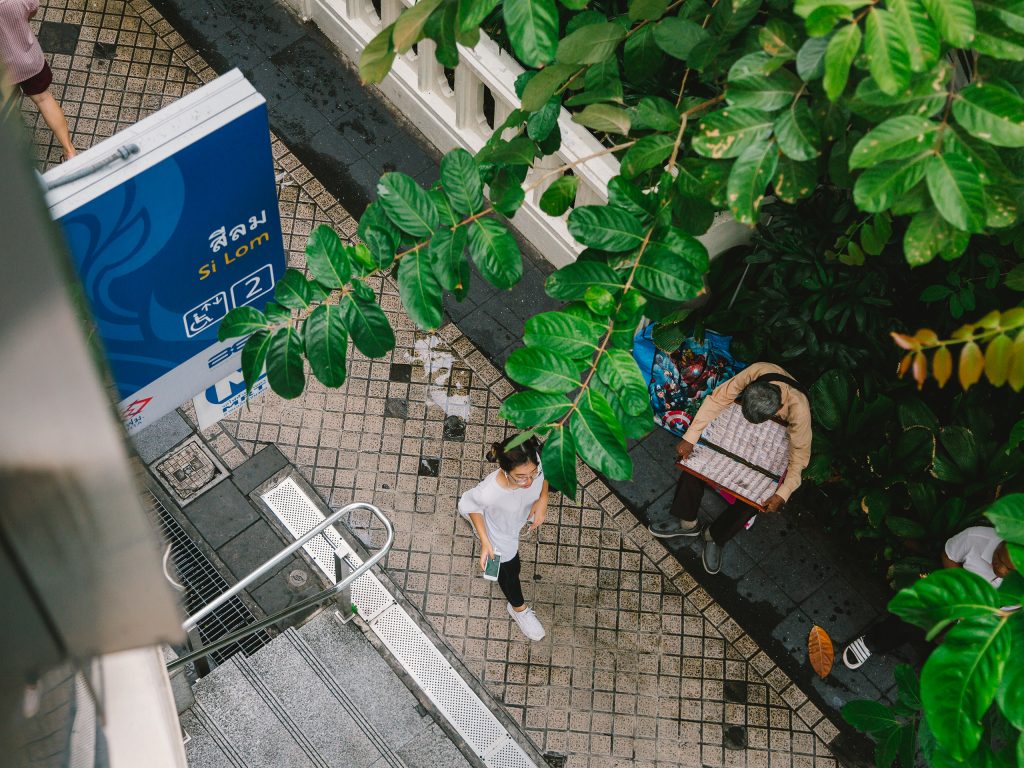 Silom Line
>> BTS Sala Daeng – MRT Si Lom – MRT Sam Yan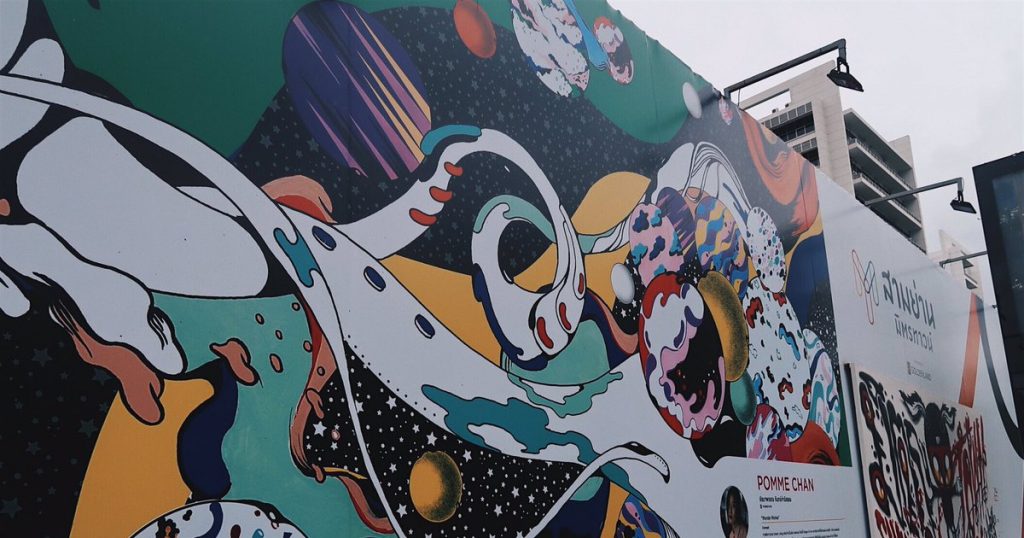 We arrive here after changing to the Silom Line. This district is replete with businesses and office buildings, colorful department stores, and hangout spots, with public parks scattered here and there. At the corner by MRT Sam Yan Station a new "lifestyle community" is soon to be completed: the Samyan Metrotown Life Expansion, a mixed-use building complex conceived under a concept called "three friends." Lifestyle choices and personal enjoyment are coupled with learning and expanding perspectives with the aim of unlocking personal and community potential over the long term. The motto here is "learning is built around friendship": "smart" spaces are designed to promote learning and be user-friendly under the concept of an "urban life library," or "treasury of food and learning," as a new chapter is added to the legend of Sam Yan. Three districts, three libraries, complete and unique in all of Thailand.
>> BTS Chong Noni – BRT Thanon Chan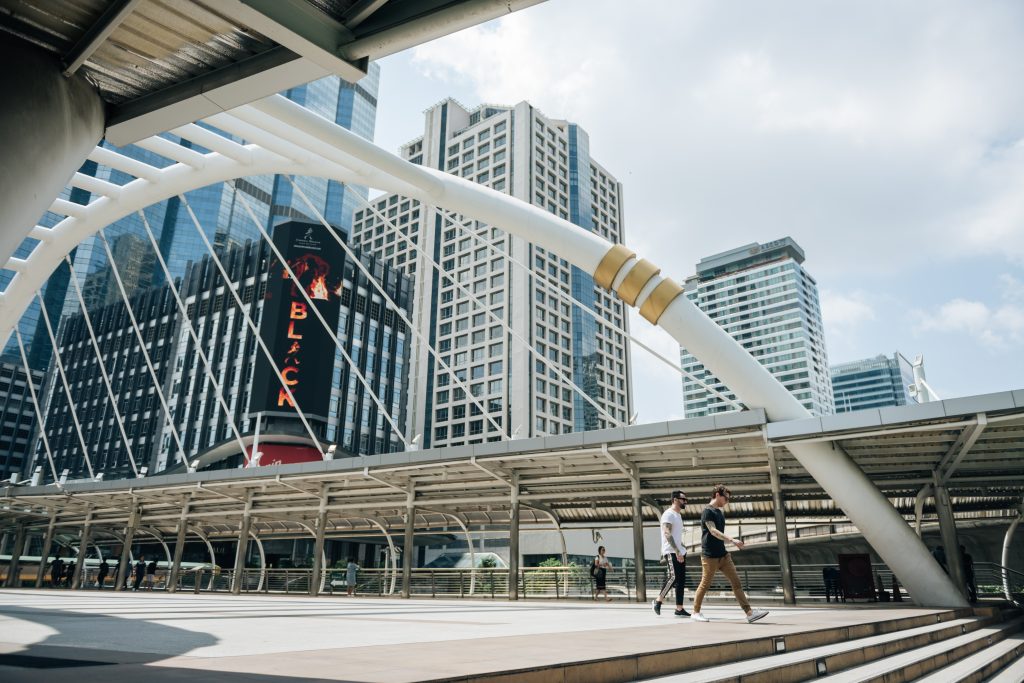 The BTS Chong Nonsi Station is located in the Silom district between the Sathorn-Narathiwat and Silom-Narathiwat intersections, pretty much the city's financial center. Full of office buildings, embassies, and condos, and with quick SkyTrain access, Chong Nonsi is especially popular with foreigners. The byword here is "mobility," as Chong Nonsi is easily accessible by public and private transport. Besides BTS there's the BRT Express Van Sathorn Station, and if you want to escape the clogged streets there is nearby Sathorn Pier, where you can catch an express boat: just hop on BTS and glide down to Taksin Station for that. There you can also easily cross to the Thonburi side of Bangkok: both coming in and exiting the city is convenient. Also, a quick ride to the BRT Thanon Chan station brings you to yet another Bangkok Art Biennale 2018 Festival installation: the Theater of Indulgence, where the work of many fine artists is featured.
If you have time to use BTS to get beyond the normal tourist activities, why don't you check out some of these great locations? See art works unseen anywhere before tell inspiring and trendsetting stories through reflections of culture and society, lighting fires of thought we can use to improve our daily lives. Bangkok Art Biennale 2018 is held between October 19, 2018 and February 3, 2019 at 20 locations in Bangkok.
Link: https://favforward.com/lifestyle/art/49226.html