Besides their tremendous importance for the environment, big trees have great societal value as study sites, tourist attractions, or centers of communities. Come along as Living ASEAN and the BIG Trees Project travels around Thailand to see ten magnificent trees.
/// THAILAND ///
Story: BIG Trees Project /// Photography: Charnpichit Pongtongsumran with BIG Trees Project, Sitthisak Namkham, Pipop Boosarakumwadi, Arisara Jaktreemongkol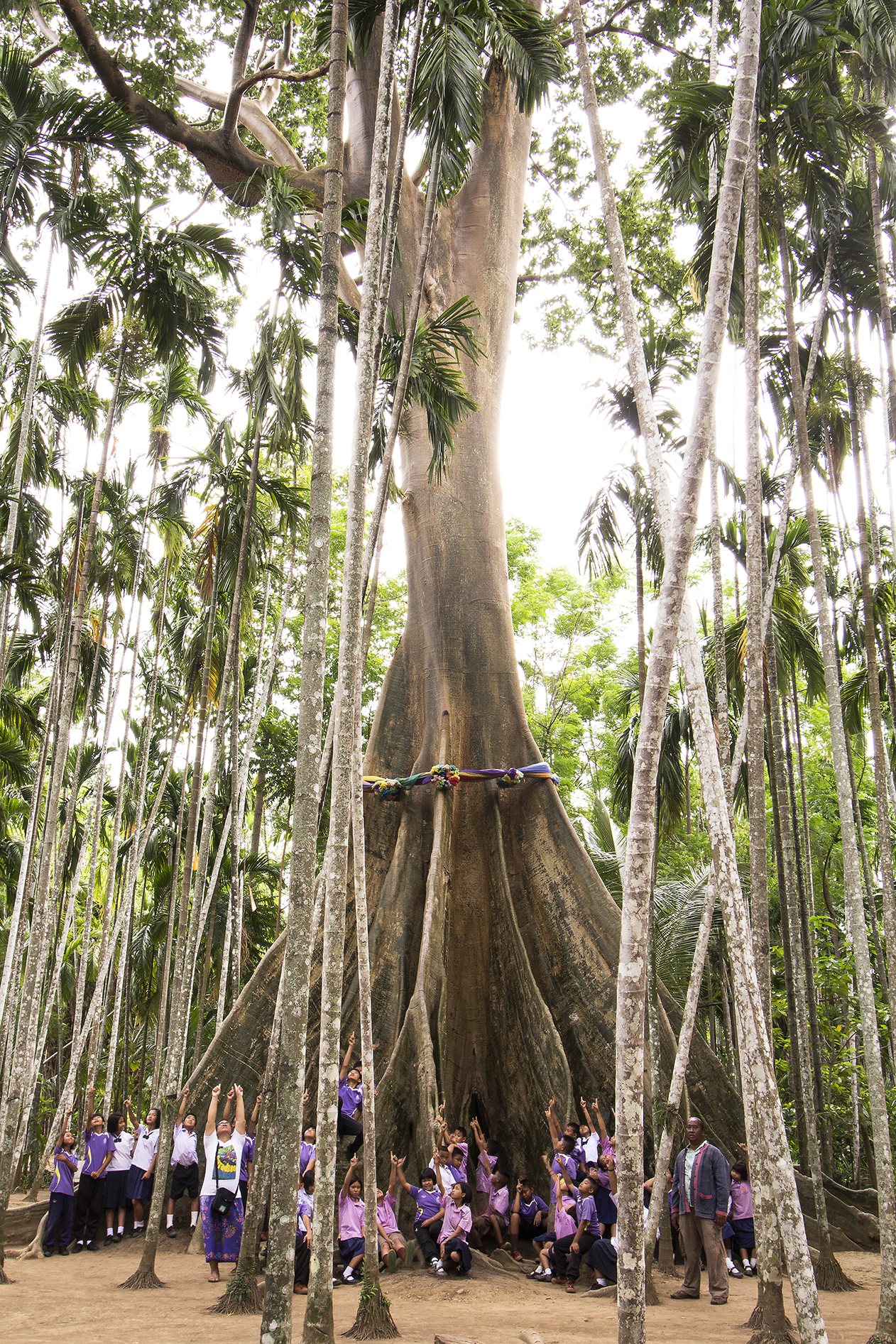 – Giant Tree in Uthai Thani –
Circumference: 97 meters (including buttress roots*) Age: 400 years
This giant tualang is on private land in the middle of a forest, but the landlord is happy to let everyone come visit. One side of the tree has the claw marks of a bear trying to knock down a honeybee nest. The Lao villagers here are descendants of settlers brought here two hundred years ago as an outpost in the conflicts with Burma.
*"Buttress roots" reach from branches to the ground to support the tree.
Tualang tree (Koompassia Excelsa Taub)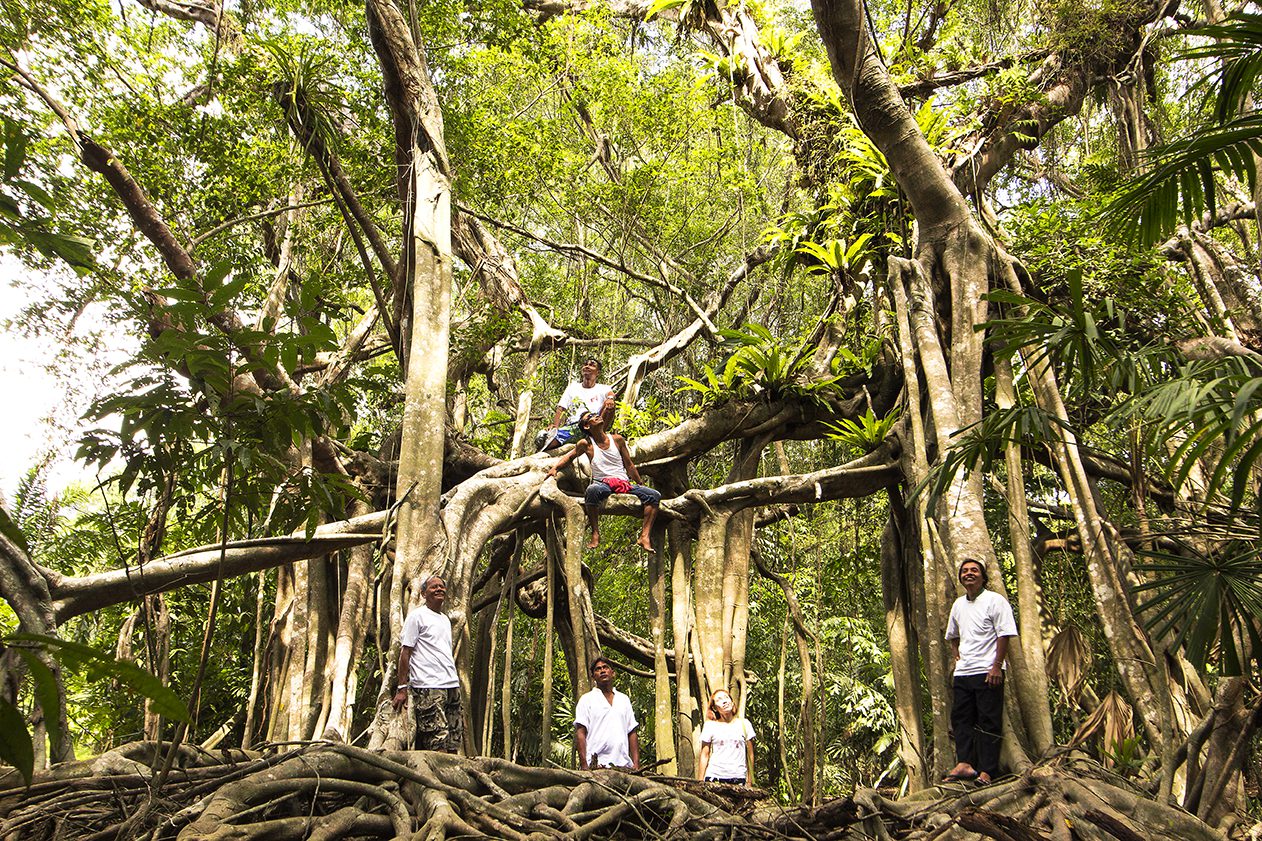 – Sai Song Nam Kingdom, Klong Sung Nae, or "Little Amazon," Phang Nga, Thailand –
At Klong Sung Nae fresh water runs into the sea, creating a combined "two waters" (song nam) ecosystem. Rowing along the stream you pass beneath disorderly hanging roots of 200-year-old banyans while traversing a rich natural environment: a grove of 6 remarkable ficus trees, black hornbills, snakes hunting for food . . . if you're lucky, you'll see some playful otters jumping and swimming around.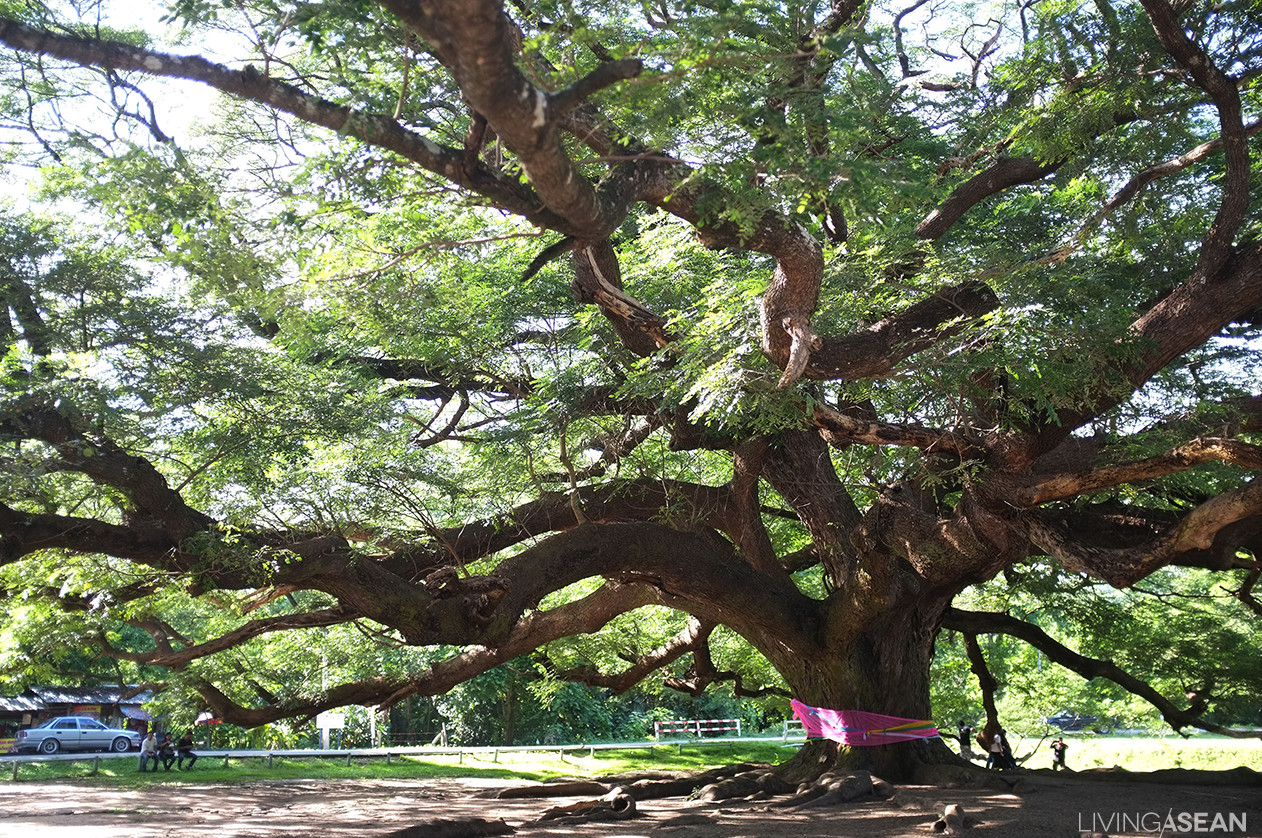 – Giant Monkeypod, Kanchanaburi –
Now a tourist destination in Kanchanaburi Province, this is considered the largest Thai monkeypod (rain tree) on record, taking 10 people to reach all the way around it. The branches extend out to cover a remarkable area of 2,416 square meters. Monkeypods, native to South America, came to Thailand more than 100 years ago, perhaps by Catholic priests bringing them from Saigon. Some, though, say it was an Englishman, first head of the Thai Royal Forest Department, who imported them from Burma, while yet others maintain King Rama the 5th (Chulalongkorn) brought them back from Java, and gave them their Thai name of "kampu."
– "The Giant," Chiang Mai –
This arboreal colossus is now a Chiang Mai tourist destination with a coffee shop where you can relax and enjoy the view of the lush green forest. To see The Giant, Chiang Mai you have to drive up a scary, steep, narrow road, but it's still high on the list of must-see attractions in Chiang Mai's Mae Kampong District.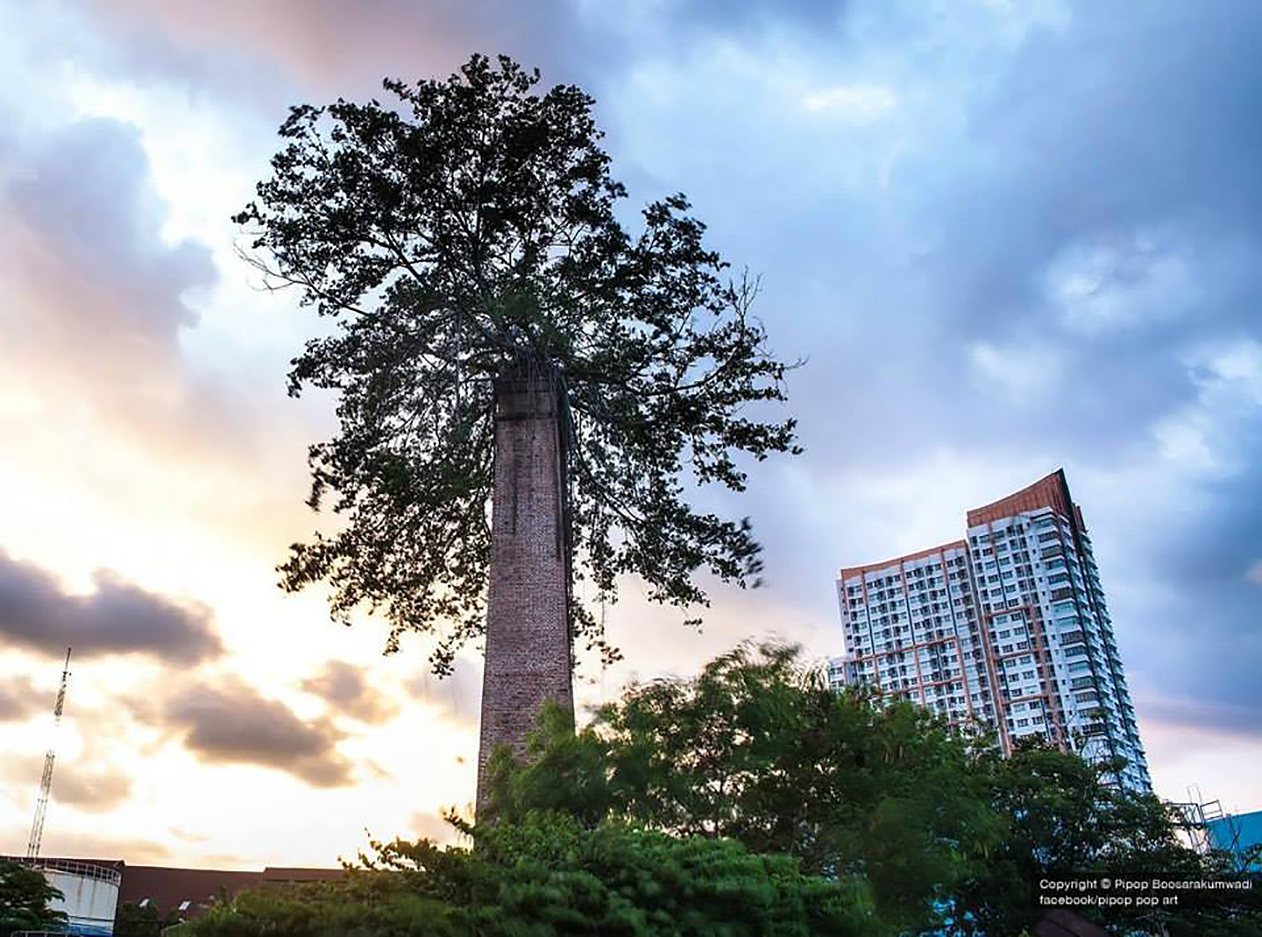 – Tree in a Rice Mill Smokestack in the Middle of Bangkok –
Truly unusual and startling! Growing out of a smokestack to spread its branches above an abandoned rice mill, this banyan tree appears to have a rectangular trunk. The smokestack is 2.75 meters wide and the banyan rises 26 meters above the ground. Located in the Rat Burana District, the tree is listed in "Unseen Bangkok."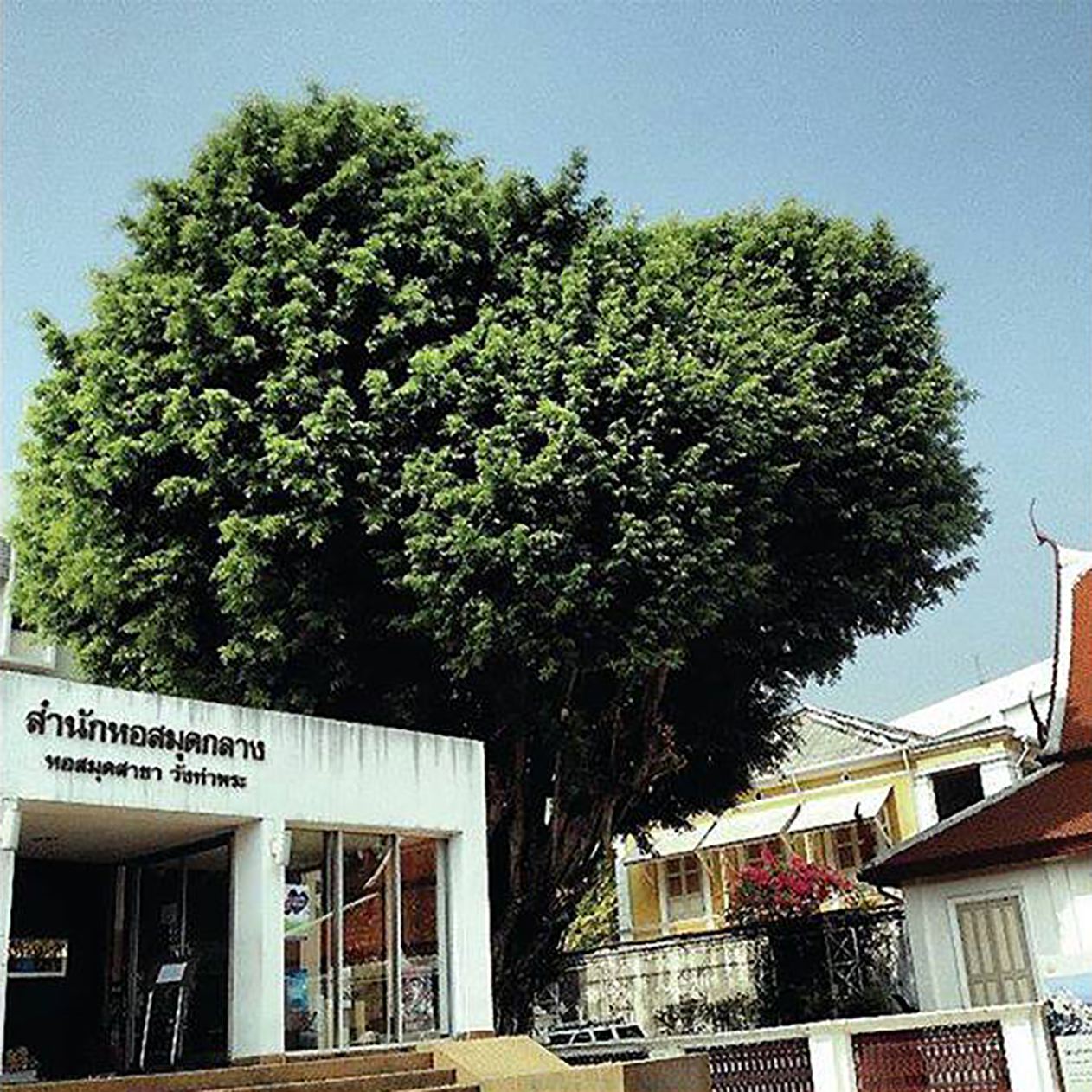 – Heart-shaped Bodhi tree, Silpakorn University –
At the front entrance of Silpakorn University's central library, its door next to the Royal Palace on Bangkok's Rattanakosin island, stands this gorgeous bodhi tree. Its charming heart-shaped foliage lifts the hearts of all visitors. Silpakorn University, the first Thai university of the arts, was founded by an Italian.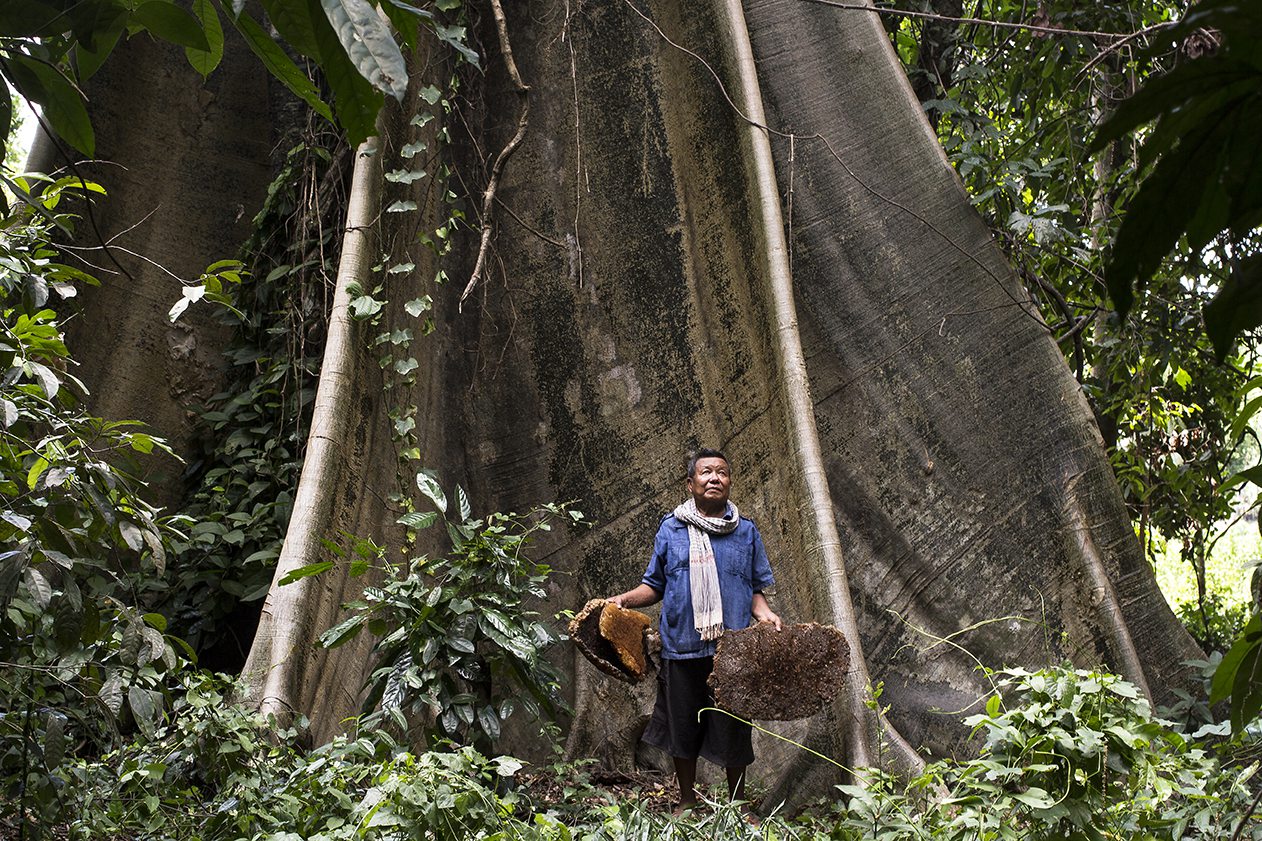 – Giant Tree, Sakon Nakhon –
This tree is within a "don pu ta," where the spirits of ancestors are said to reside. Local villagers have strong beliefs about this, so trees in that area are not cut down. This giant tree has become the residence of bees, bats, ants, birds, and insects living condominium-like on different levels. But it makes a first-class children's playground during community merit-making festivals based in this ancestral spirit forest.