"Wat" as we know it refers to a place worthy of worship, one that's occupied by a community of monks living under the vows of Buddhism. Having been in existence from time immemorial, the site that's thought of as sacred has performed many crucial roles in society, ranging from schoolhouse and herbal apothecary to kitchen and community center. And the list goes on. Take a good look at it, and you'll find the holy dwelling place also plays a role as museum, where objects and places of religious reverence are preserved and prominently displayed for people to appreciate. It gives the followers of Buddhism a sense of the path to peace and freedom of the mind using, among other things, beautiful works of art as a s medium of communication.
Three famous temples take part in hosting the Bangkok Art Biennale 2018, which is happening now until next February 3. The inaugural festival isn't centered around just one venue.  Rather, it's putting more than 200 works of art on display at 20 different venues throughout the capital. Among them are Wat Phra Chetupon (Wat Po), Wat Arun (Temple of Dawn), and Wat Prayurawongsawas Woraviharn. The three riverside sanctuaries constitute a hub of religious studies and temple art. For over two centuries, the followers of Buddhism have gathered here to discuss the importance of religion to Thai life and express their beliefs through the various forms of art. For BAB 2018, their artistic exhibitions include:
#Faithway (Paths of Faith)
Venue: Temple of the Reclining Buddha, Wat Phra Chetupon (Wat Po)
Artist: Jitsing Somboon 
"Paths of Faith" is a fashion art exhibition by Jitsing Somboon, formerly chief designer at the Thai clothing brand "Playhound". The artist, who is passionate about deeply interactive forms of art, said in an interview: "It got me wondering. Usually people take off their shoes and carry them in their hands as they enter the interior of the temple. This makes it troublesome as they prostrate on the floor with the shoes still in their hands. It's conflicting with what they're trying to achieve. In the end, it gives me an idea to create a collection of white micro polyester overcoats with shoe pockets on either side. The shoe pouches are sewn onto the overcoat just above the knees." Above, the artist demonstrates how the worrisome problem is solved.
The garment with "Faith" in either Thai, English, or Chinese stenciled on its back is given for people to wear as they participate in solemn ceremonies inside the Temple of the Reclining Buddha. It's an important part of a live installation that's accompanied by the sounds of coins hitting the inside wall of a donation bowl. The fashion art event is held every day for the duration of the Bangkok Art Biennale 2018.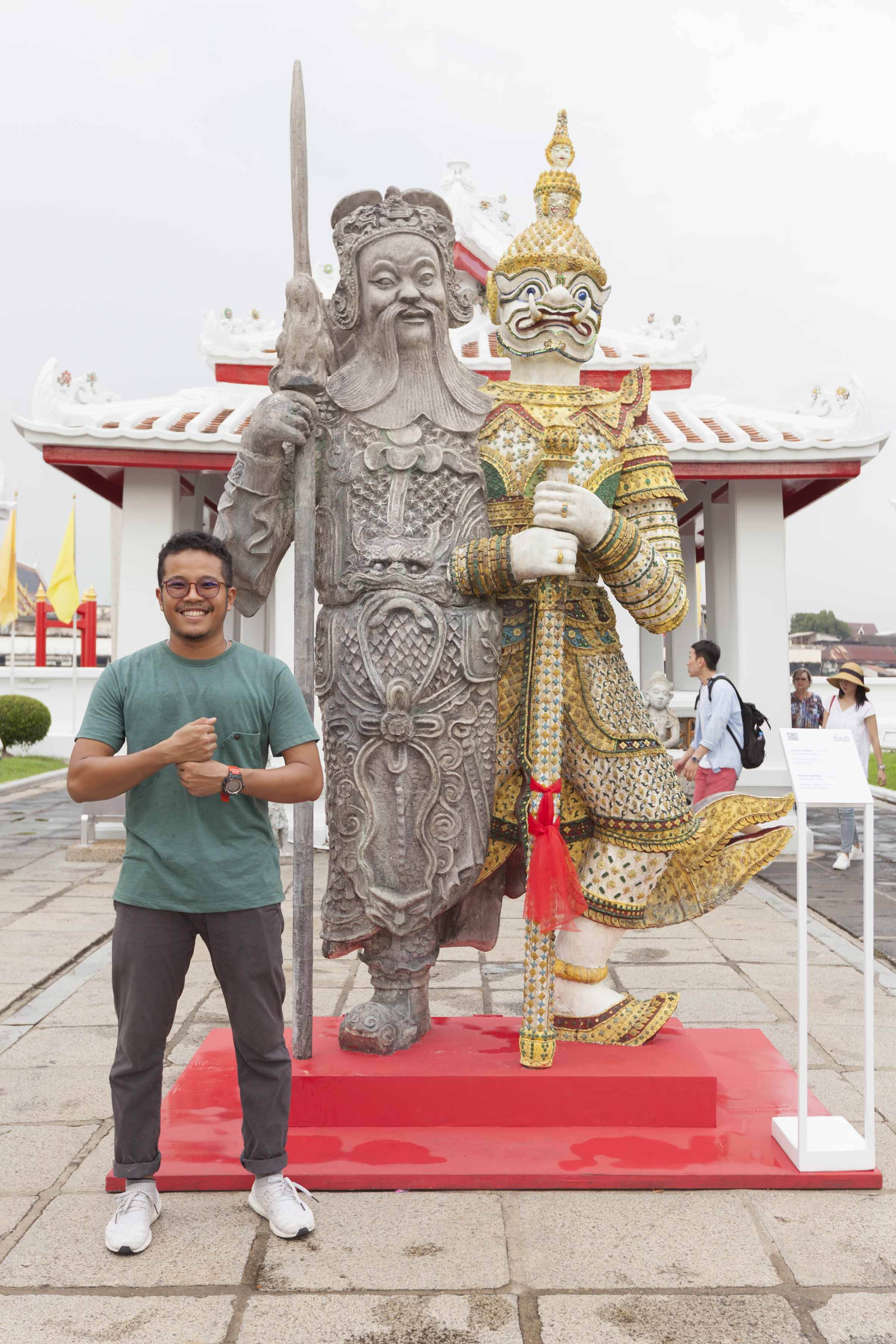 Giant Twins
Venue: In front of Khao Mo, Wat Arun or the Temple of Dawn
Artist: Komkrit Tepthian
"Giant Twins" refer to a sculptural installation featuring two buddies from different backgrounds. They come together with a common sense of purpose. One is a sculpture made in the likeness of warrior stone sculptures that were used as ballasts on ancient cargo ships from China, the other a Thai style mythical giant gatekeeper whose duty is to protect against all things evils. The twin sculptures crafted of fiberglass stand 3.20 meters tall. The artist purposely puts a beaming smile on their faces as a gesture of welcome to art lovers. As Komkrit puts it, "I want it to be a piece of storytelling that reflects upon the happy and cordial relations between Thai and Chinese people."
The artist said: "I want the sculptural installation to communicate the importance of trade and cultural ties between the peoples of Thailand and China. The message is being conveyed in the form of artwork featuring giant twins – one being the likeness of a Chinese warrior stone sculpture, the other bearing some resemblance of the iconic Giant of Wat Arun in full regalia. The work gets its inspiration from an inseparable relationship between twin brothers Eng and Chang (1811-1874), whose names have become synonymous with conjoined twins, a.k.a. Siamese twins.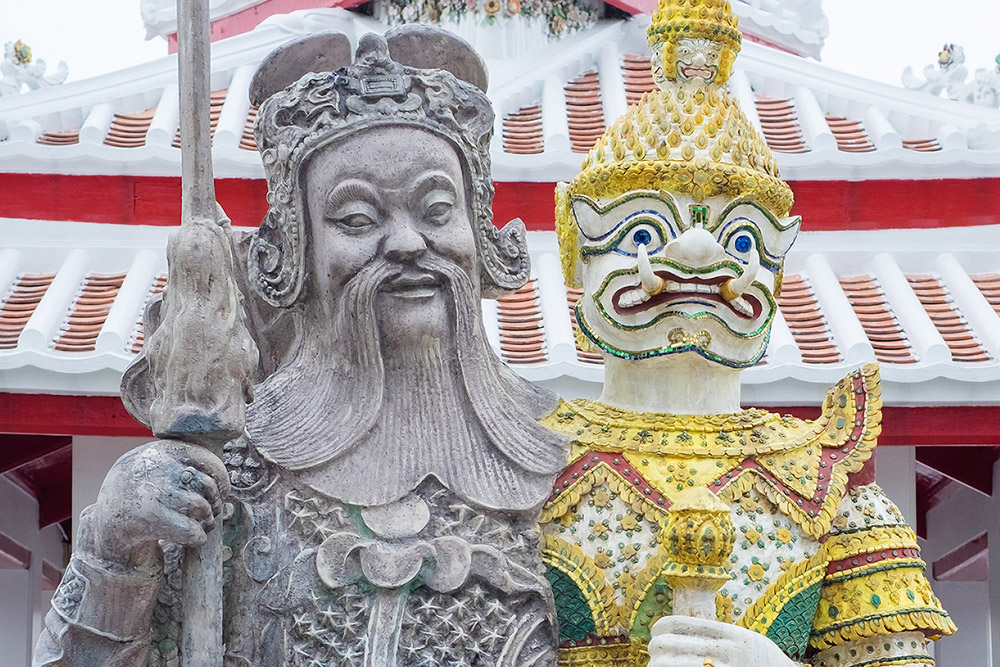 Giant Twins by Komkrit Tepthian, Bangkok Art Biennale 2018 | Photo courtesy of Media Hub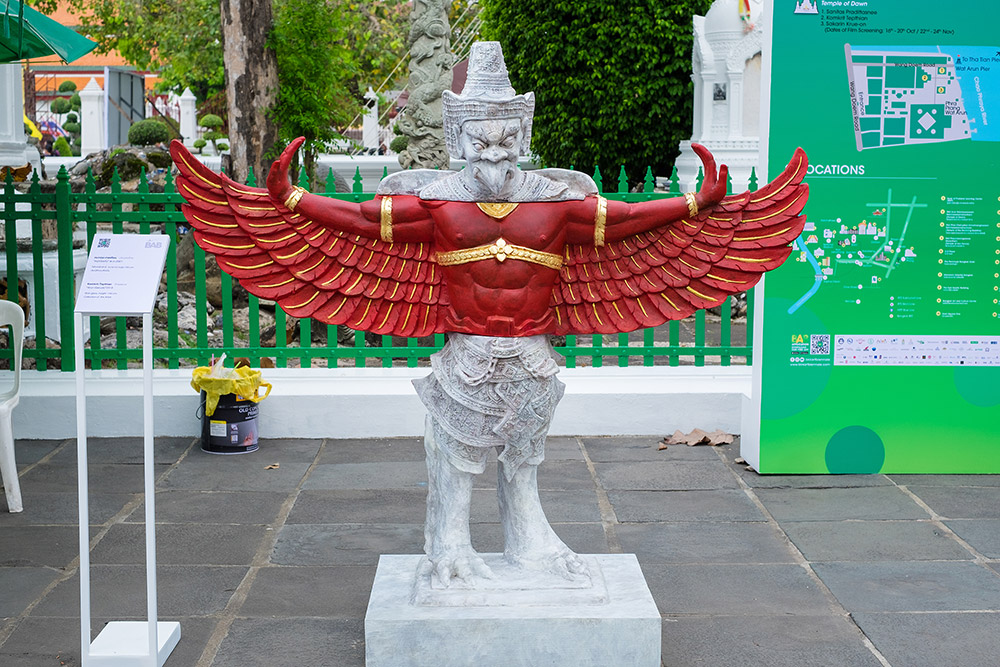 Besides the Giant Twins, the same venue also plays host to a sculptural Garuda, an eagle-like being that Hindu god Vishnu rides as his mount. Made of interlocking plastic bricks from China, it's an attraction not to be missed among like-minded friends. For the Bangkok Art Biennale 2018, Komkrit has created a collection of figurines similar to popular Japanese miniature toys. You are invited to try your hand at one of Gashapon-style capsule machines. There will be plenty of surprises for those looking for their favorite animal-mounted heroes, including some of the rarest mythological symbols.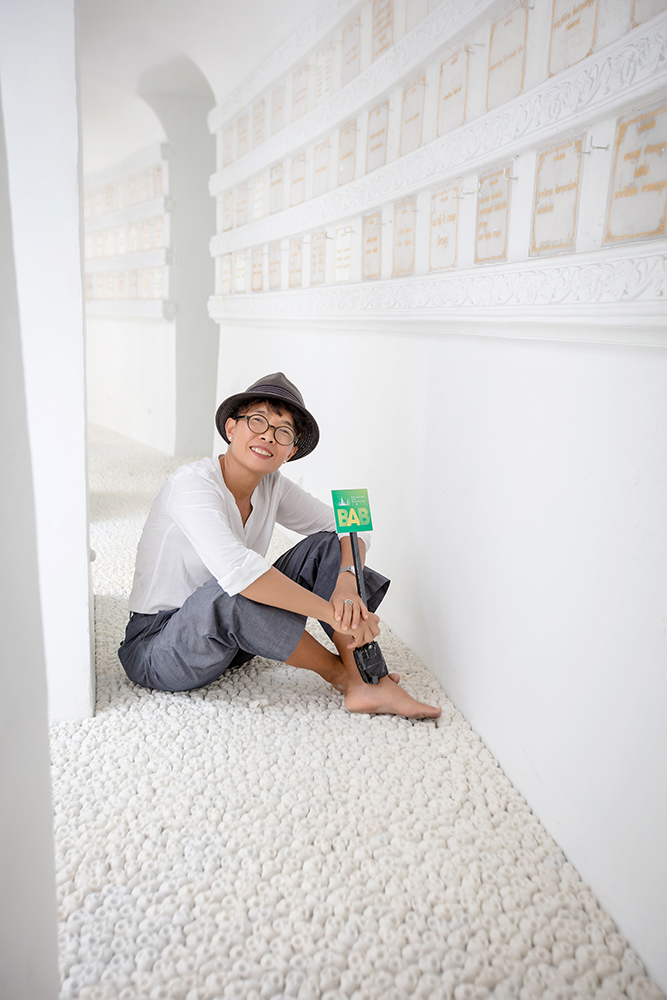 What Will We Leave Behind?
Venue: Circular Walkway, Main Stupa, Wat Prayurawongsawas Woraviharn
Artist: Nino Sarabutra
An exhibition by Nino Sarabutra has its origin in a question that he raises about life and the purpose of existence. By calling it "What Will We Leave Behind?" the artist sets out to explore spiritual growth and service to humanity. The installation gives a hint that in the end all we are is dust in the wind, and a reminder to do a great service to mankind before we are gone. Nino's site specific installation consists of 125,000 miniature human skulls made of porcelain. Like a question that requires no answer, the little ceramic sculptures are scattered along the circular walkway of the Main Stupa at Wat Prayurawongsawas. His beliefs and ideals are encapsulated in an E-sarn motto that says: "Death hangs around every step of the way." He said, "As we wake up each day to find one another, it's good to know we're still living. I am fortunate to have the opportunity to set up an exhibition on the walkway around the Main Stupa. There are niches containing cremation ashes nearby. Never have I worked on a site close to death like I do now. This is an installation that reminds us all to do what we want to do, because we never know when our lives will end."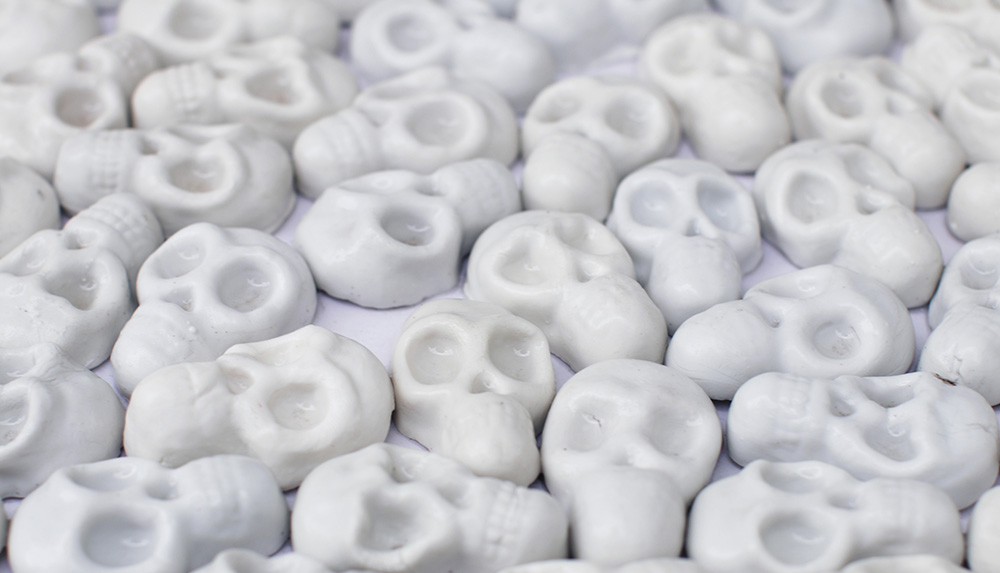 As Nino puts it, death is a fact of life that no human beings can escape. It's a question of when, not if. So we need to ask ourselves we are gone, "What will we leave behind?"
Wat Phra Chetupon, Wat Arun, and Wat Prayurawongsawas all have miniature mountain sites known as "Khao Mo". Each of them is playing host to a site specific installation by Thai artists. Let's pay them a visit.
Sediments of Migration
Venue: Khao Mo of Wat Phra Chetupon (Wat Po)
Artist: Pannapan Yodmanee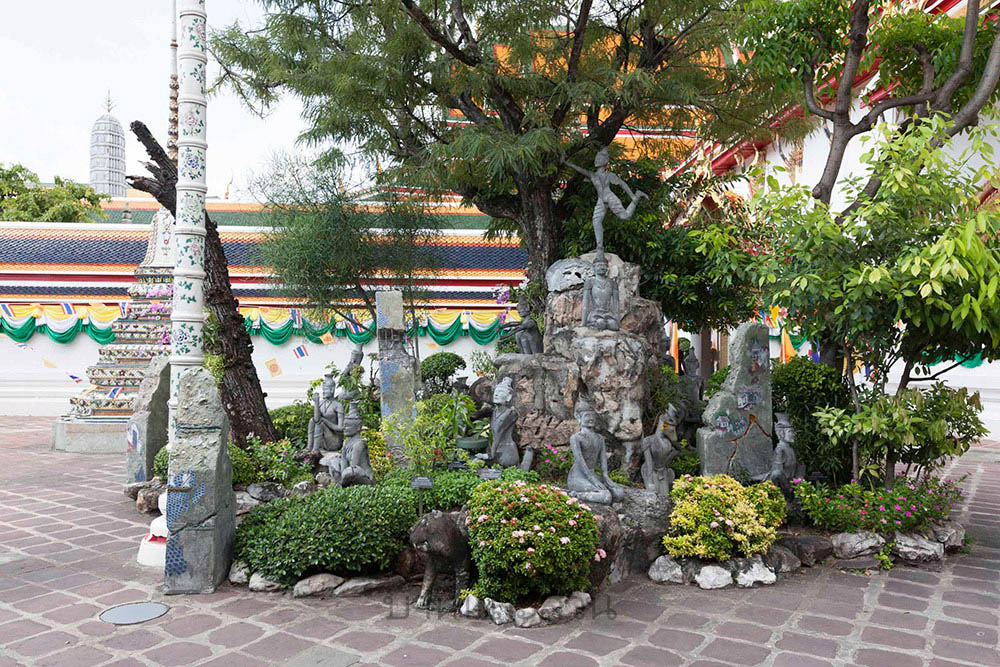 "Sediments of Migration" is a transportable sculptural installation consisting of six miniature mountains, hermit figures in yoga poses, and ballast stones that were used to stabilize the cargo ships of ancient times. It's inspired by mural paintings found throughout the temple ground of Wat Phra Chetupon.
From the World Inside / Across the Universe
Venue: Khao Mo, Wat Arun (Temple of Dawn)
Artist: Sanitas Pradittasnee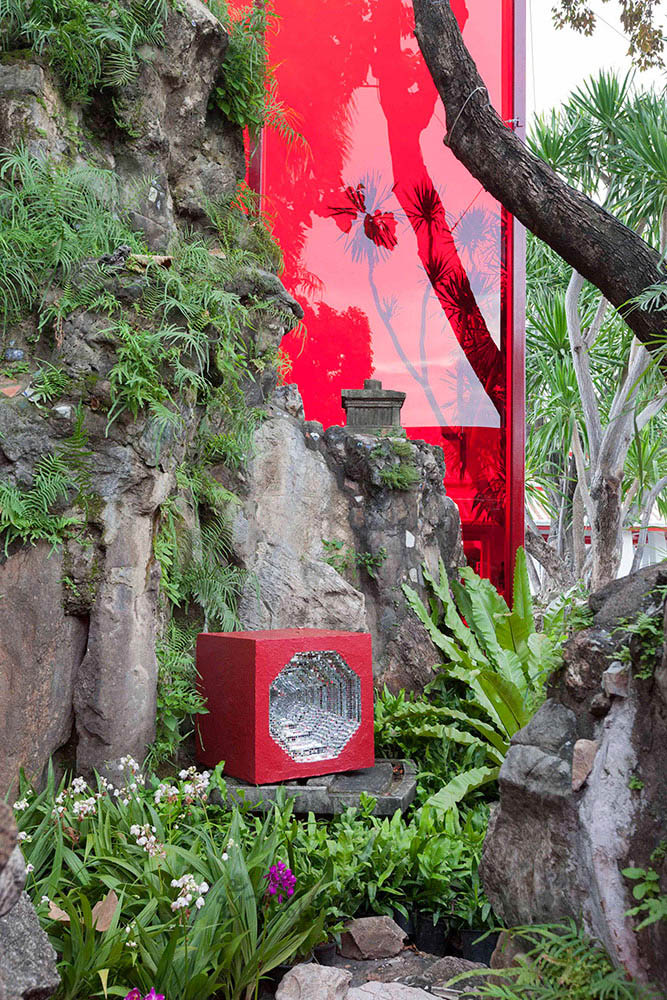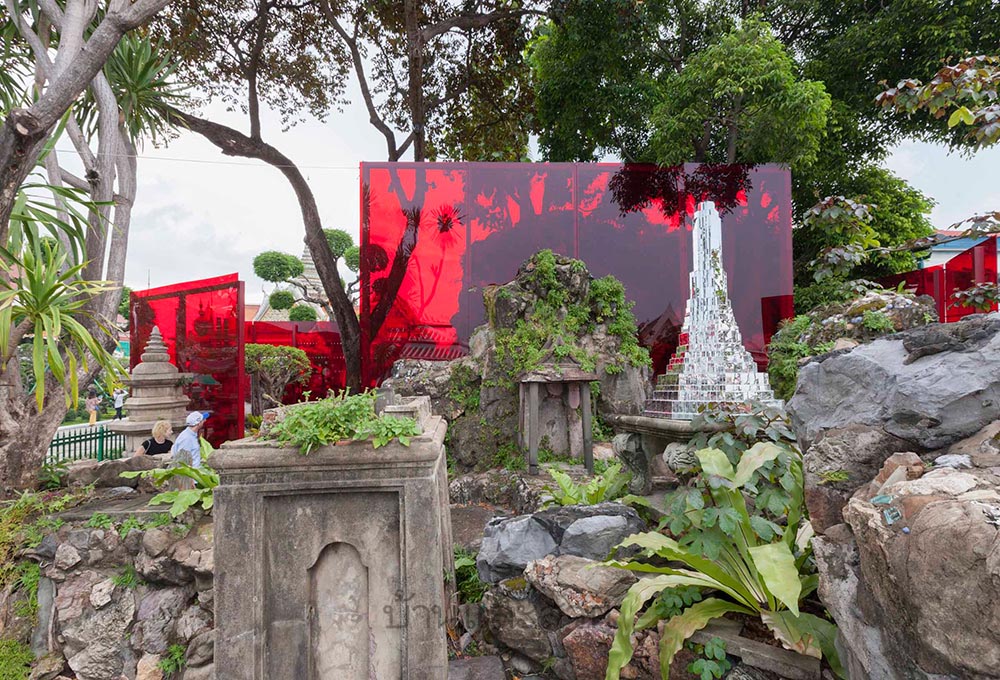 Sanitas Pradittasnee creates this site specific installation after having been inspired by the miniature mountains that she finds scattered around the temple ground of Wat Arun (Temple of Dawn). Her work comes in handy as an invitation to search the mind to understand the inner self, so as to become aware of the goings-on in the world outside. The installation consists of acrylic panels in a brighter shade of red that changes hue as time passes, a subtle reminder that nothing is certain in life.
Turtle Religion
Venue: Khao Mo, Wat Prayurawongsawas Woraviharn
Artist: Krit Ngamsom
Turtle Religion is a mixed media installation that seeks to communicate, in a cheerful and happy way, that there's more to life than just living. Through this exhibition, the artist sends a message that life is about being useful and honorable. The idea is manifested in the way sculptured turtles carry the iconic shrines in Buddhism on their back.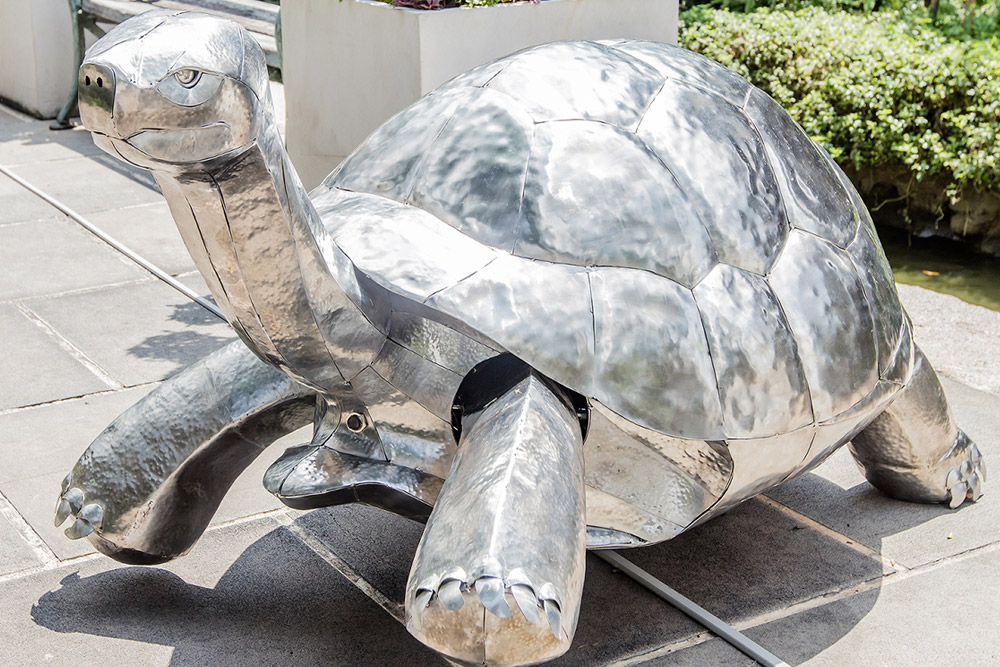 Besides the shows listed above, there are plenty of interesting events on the theme of religion and temple art. The following artists are exhibiting their works in the Riverside Zone of the Bangkok Art Biennale 2018:
At Wat Phra Chetupon or Wat Po:
Huang Yong Ping, Jitsing Somboon, Pannapan Yodmanee, Sakarin Krue-on , Tawatchai Puntusawasdi, Phaptawan Suwannakudt
At Wat Arun (Temple of Dawn):
Sanitas Pradidtasnee, Komkrit Tepthian, Sakarin Krue-on
At Wat Prayurawonsawas Woraviharn:
Arnont Nongyao, Kamol Phaosavasdi, Torlarp Larpjaroensook , Krit Ngamsom, Montien Boonma,  Nino Suwannee Sarabutra, Paolo Canevari