How do you blend artificial grass within a tropical design gardening? This garden will help you the imagine new ideas on how to use this low maintenance material to your garden.
/// Thailand /// 
Story : Warapsorn Akkhaneeyut /// English Version : Peter Montalbano /// Photos : Chaiyapruk Podang, Sitthisak Namkham /// Landscape : Pergolar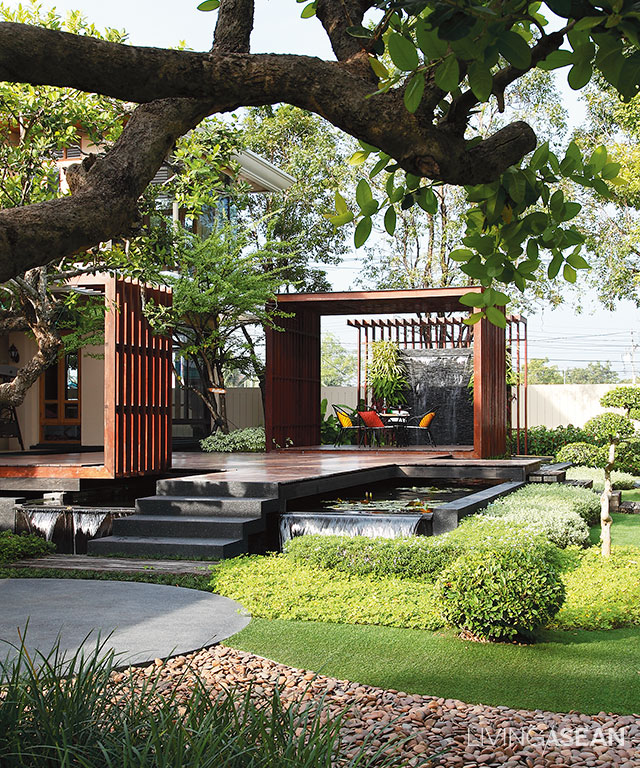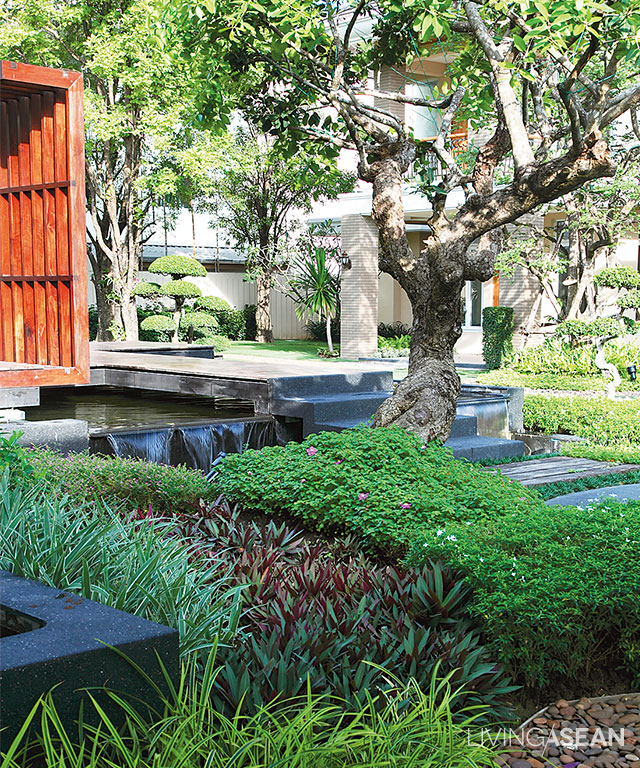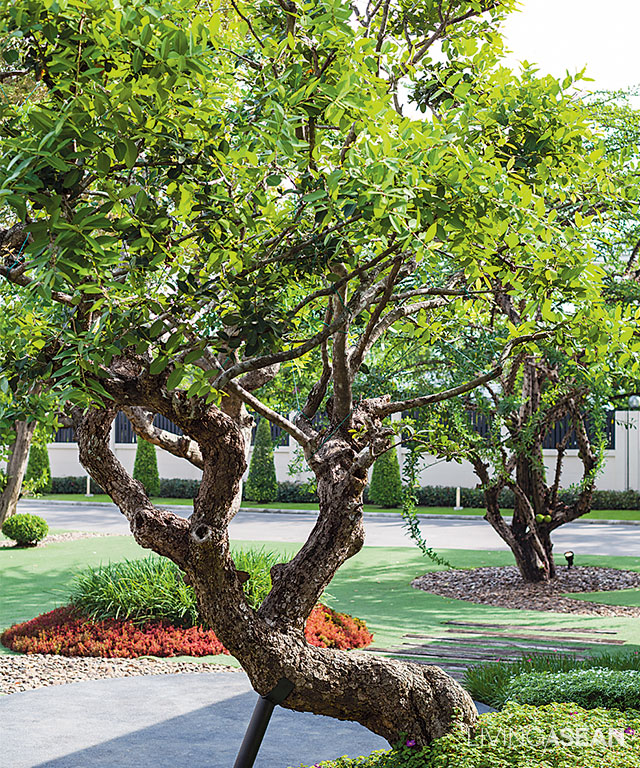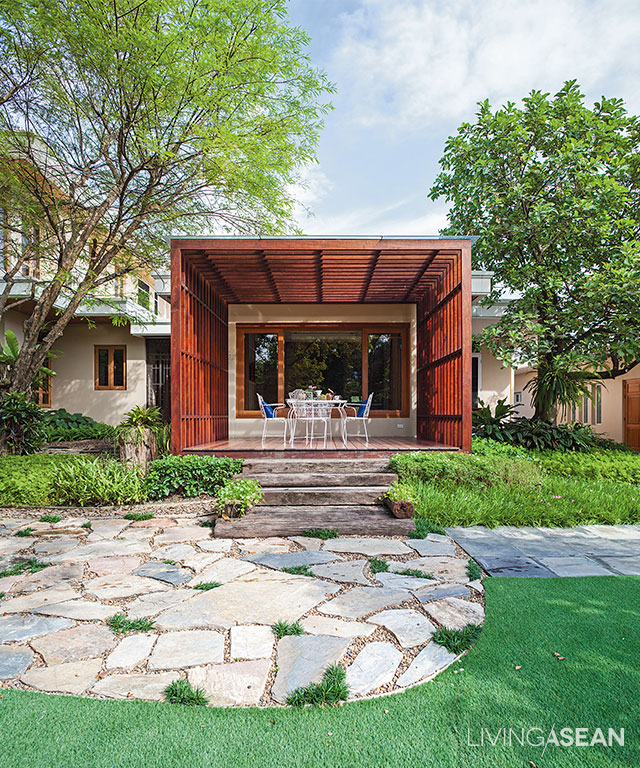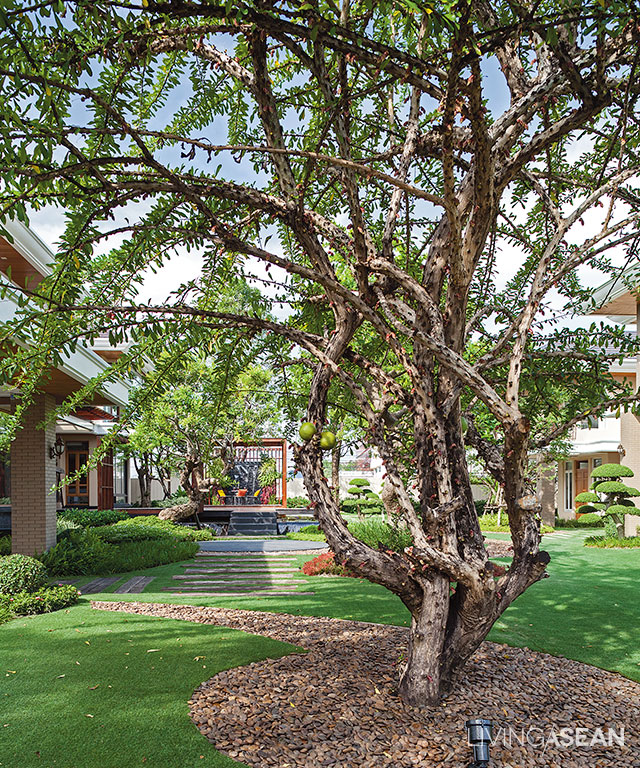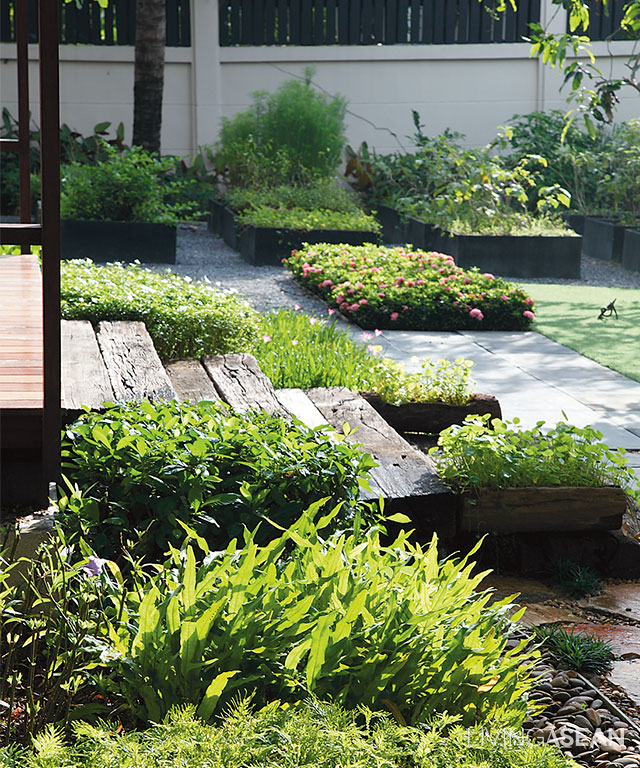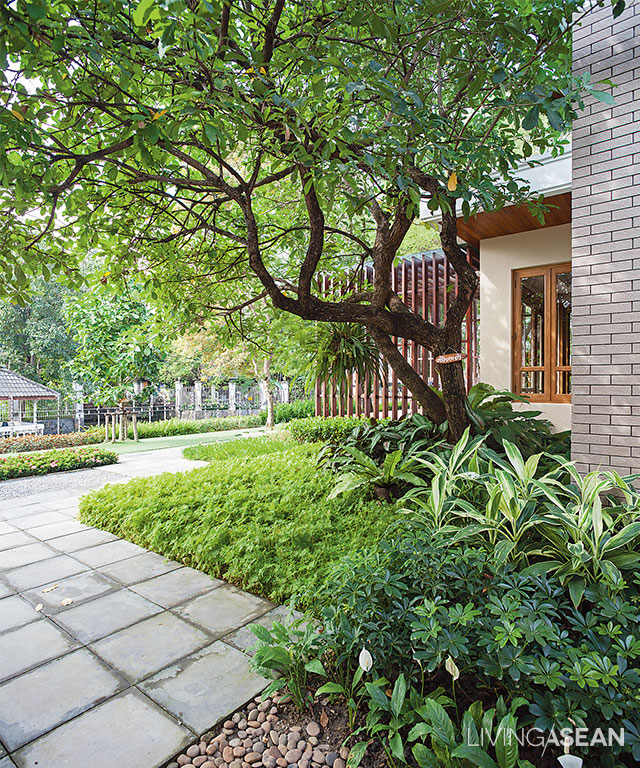 The Khlong Bang Ramat area in Thonburi is still full of plantations, and people get around by water: farmers paddle boats with crops to sell, tourist boats regularly ply the canals. This is one reason Chaiyote Yanyongwayrote moved back here to create a beautiful home and garden.
The owner bought this property many years ago. He tells us, "The old house was on Ratchada-Tha Phra Road. At one time that was all gardens, too, but eventually, we were surrounded by buildings and had no privacy, and so we built here, where it still has that garden feeling. Travel is convenient, too. Not far behind this relaxing canal is an expressway interchange."
It took 6 years to build the garden and two contemporary-style houses (one for his daughter, the other for Chaiyote and his wife), but the long wait allowed trees and plants to grow to maturity. Each room in the houses – designed by Sathan Wijitsanguan–opens on three sides for panoramic garden views.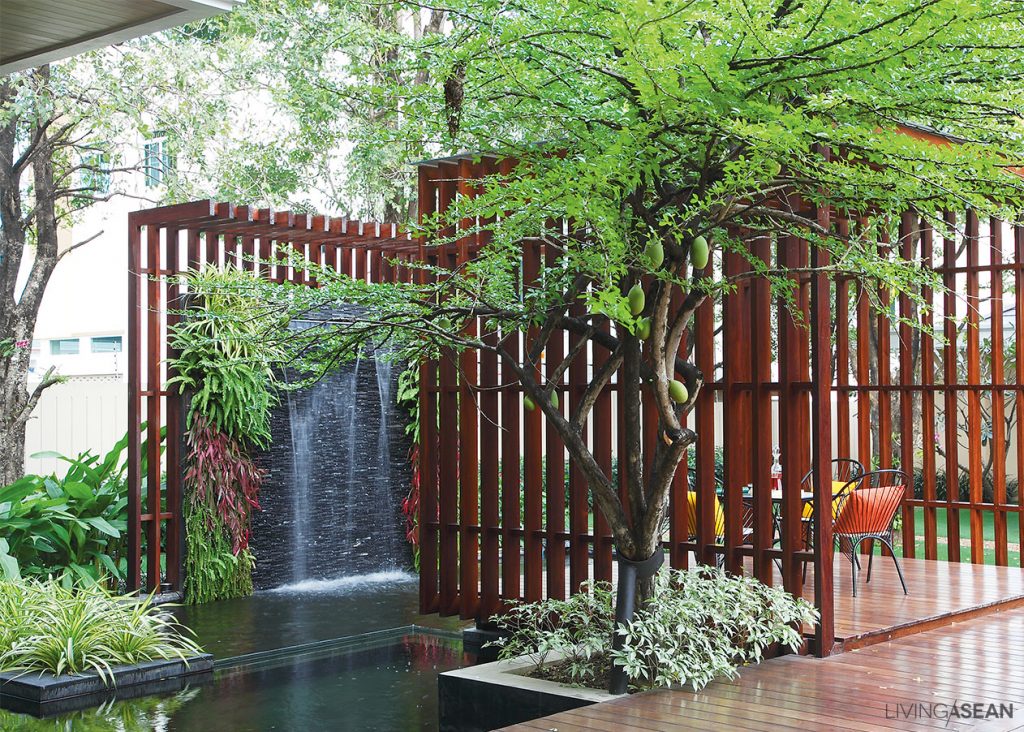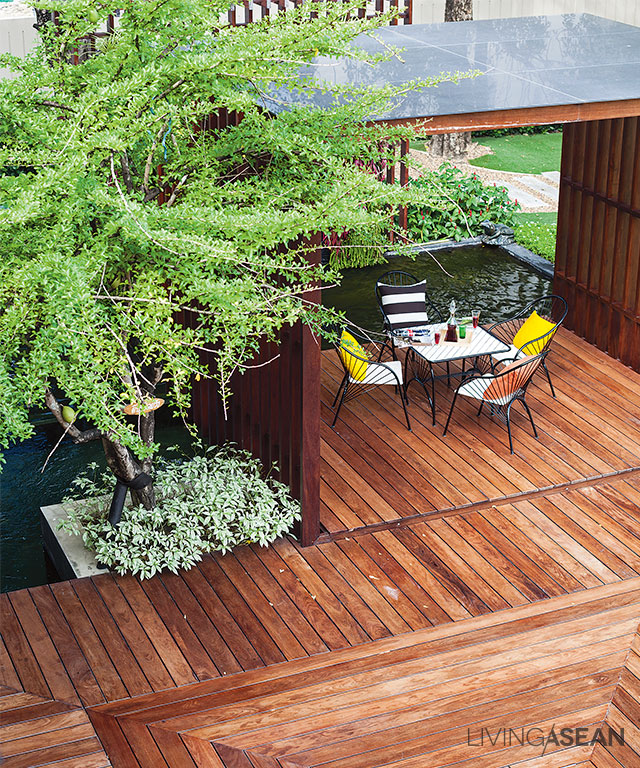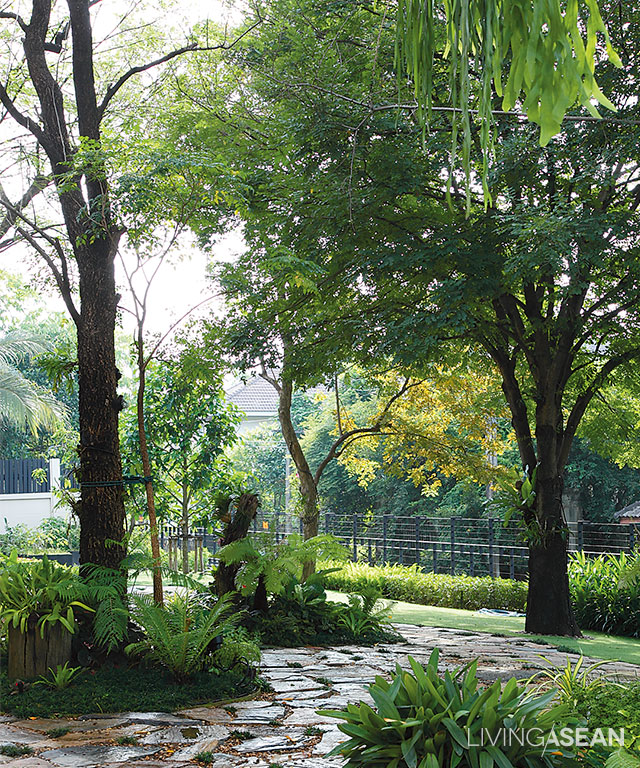 Beautifully shaped evergreens and perennials fill the garden, with a gravel pathway and brightly colored plant beds neatly interspersed. The more formal area between the houses is used for receptions and social events. Behind, near the canal, the garden is lush with shade trees and plants with varied colors and shapes. The landscaper here is Panat Sumalroj, of Pergolar. Chaiyote says,
"I like an open look. The garden gives a beautiful vitality: without it the house looks too austere. The designer had already created some of the outdoor spaces, like the pavilion, wooden deck, and pond. The landscaper followed up with connecting and surrounding areas and positioned the big trees. There are many unusual plants, but the grasses in some areas are artificial. The landscaper explains, "The owner didn't want to cut grass often, so I steered him this way. It reduces maintenance a lot . . . ."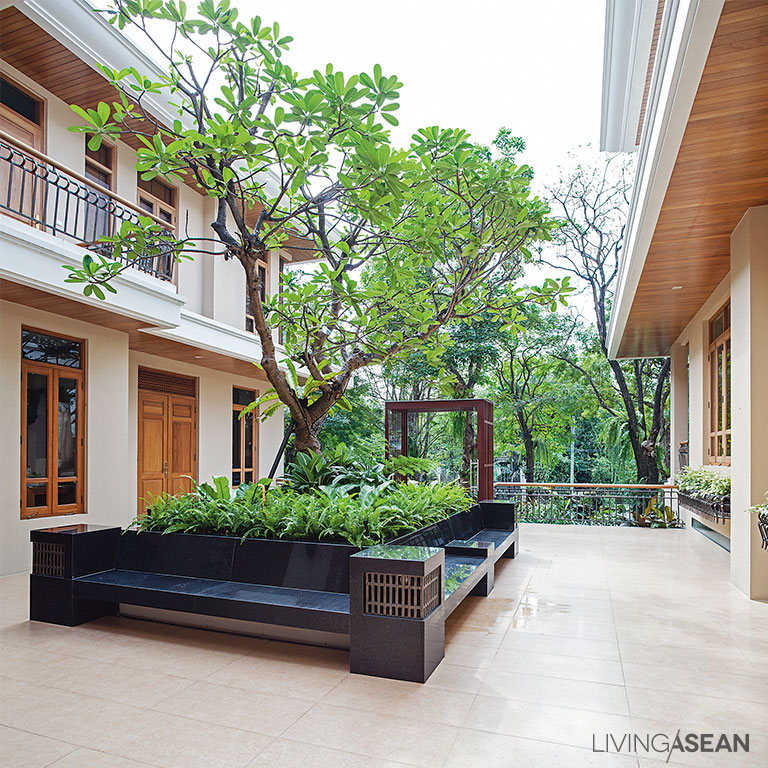 The house is modern contemporary with some Asian flavor, sothe garden keeps a proportionally orderly look.
"The owner likes trimmed plants like Siamese rough bush and bonsai," says Panat."I start with the traditional Thai garden,trying to keep a tropical flavor. The water banyan and white merantitrees are sculptures unto themselves. If there's no animation then it's just an ordinary garden. I put a gravel path connecting the 2 houses, going by the grass in a playful curve, makes the square house look softer."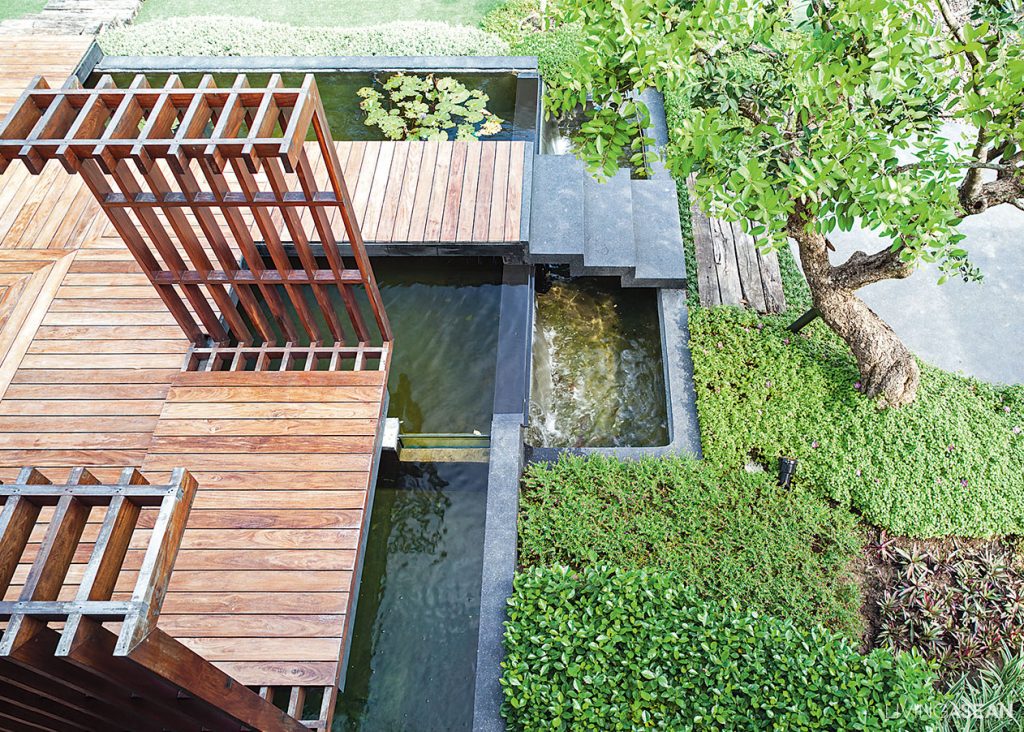 This orderly garden is wide and open. The hardscape and the artificial grass fits in well and has practical benefits, trimmed plants tucked away in appropriate spots. All in all, this is a highly pleasing mixture of the tropical and modern garden.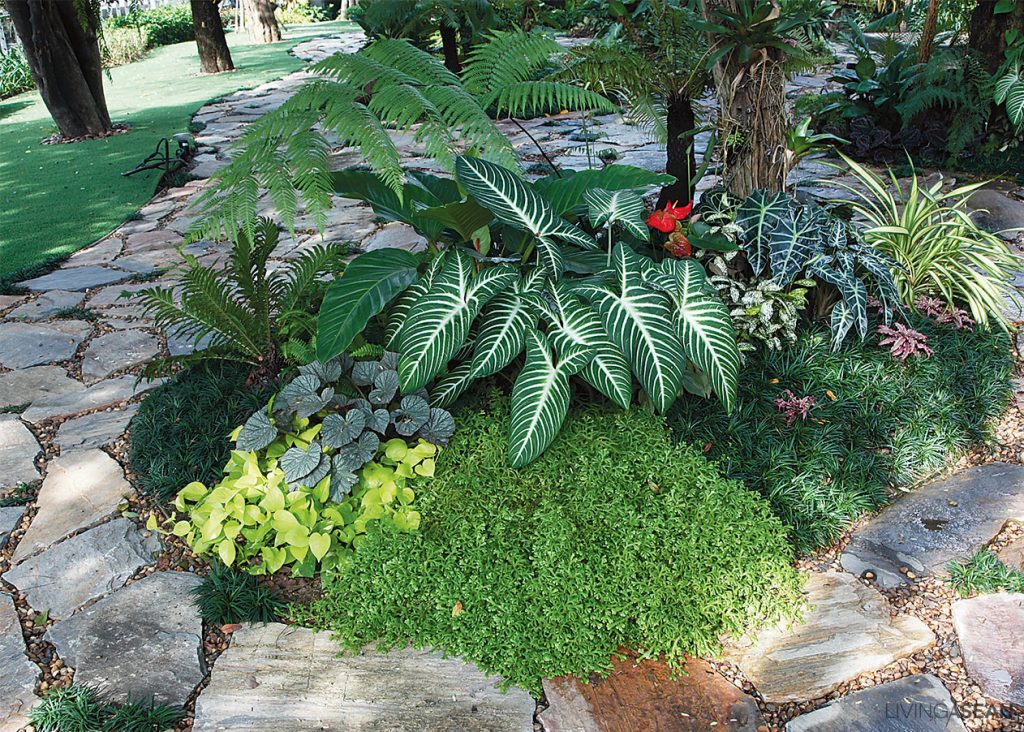 link: http://www.pergolar.com