A cup of tea in the afternoon is an excuse to share great thoughts with like-minded friends. Even better if the elixir of life is served fresh while live performance art is happening in real time. And right before your eyes, you fall in love with the show. It just goes to show the close-knit relationship between two artistic disciplines – visual arts and culinary talents.
/// THAILAND ///
Story and video: Singhanart Nakpongphun /// Photographs: Soopakorn Srisakul, Singhanart Nakpongphun and PR material 
Kawita Vatanajyankur, one of six must-see artists in the Bangkok Art Biennale 2018, is renowned for using video art to raise concerns about major issues in society and the exploitation of women, more specifically women's rights abuse. The young homegrown artist calls attention to the problems by putting her body through various situations in the workplace that involve real pain and suffering.
Through painstaking attention to detail, Kawita sends a strong message that women deserve respect for doing backbreaking jobs in society. Her works characterized by vivid colors portray a woman as part of weaving machines, dyeing processes in the textile industry, and unending house work that includes cooking, cleaning and laundry. Over time, the power of enduring unpleasant situations crystalizes into a style that's her signature as we know it.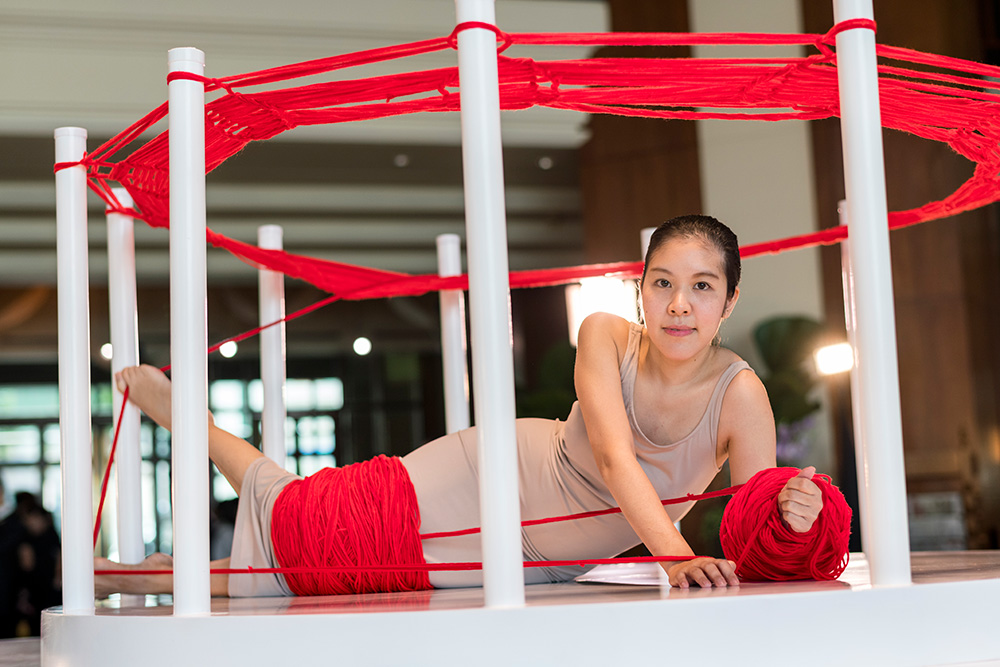 Kawita Vatanajyankur, a rising star on Thailand's thriving art scene, gave a live performance at an afternoon tea event hosted by the Peninsula Hotel Bangkok on January 11, 2019. Aptly named "Knit", the show turned out to be quite a departure from her previous performances both in form and content. Only this time it focused on the power of visual storytelling as a means of highlighting hardship, solitude and experience that played a role in shaping people's lives.
The artist likened human life experience to interlocking loops of wool or yarn knitted together to form an item of clothing. The stage on which she performed was bordered by 11 poles depicting an imaginary machine used in making knitted garments. Spun thread in bright red color twisted and wound around her evoked memories of a shuttle being thrown back and forth in the course of textile weaving. Only this time the shuttle was a human being – the artist herself.
Reports had it that the artist had gone through countless rehearsals to bring the show to perfection. The practice involved strenuous work, physical and mental fatigue, and many long hours. In the end, the audience responded with a big round of applause for the artistic talent, energy and strength that she displayed in the show that went on 60minutes.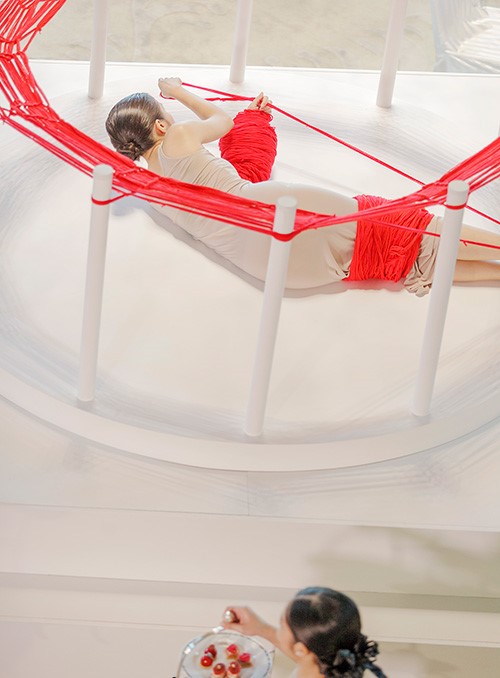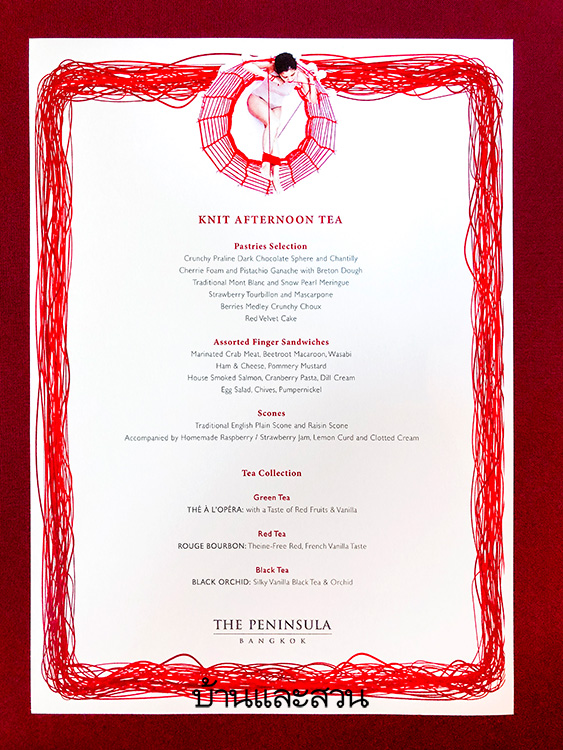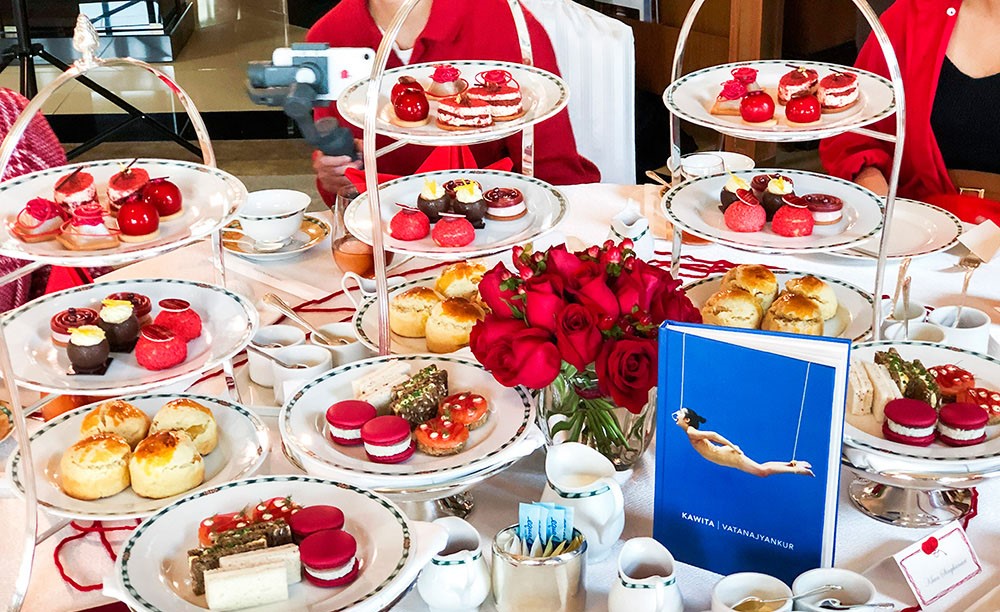 Nothing compares to an hour reserved for afternoon tea. With a cup of tea in their hands, audience members enjoy the best of both worlds – a tea culture that looks aesthetically pleasing, and an art show that's impressive, powerful and thought provoking.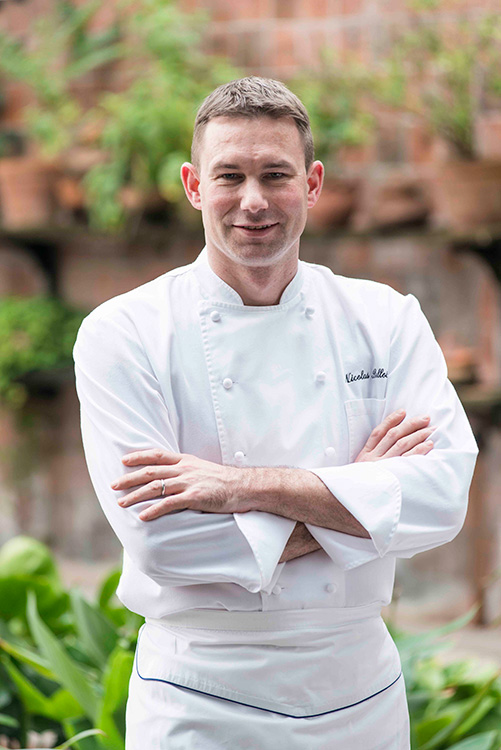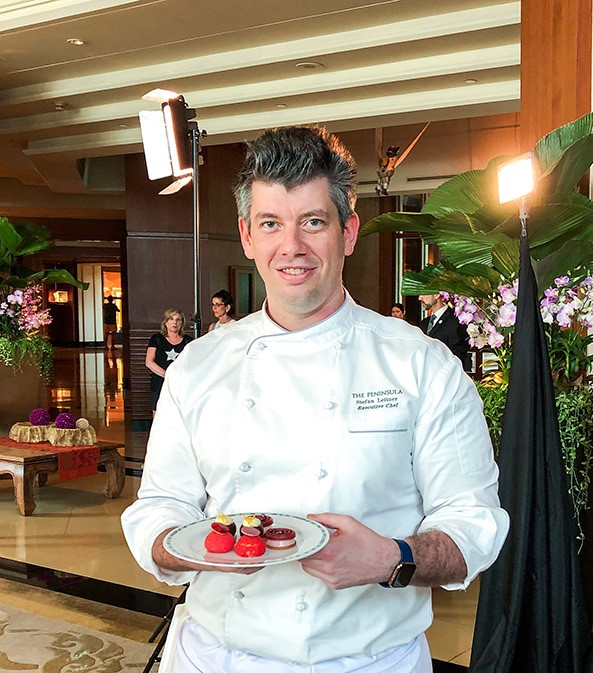 Sharing his experience, the Peninsula's Executive Chef Stefan Leitner said, "To get the inspiration that we needed in the course of designing the menu for the show, our team of chefs spent some of their time each day looking at rolls of yarn and stage props for weeks. It just goes to show that well thought-out themed menus can go hand in hand with visual arts shows, which include the live performance that's happening today. The result is a perfect marriage of two artistic disciplines."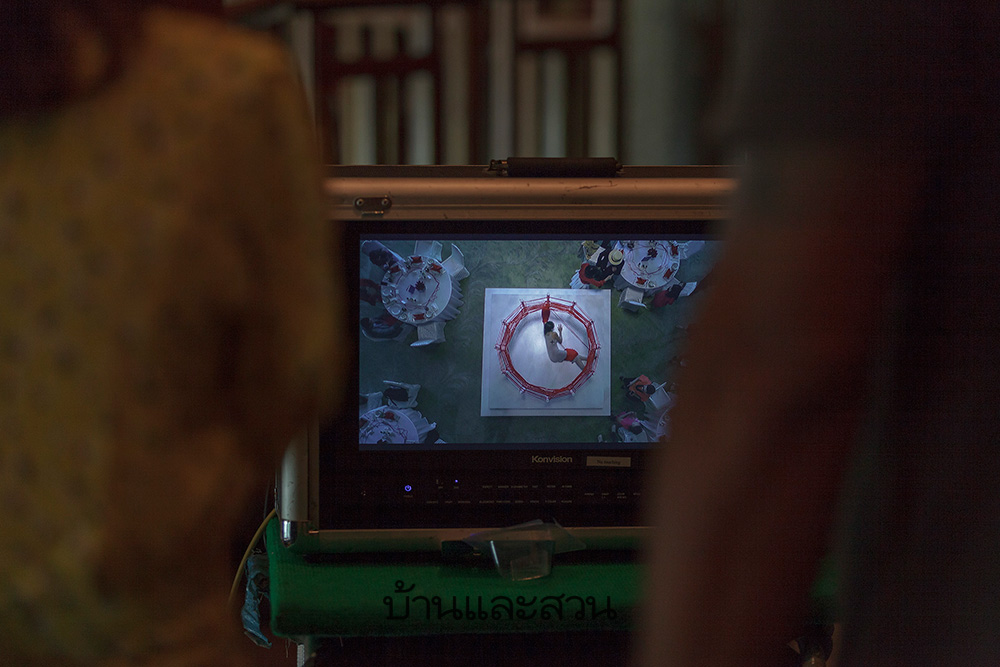 Members of the audience are able to experience the performance up-close. The event is recorded on videotape and the guests who attend the Afternoon Tea all become actors and actresses for the day. Footage of the performance will be used in a video art production for future shows abroad. In the end, the show becomes a stage, and everyone plays a role, this writer included.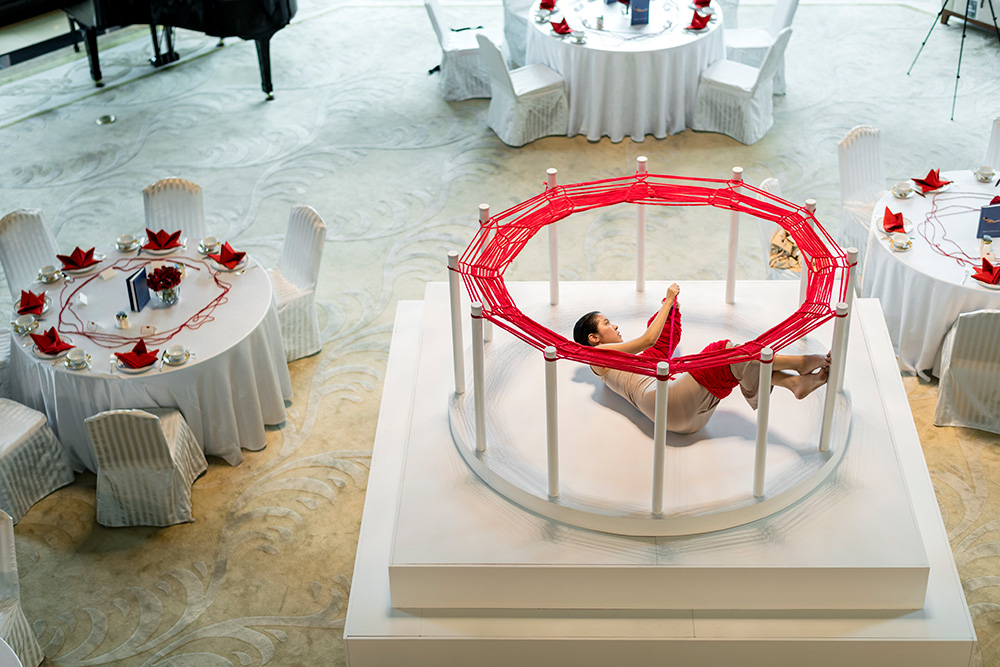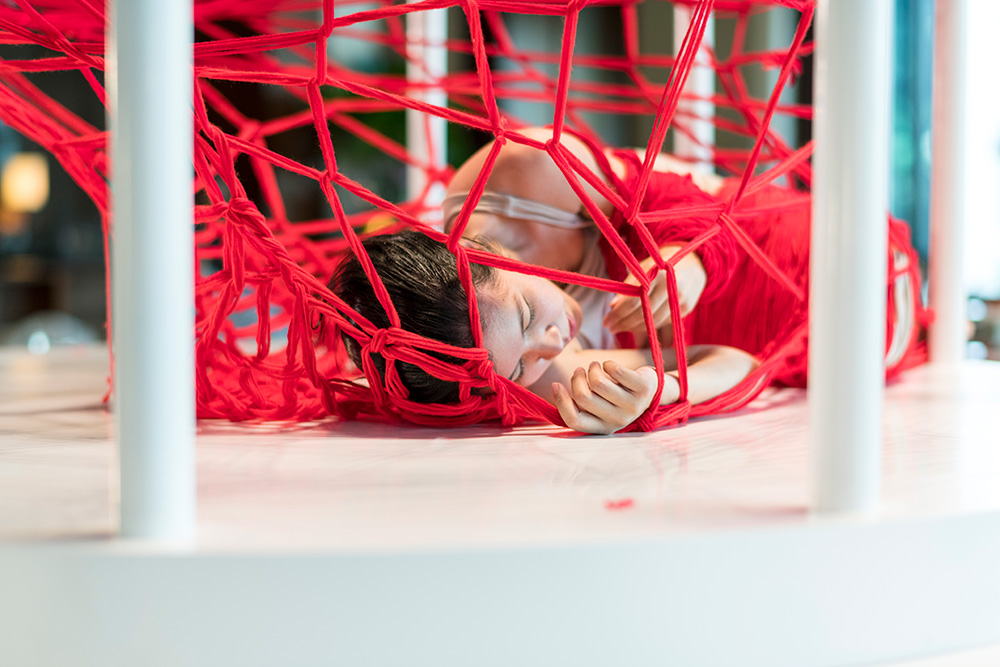 The artist said in a post-performance interview, "I want societies to appreciate the roles that women play especially in the textile industry, in which women account for between 80 and 85 percent of the sector's workforce worldwide. When we buy an item of clothing, oftentimes we think of the brand name and machinery that goes into making it look good. We hardly ever think of the little people who work on the production line. The exploitation of women and girls must end. I want societies to turn their attention to the problem. My message is that everyone is worthy of being treated fairly, the little people included."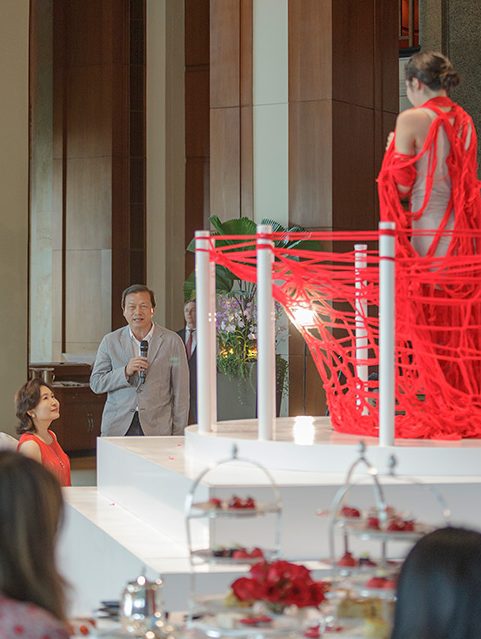 Speaking to honor guests at the end of the show, the Bangkok Art Biennale's CEO and Artistic Director Dr. Apinan Poshyananda said: "I can feel for her. It's hard work. And it just goes to prove the artist's perseverance with, and commitment to, a purpose and everything she has stood for in a fight against gender inequality. It tires me out to watch Kawita try with everything she has, her hands, her feet, even her mouth. The artist puts her body through hardships and pain twisting and winding thread around the 11 poles that symbolize the machine used in making knitted garments. In a way, it reminds us of many challenges that we must overcome in our work life."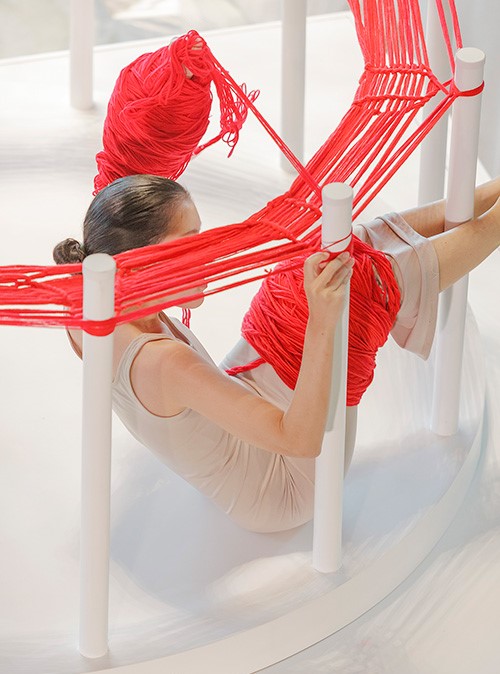 "Knit" is the latest edition of Kawita's live performance series known as "Performing Textiles". The series also includes 4 video art productions, all of which are on show at the East Asiatic Building now until February 3, 2019. They are the following: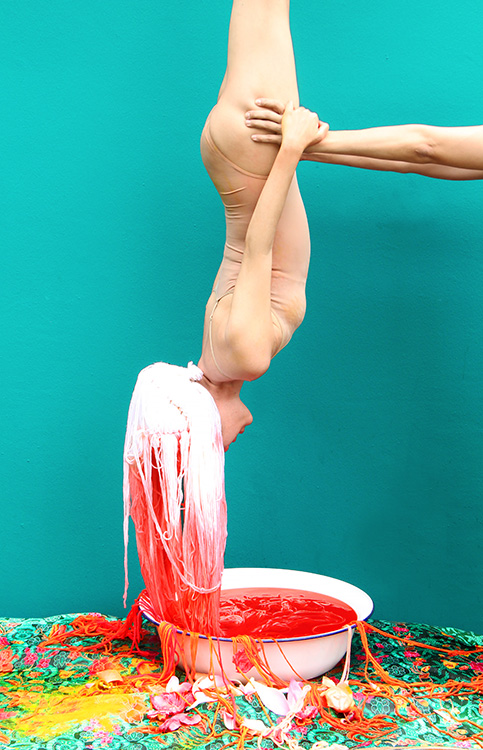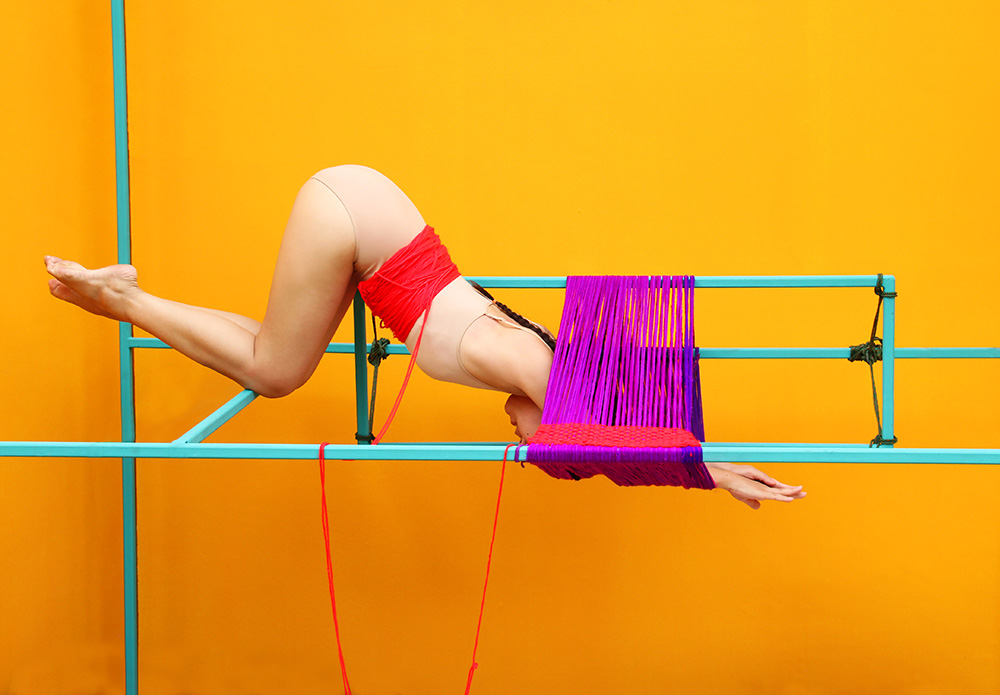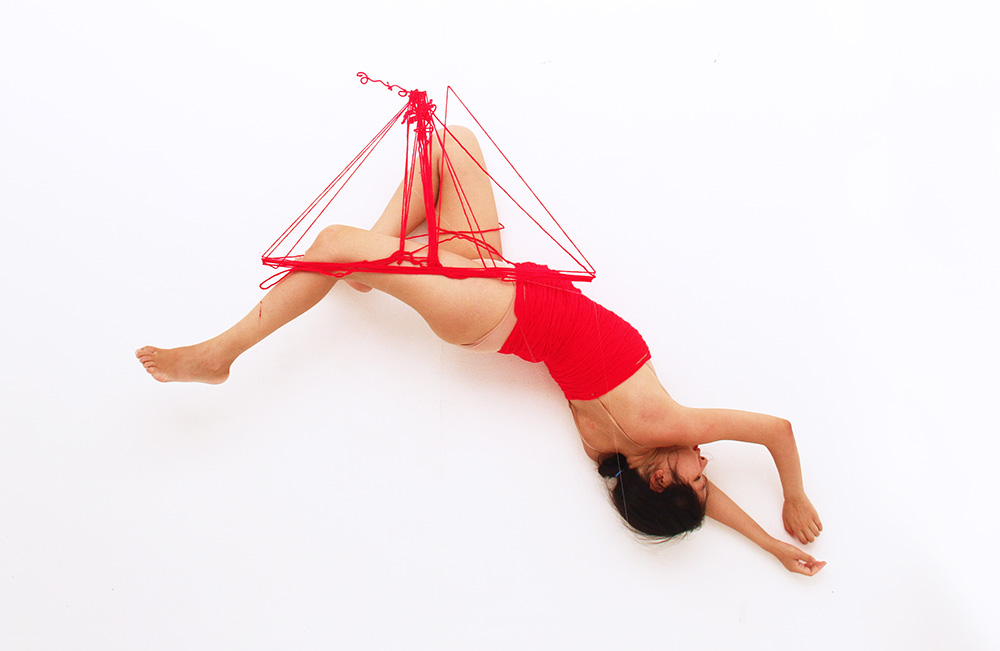 "Knit" has been dubbed one of the must-see art exhibits as part of the Bangkok Art Biennale 2018. The live performance by artist Kawita Vatanajyankur is held in the Lobby of the Peninsula Hotel Bangkok every Saturday in January from 1530 to 1630 hours. The show runs until Saturday February 2, 2019. Everyone is invited, and it's free. But if you prefer to watch the show and enjoy the pleasure of Afternoon Tea service at the same time, the ticket is 1,400++ Baht for two persons. The Peninsula Hotel Bangkok's Afternoon Tea service is in such high demands that reservations are required. To make a reservation, the number to call is 02 020 2888 or by email at diningpbk@peninsula.com.
Apart from the Peninsula Hotel Bangkok, amazing works of art by Kavita Vatanajyankur are also on show at the Central World Shopping Center, the Emquartier Mall, the Theatre of Indulgence, and the East Asiatic Building now until February 3, 2019